The Question
by lewis i. rice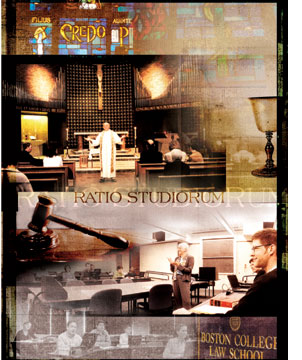 (Illustration by Terry Muira)
What does it mean to be a Catholic law school?
A professor is standing in front of an audience at Boston College Law School to speak about Jesus Christ. There are no backbenchers here—the small number of people gathered sits in the front row listening intently. They are focused, participating, energized by the message, though they have heard it many times before and will no doubt hear it many times again. It is the week after Easter so talk turns naturally to the day more than 2,000 years before when the Son of God rose from the dead. "We are all witnesses to the Resurrection," says the professor, "and we all have an obligation to testify."
He is not speaking about testifying in the way most law professors across the country speak of it. But he is not like most law professors. Assistant Professor Gregory Kalscheur is known in this setting, Trinity Chapel at BC Law School, as Father Gregory Kalscheur, a Jesuit who says daily Mass when the school chaplain, Father Fred Enman '78, is not available. The four congregants, including a professor and a student, nod and speak their agreement with a collective "Amen," promising to bear witness to their Catholic faith.
How the school itself should testify to its Catholic identity remains an open question at BC Law, which is soon to celebrate the seventy-fifth anniversary of its founding. The faculty considered the question during its recent strategic planning process and has adopted a mission statement for the school that recognizes its Jesuit tradition. As BC Law has grown to become one of the preeminent law schools in the nation—a judgment largely based on secular evaluations such as admission rates, faculty-student ratio, and LSAT scores—some are urging a reemphasis of the school's religious-based values and asking for a clear definition of what those values are. Others caution that an emphasis on Catholic identity could alienate people in the BC Law community who share the values but not the faith.
Shortly before Easter, the St. Thomas More Society, the school's Catholic student organization, explored those issues in a symposium titled "What Does It Mean to Be a Catholic Law School?" with the goal "to reveal the possibility that a renewed and vibrant Catholic identity can make a multitude of vital contributions to the life and success of academic communities that have become Catholic largely in name only."
Panelists (none of whom are associated with BC Law) spoke of public service, educating the whole person, integrity, and doing God's work through education. The event ended with a challenge from Dean Mark Sargent of Villanova University School of Law, a forceful speaker who contended that most Catholic law schools today are not meaningfully Catholic. "Why should Jesuits have law schools if they're not doing something different from secular law schools?" he asked.
BC Law Professor Judith McMorrow, who attended the event, said in a later interview that the Law School should not focus on how it is different from secular law schools, but rather on how its Catholic and Jesuit identity enrich its legal training.
"If we say that the most important parts of our Jesuit and Catholic identity are unique, in some ways we are denigrating those essential parts that are part of the human consideration," she said. "One of the reasons we have such a strong natural law tradition in the Catholic Church is that we hope to tap into some universal values."
The chair of the school's strategic planning committee, McMorrow worked with other faculty members on the mission statement for BC Law. Faculty debate centered on the religious component of the statement, with the result highlighting a law school "rooted in the Jesuit tradition of service to God and others" and emphasizing a commitment to social and economic justice.
That is a commitment that many secular law schools profess to share, McMorrow acknowledged. But BC Law's focus on advancement of the common good and concern for the disadvantaged is based on its Catholic identity, she said.
"It is true that other law schools try to create a cordial environment and have strong public interest flowing from it, but I think our vision stems from a fundamental understanding of the human person, which is itself one of the many important contributions Catholicism has made," she said. "These aspects are essential to a strong Catholic identity."
David Galalis, a third-year student who organized the St. Thomas More Society symposium, said his own Catholic identity motivated him to study law, as a way to serve God and to live out his faith. As an undergraduate at Holy Cross, he enjoyed a rich Catholic community replete with opportunities to express faith. Yet at BC Law, he said, if you want a vibrant religious experience, you have to build it yourself. He has found likeminded students, but he has also found some who feel threatened by religious expression.
"To the extent that a culture does exist at BC Law, I would say it tends toward a hostility to faith in general because of the mix of students," he said. "I think BC Law has a high proportion of secular students" whose attitude is, "I'm here to get a job. What does religion have to do with that?" Anthony Sagnella '04, who also attended the symposium, said that the Jesuit tradition inspired him to come to BC Law. He considered a call to the priesthood before applying to the Law School, at which he saw an opportunity to view both the secular legal route and the religious one. He is sympathetic to the practical challenges a Catholic law school faces to attract a diverse body of students: "You need to not earn the reputation of overwhelming students with Catholic rhetoric or with self-righteousness." But Catholic schools should not downplay their religious grounding either, he said.
BC Law "needs to identity itself as a Catholic law school but make clear that other viewpoints are welcome," he said. "I think it's important to have people from all different backgrounds because they will enrich the school."
The symposium gave people an opportunity to talk about the Catholic identity of the school, to air what is too often submerged, said Galalis.
Such talk is often shunned at religiously affiliated academic institutions, said a panelist during the symposium. Participants agreed that Catholic institutions often fear offending or alienating students and faculty they want to attract, including non-Catholics and nonbelievers. Newer Catholic law schools, such as Ave Maria School of Law and the University of St. Thomas School of Law, appeal more directly to the faithful. Indeed, Ave Maria's motto is "Fides et Ratio" (Faith and Reason), inspired by Pope John Paul II's encyclical and avowing "both faith and reason have their origin in God and both are necessary in the pursuit of justice."
A Gentle Idiom
Professor Scott Fitzgibbon, who regularly attends the 12:30 p.m. daily Mass at the BC Law chapel, said he wishes the Boston area had a law school like Ave Maria, but that doesn't mean he wants BC Law to be more like Ave Maria. He'd like to be a visiting professor at such an institution. He calls it "regrettable" that it has become difficult in our society to speak about one's religion. He takes Catholic social thought seriously, even when it leads down unpopular roads, he said.
"We've never tried to be an Ave Maria-type law school," he said. "I think there's another idiom of Catholicism, which is tentative and gentle and circumspect and hesitant to condemn and much more thoroughly acculturated, and I'd be awfully sorry if we abandoned that."
Abandon that and it is less likely the school would draw a student like Lauren Schumer. A fervent advocate for public service, the second-year student worked prior to law school for the Religious Action Center for Reform Judaism, the Democratic National Committee, and AIDS Action. She is Jewish, gay, and sports stylish short hair and a nose ring. She also loves BC Law School.
Her interest in attending BC Law stemmed from its Jesuit commitment to social justice and how that influences the community, she said. "It's coming from a Jesuit perspective, but I've never felt like you must be Jesuit or the only way to come at this is through Catholic tradition or Jesuit tradition."
In fact, she notes, the school appreciates and accommodates all faith traditions. Unlike at many secular schools, BC Law closes for major Jewish holidays. The school also set up a sukkah in the Mone Courtyard and even considered postponing a school social event scheduled for the second night of Shavuot, though only the most observant Jewish students would be affected. On gay issues, Schumer, who co-chairs the Lambda student organization, has engaged in political debate on campus but never faced personal invective. It all adds up to a comfortable environment for a range of students at the school, she said.
"I've had a really enjoyable experience," said Schumer. "People may disagree with you, but in general there's an atmosphere of respect."
Robert Eskridge, a 2L, learned that his first year when the dean for students and his professors took his religious beliefs into account, ensuring that he could take part in observances during the Muslim holiday of Ramadan. The community has only a handful of Muslims, he observed, and he wishes the school would delve into more Islamic legal studies. But he appreciates what he sees as the message of the school: "We have these ethics and morals and values that all people should have, not just Catholics, Christians, Jews, or Muslims, but everyone should have just to be a good, complete, whole person."
"A Great Virtue"
Dean John Garvey wants students like Lauren Schumer and David Galalis at BC Law. Together, they represent the diversity he strives for at the school. He is a committed Catholic, and he would not have taken the dean's job if BC Law had it not been part of a Catholic university. A Catholic Jesuit law school attuned to the concerns of the American Catholic church and the legal system will naturally attract Catholic academics like him, and the school could not retain its identity without them, he said. But neither could it be a world-class law school without people from other faith traditions and with different viewpoints.
"You can't have people who only think one way," he said. "One of the great virtues of the modern American Catholic church and Catholic universities is that they have been very open and welcoming to people of other faiths to participate in the project that they have under way. And I think that's true at Boston College.
"The one thing you can't do is to give up who you are for the sake of making people feel comfortable. You can't say, because some people who might otherwise want to come here don't really feel comfortable being part of a Catholic university, we'll lay off saying we'll be a Catholic university. The question is not whether we'll be a Catholic university, but what kind we'll be."
One way to fulfill that religious mission, Garvey says, is to address problems that confront the church, such as a symposium sponsored by the Law Review in 2003 on the clergy sexual abuse crisis. In addition, the new Law and Religion Programs, as outlined in the Strategic Plan, will oversee extracurricular activities and develop courses that address the intersection of law and religion. "One way of defining what a Catholic university is is to reflect on the world in light of the tradition," says Professor Thomas Kohler, who was recently named director of the programs, "especially in law, where one has competing visions of what a good is and competing visions of what human beings are. I see this program doing that reflection in a more consistent way, making BC a place for scholars to turn to both as a natural place to conduct the discussion and as a place to be informed as to the directions it's taking."
Garvey believes a "new kind of freedom in American public life" has led to a greater willingness of people to study the intersection of their lives of faith and their professional lives as lawyers. Richard Huber, dean of the school from 1970 to 1985, agreed that "religious thoughts and morality have come back into education in general and legal education. It's more common today that people will discuss various religious views that you face as a lawyer."
One forum for that discussion is the classroom, a venue where students and faculty embrace ratio but are often wary of fides. "If you stake your Catholic identity on integrating God in the legal classroom, I think you can come off as forced and stiff at times," said Galalis. "I think religion in general can safely be brought up and can add to the classroom, but if you bring up one religion specifically you do run the risk of alienation that should be avoided."
Daniel Coquillette, a former dean and now J. Donald Monan, S.J., Professor of Law at BC Law, incorporates a general study of religion in his professional responsibility class. For class material, he includes his book Lawyers and Fundamental Moral Responsibility, and class discussion can range from legal ethics to the teachings of Thomas Aquinas. At BC Law, he said, "we teach and look at law as linked to religion. It's important to how law is formed, how law is enforced."
BC Law offers such teaching while other law schools don't, notes Coquillette, who is a visiting professor at and a graduate of Harvard Law School. The faculty and deans at BC Law have always been serious about religion, he said, regardless of what religious tradition they came from. In the past fifty years, the Law School leadership has included Robert Drinan, a Jesuit; Huber, a Catholic; Coquillette, a Quaker; and Aviam Soifer, a Jew. "I feel much more comfortable as a Quaker within a Jesuit Catholic law school than I would at a school that's completely secular," Coquillette said.
The school would be less comfortable for many, however, if people automatically linked its religious affiliation with politics, said Coquillette. Yet, as the Catholic Church takes political stands on contentious subjects such as same-sex marriage and abortion, some question what stand a Catholic law school should take when such issues surface on campus.
Recently, undergraduate students at Boston College questioned the law school's funding of the Reproductive Choice Coalition, a student organization that, among other things, advocates for abortion rights. In response, Garvey wrote, "We do not interpret this kind of nondiscriminatory support as an endorsement of religious views. We think instead that it is a technique for teaching the students how to think—give them some space and a little money, encourage the freedom of speech and press, and see what happens."
The president of the Reproductive Choice Coalition, second-year student Anna "Mia" Rosenblatt, noted that the administration supported the group when some of its posters for an event were ripped down. When she announced that a speaker from Catholics for a Free Choice was appearing on campus, she said some students appeared to be offended and questioned whether a non-Catholic should promote such an event.
"Sometimes I think it's held against me, like, 'You're trying to undermine our values,' which is absolutely not what I intend," she said. "But Catholic students have such a wide spectrum of beliefs, and I don't think there's one kind of Catholic just as there's not one kind of Jew."
Rosenblatt, who is Jewish, was attracted to BC Law because of its reputation as a public service-oriented school. Insofar as she knew about the Jesuit tradition, she understood it to mean doing good for your community, and she appreciates that that is indeed a focus of the school. But at bottom, she said, she was looking for a legal institution and not a religious one.
If BC was marketed to her not just as a Jesuit school but as a school that really focused on Catholic teachings or on how Catholic teachings affect interpretations of the law, she said, "To be quite frank, I don't think I'd be here."
When he considered joining the BC Law faculty in 1970, Professor Charles "Buzzy" Baron wondered whether his stands on highly charged political issues would be compatible with teaching at a Catholic institution. People on the faculty then told him he needn't worry, and for thirty-four years, Baron said he's enjoyed a level of academic freedom that colleagues who teach at secular law schools envy. Author of a recently published article titled "Physician-Assisted Suicide Should Be Legalized and Regulated" and a civil libertarian, he has never faced repercussions for going against official positions of the Catholic Church.
He said the nature of the school would change, however, if it were to recruit students or faculty based on adherence to the orthodoxy of the Catholic Church.
"Religion, like race, has always been a hot-button criterion that gets people's dander up," said Baron. There is the worry that non-Catholics like him, as well as Catholics on the faculty who don't feel they meet the definition of orthodox, would begin to feel written off as something other than the core population of the school. For example, he said, they might begin to question, "Am I becoming some sort of window dressing, some sort of token to provide diversity as a contrast to what people are asked to accept as the core?"
Baron hopes that the same atmosphere of academic freedom and feeling of belonging will continue for him and other faculty members who built their careers at BC Law. As he speaks, he points to an ACLU poster on his office wall that reads: "Eternal vigilance is the price of liberty."
A Collective Memory
The school should not impose Catholicism on anyone, said student Anthony Sagnella. But it has an obligation, he asserted, to present its tradition, especially to those who are from another background, and make it clear what it means.
For Robert Muldoon '65, the tradition still influences him nearly forty years after graduation. The examples of Jesuit life, from St. Ignatius Loyola in the sixteenth century to former dean Drinan today, sustain the Jesuit mission, he said. His Jesuit education inspires the partner at Sherin and Lodgen in Boston to work pro bono, to participate in community service, as do many of his fellow alumni.
"I think the thing that makes a difference is the collective memory of how it all got started," he said. "I think people are motivated to do good acts and to live well and to think of other people by the examples of people. I think we all live by stories, and I think the Jesuit story is very helpful for people of whatever or no religious denominational feeling.
"What's different about BC Law school?" Muldoon asked. "Well, collectively, it has this memory and it tells people about it through these examples and illustrations."
Father Enman, the Law School's chaplain, is also, of course, versed in Jesuit history. He can detail Ignatius' journey that led to the founding of an order, which Enman describes as being centered around "having an educational system in place to benefit the whole person and permit the students to discover God in all things and to find goodness in all of creation." His own Jesuit education included study at BC Law, where he enjoyed the atmosphere, the sense of cooperation rather than competition. But, according to Enman, there was less Catholic activity on campus then than there is today.
"We didn't have a regular Mass. We didn't have an active St. Thomas More Society," he said. "There are a number of things going on now that are explicitly Catholic that weren't going on in the 1970s, when some people might think BC Law was more Catholic than it is today. It was taken for granted. It was culturally Catholic because most members of the community were Catholic, but I don't think there was anything at the Law School that would have set it apart from a secular school."
He credits Garvey with helping to invigorate Catholic life on campus, particularly through his support of the St. Thomas More Society. The school is also continuing the mission of the Jesuits through its clinics, such as the immigration clinic, and through its overall commitment to social justice.
Non-Catholics, too, are invited to express their faith and talk about religious values in student organizations such as the Christian Legal Society, the Jewish Law Students Association, and the Society for Law, Life, and Religion.
"Based on what I've heard from other people who come here and visit, they're just overwhelmed by how positive the atmosphere is here compared to their own institutions," said Enman. "I think we really have something special here that other places don't."
Lauren Schumer has heard the same thing. She recalled meeting an attorney on the hiring committee of a law firm, who had a miserable time at her own law school. The attorney told Schumer she's envious of the BC Law grads she interviews because not only are they bright, enthusiastic, and well schooled in the law, they also seem so darn happy.
Lewis Rice is a freelance writer in Arlington, Massachusetts.
Sidebar: A LEAP OF FAITH
A Jewish student discovers in BC Law's religious values the pathway to an unexpected future as a rabbi
BY DANIEL AIN '01
My education at Boston College Law School provided me with the foundation to do anything. Even to be a rabbi.
I knew I was sold on BC Law when Dean Aviam Soifer spoke at an open house in the spring of 1998. Although he said he was leaving his job as dean, I thought to myself that any Jesuit school in which the dean mentions his daughter's bat mitzvah and Torah portion is one in which I would be comfortable.
I think it's safe to say that 1998 was as interesting a time as any to begin a law school education. With the president of the United States sitting that September for four hours of televised grand jury testimony—in which he debated the legal significance of the word "is"—law was definitely in.
My first class was in Stuart House. Learning the ins and outs of civil procedure wasn't exactly what had drawn me to law school, but Professor Reginald Alleyne didn't waste any time getting to the subject of the day: The first case we studied was Clinton v. Jones. I knew I had not made a mistake going to law school.
The Supreme Court's decision to allow civil suits against a sitting president led directly to his impeachment and the trial of President Bill Clinton—and I wasn't even in my second year yet. A debate spread throughout the country on sex, law, and morality, and it seemed to me that BC Law School was a prime setting for these provocative discussions. My second year was slightly tamer, if you exclude the now long-forgotten Y2K fears, and I became president of the Jewish Law Students Association (JLSA). The interplay between law and religion was as significant to me as it was to the leaders of the St. Thomas More and Christian Legal societies. There was a deep respect on the campus for religiosity, and the three groups worked together to sponsor a speech by a devout Christian who explained how her faith had moved her to rescue Jews during the Holocaust.
In an effort to further my programming for JLSA, I set up an appointment to meet with the new dean, John Garvey. When I arrived at his office he told me he had to pick up his daughter from school and asked if I wanted to come along for a ride. This was an opportunity that I was not going to pass up. During the trip, we discussed different religious issues, but what I remember most was his nickname for his daughter, "Peanut." Peanut sat in the back, and on the way back to the Law School the three of us had a lovely conversation.
That year I also became close friends with the head of the Christian Legal Society. Casey Mattox was from Alabama, and he loved being from Alabama. I'm a New Yorker. Although from the outside it would appear as if we had little in common, we had wonderful discussions about our different faiths, about his wife and how she conducted a Passover seder as part of her faith.
However, we did not agree on politics. And 2000 was quite a year to disagree on politics. The two of us happened to take Professor Arthur Berney's Constitutional Law class, which met on Wednesday mornings. I supported Al Gore and Casey was a George W. Bush booster. When we weren't arguing about the role of prayer in school, we were discussing who was going to win the election. Afterward, the battle continued over the call for a recount, hanging chads, and who deserved to be president.
Although it didn't turn out as it should have (from my perspective), those were fun days. And it was in Professor Berney's class that we got to discuss the new constitutional law that was created by Bush v. Gore I and Bush v. Gore II.
My three years gave me a front seat to the legal and religious issues of the day. World events, political events, and religious events were not just taught, they were lived and they were breathed. Father John Paris in his Medical Ethics class was particularly instructive and supportive while forcing the students to think about these legal issues from their own religious, moral, and social framework. Abortion, physician-assisted suicide, and cloning were dealt with from public-policy perspectives and, much like Dean Garvey, Father Paris welcomed us all into his home to continue the conversations. In this class, as in my BC Law experience on the whole, differences were embraced. Indeed, I always felt as if I was a part of the community because of my faith, not in spite of it.
I finished in the spring of 2001; my job in New York began in September. After the terrorist attacks, while looking out the window of my Broadway law office and at Ground Zero far below, I thought of Father Paris and Dean Garvey and of the manner in which they lived their lives. It was then that I thought of using my BC Law education in a new way—this time to study to be a rabbi.
The decision was made possible because of my years at Boston College Law School. The warmth of the school, its devotion to faith and learning, was something that I wanted to pursue in my own life. BC Law provided the wonderful paradigm within which I could pursue my own faith.
Daniel Ain is a full-time rabbinical student at the Jewish Theological Seminary in New York and will be ordained in May of 2008. He is licensed to practice law in New York and does pro bono work for the Jewish Community Relations Council of New York.