A Year in the Life of a Law Review Editor
by michael o'donnell '04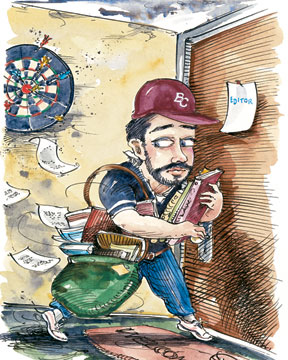 (Illustrations by Mark Steele)
What was he thinking?
An overworked law student explains why he took on the role of law review editor in chief and reports on the adventures and misadventures that dotted the way.
"That's him! That's him—that's Charles Ogletree! What's he doing on TV? That guy owes me a law review article!" It was August 2003 and my wife and I were in a hotel room in Midtown Manhattan, in town to watch my brother race in a professional cycling event. I was up in arms because, while changing television channels, I had just discovered Ogletree—a Harvard Law professor and nationally renowned authority on criminal law and racial justice—speaking with Katie Couric on NBC's The Today Show. Although, as a law student, I might have been curious to hear what Ogletree had to say about a topical Supreme Court development, my real interest in the man had absolutely nothing to do with his television commentary.
Charles Ogletree was on my mind that morning because of his impending deadline to submit an article draft to the law review I was now in charge of running.
We called them "Ogletree sightings"—fleeting glimpses of the professor at the very moment we needed him—and they characterized the on-again, off-again relationship between the author and the journal's student editors. Professor Ogletree had an army of overwhelmed assistants who served as our contact points, and, frustratingly, was extraordinarily difficult to track down in a pinch. Yet he periodically redeemed himself by emerging after weeks of silence, submarine-like, to communicate with great proclivity about his beautifully written article to his student editor, Chanterelle Sung '04—often at unusual hours and by cell phone. "He called me at 7:30 this morning!" Chanterelle told me excitedly one day.
Professor Ogletree's demanding schedule and inconsistent hours even led me once, after an Ogletree sighting, to explore the blurry line between aggressive editor and law review stalker. I spotted him at a public interest law conference in Washington, DC; he was juggling a cup of soup and a bundle of papers, talking into his shoulder-cradled cell phone, and walking between two garrulous colleagues into a room where he no doubt was about to deliver an important lecture. I seriously considered leaping in front of him to demand that he sign off on a recent edit changing a few of his article's footnotes, but I chickened out at the last minute. What, I thought to myself as I contemplated the missed opportunity, have I become?
These are the adventures of a law review editor.
MY FIRST THOUGHT AFTER BEING elected in March 2003 as editor in chief of the Boston College Third World Law Journal was an extraordinary sense of ineptitude. The summer before my term began, as I set about planning the year ahead, full of eagerness and sharpened pencils at the ready, I began to admit many things to myself: I had no editing experience. I had no managing experience. I was not an expert in third world legal issues—I wasn't even a lawyer! How, I contemplated with a dawning sense of horror, would I manage a staff of twenty-seven and edit an academic journal of the law?
Many law review editors no doubt experience a similar sickening awakening to their own professional shortcomings as they take on the business of managing law reviews, the 350 or so student-run, scholarly publications of legal academia. Law reviews are not like the peer-reviewed journals of the natural and social sciences, edited by experts and run by professionals. Law reviews are edited and published by overworked students with virtually no expertise whatever.
My surroundings as I began chiefdom were less than auspicious. The five law reviews at BC Law are housed on the fifth floor of Stuart House, the older of the law buildings, and they share the space with law professor offices. The fifth floor is always slightly sweaty; heat rises and ventilation is poor, so the first weeks of the fall semester and the last weeks of the spring are sticky and unpleasant.
None of the review's offices is particularly lavish, but the Third World Law Journal's accommodations truly live up to their name. Our main office, in which we hold meetings and keep mailboxes with work assignments, is outfitted with old, mismatched furniture (a futon collapsed last year) and bears random wall decorations, including a dartboard and a poster of a British railway advertisement. My own office is a quite small, windowless, L-shaped room with peeling paint and a sloped ceiling. The carpet is orange and ugly. The lighting is poor, and corners are shadowy. It is an intensely claustrophobic space to occupy and I have quit it on many afternoons for the air-conditioned law library. It feels like the third world here—or at least, the law review equivalent of it.
Between these walls, I have performed my law review editor functions over the past year. I edited each article that was published in volume twenty-four of the journal's pages. I played mother to fussy law professors, boss to journal members behind on their work, and mediator to feuders and fighters of all types. I referenced well-thumbed copies of the Bluebook, which governs legal citation; the Redbook, a handbook for legal writers; and the Chicago Manual of Style. Above all, in this room, I have worked and I have worried.
Why do law students join law reviews? After all, we are notoriously busy and overworked to begin with. Further, spending evenings and weekends coddling cantankerous professors and managing an enormous volume of tedious work isn't exactly a recipe for the harmony of one's social life. Yet first-year students do persistently push for top grades and scramble to complete journal writing competitions—the two tickets to review membership at most schools—so as not to miss their chance.
I decided to join a law review for a set of fairly standard reasons. First and foremost was, frankly, the unparalleled résumé power that the experience provides. I knew I wanted a federal clerkship after law school, and that aspiration informed my choice to join a journal and to run for editor in chief. Sure enough, my future employer at the US Court of Appeals for the Seventh Circuit asked about my journal experience before anything else. We actually bonded about trying to keep one's grades up while serving as editor in chief; she had been EIC of the Iowa Law Review.
"Isn't it awful?" she asked, referring to the balancing act between EIC duties and coursework.
"I can't wait until it's over," I replied.
Another incentive that drew me to law review is the considerable writing, editing, and research experience that membership affords. In the past two years my fellow editors and I have researched and written two substantial academic articles (these are called, degradingly, "notes" and are left unsigned at particularly stodgy reviews, but not at BC Law) and become comfortable and familiar with the ways of legal scholarship. My experience on the journal has provided fully half of my legal education.
Law review, then, is a sort of institutionalized trade off in American legal education: Students line up to spend two years as the worker ants of the legal publishing world in return for prestige and employable skills. But is this a good bargain for the litigants, judges, and academics who rely on the scholarship produced by law reviews?
The answer to this question can be found in footnotes.
FOOTNOTES HAVE DOMINATED MY LIFE for the past year. On my weekend plane rides between my summer job in Washington, DC, and my Boston home last July, I passed the time reading and editing journal articles. On one ride, a passenger sitting next to me, fishing for conversation, glanced at the proportions of the paper I was reading and commented wryly, "You know you're in trouble when there are more footnotes than text on the page." I sighed and said, "Tell me about it."
My colleagues and I have labored over the rules of footnote protocol to an extent undreamed of (in the nightmare sense) by lawyers and law students who didn't serve on a journal. I'm embarrassed to admit that as I sat in the law library writing a paper for a class recently, smoothly whipping off complex footnotes without even cracking my Bluebook, I actually thought to myself that my non-law review classmates didn't stand a chance against my fearsome citation acumen, and that my professor would probably miss the nuances of my skilled performance.
The proper citation form for the Holy Bible? Mark 9:21 (King James). The number of digits a numeral requires to warrant using a comma? Five. The official abbreviation for any word in the English language that anyone ever thought of abbreviating? Brotherhood = bhd.; turnpike = tpk.; partnership = p'ship. I am an army of one.
The Bluebook serves as the handbook for the most singular feature of law review editing: the cite and substance check ("C&S" for short). This process, which every journal member at BC Law incessantly bemoans, is the most tangible manifestation of the difference between the peer review editing of other fields and student-edited law reviews. Since law students are not expert in the various strains of legal scholarship that we publish, we must verify the accuracy of the arguments made in our pages the hard way. During the C&S, we collect a physical copy of every source cited in an article—a fifty-page article usually has 200 to 300 footnotes —and check the specific material the article cites.
This process yields an extraordinary depth of intimacy between editor and article, and can shine a rather harsh light on the professors whose writing we edit. In the course of a year, we inevitably confront a sloppy article or two with poorly attributed research and careless footnote form. These we fail to correct and polish at the peril of our journal's academic reputation: As John Gordon, publication specialist at the Law School and Bluebook guru extraordinaire, puts it, "Accuracy is the currency of law reviews."
One of the articles we published recently was clearly written by an author who was accustomed to having diligent student editors fill in the gaps of his work; he had cited, in places, not to actual sources, but to cities. "He cited to Chicago!" an incredulous articles editor exclaimed to me once. "How can he cite to Chicago? What does this mean?" It meant, of course, that the author expected us to do some legwork and find the sources he had in mind. The sentence was about race riots in the twentieth century and it cited to Chicago, so the editor took a deep breath and went to the library to read up on her history.
As editor in chief, I was blessedly exempt from direct C&S responsibilities this year (although I did my share as a 2L); instead, I supervised two editors who ran the process. I did make the mistake, however, of venturing into the basement of the law library last fall to check in on the besieged C&S teams that worked, weary and short-tempered, at tables filled with impossible mountains of books.
They sat in pairs, backs bent, huddled over legal tomes, their bloodshot eyes scrutinizing the sources for accuracy. After a few quick exchanges with harried colleagues, I left, realizing that I was less a Patton helping to pep up the troops than a warily eyed sergeant-major dangerously close to a mutiny. On my way out I saw a journal member leaving the library in an unmistakable stupor. "Been C&Sing?" I asked. "Yep," she replied, "we just finished. I'm going drinking."
MY ROLE ON THE JOURNAL has dictated a solitary and sometimes isolating experience. Like all law students, I have logged an unhealthy number of hours in the buildings of my school this year, but unlike others, I passed the vast majority of that time alone, in an office, with the door closed.
Routine has sustained me. I go to bed at 9:30 p.m. and wake up at 5:30 a.m. I arrive at school every day between 6:30 a.m. and 7:15 a.m. and leave between 6:30 p.m. and 8:00 p.m. I do all my reading for classes early in the morning, leaving the afternoon free for journal work. I never work on Saturdays. I began working on Sundays sometime last October, but avoid it when I can. I cherish the weekend, when I can spend time with my wife, read a newspaper, throw a frisbee.
This familiar cycle has helped me to manage, practically as well as psychologically, a crippling amount of work. Balancing the demands of law review on top of a full law school course-load can challenge the most organized student, and at times I found myself fighting panic in my small office. I clung steadfastly to my routine at the peril of possibly falling behind and finding myself even more beleaguered.
Even my jealously guarded habits, however, have been overcome by editor-in-chief duties from time to time. I recently spent a long weekend reading each second-year journal member's "note" to begin the process of selecting four for publication in an upcoming volume. Fourteen papers averaging 40 pages each equals 560 pages (including many, many footnotes) to read and critically assess.
It was a long weekend. I kept the heavy stack of papers in a canvas National Wildlife Federation tote bag, which accompanied my wife and me virtually everywhere we went Saturday and Sunday: Mary and Mike and tote bag at the coffee shop. Mary and Mike and tote bag at the laundromat. Mary and Mike and tote bag at the park.
During these short burst-like periods of heavy work, law review duties have completely replaced the ordinary corners of my life. Not only did I miss spending quality time with Mary during the note-reading weekend, but, in addition, I had to forgo two of my simplest but most therapeutic pleasures: exercising at the gym and reading my weekly copy of The Economist. In moments like these, I know I won't miss being a law review editor.
But at other times, I suspect that I might.
THE DAY OF THE JOURNAL'S SYMPOSIUM in March was a long, tiring, and exhilarating one. It was a day-long event of panel discussions that will lead to a special issue of the journal, and it summarized everything that is great about being a law review editor. (It also captured the occasional humility: I buckled the seat-belt and tied the shoe of a professor who labored with a broken arm. When the professor meekly made the shoe request, one of his colleagues offered to oblige, but I intervened. "This kind of thing really is reserved for lowly law students," I said to laughs all around.)
Our topic, immigration law and human rights in the wake of September 11, drew a capacity crowd of students, professors, community members, and even legislative staffers—all a testament to the importance of the exciting topics the Third World Law Journal addresses.
Throughout the day, when I wasn't helping David Sterrett, the journal's symposium editor, call taxi cabs for departing professors or shuttling them to and from their hotel, I sat, enraptured, soaking up the contours of an event filled with lively debate, policy proposals, and controversial assertions—an intellectual symphony. Getting to live and breathe in the world of ideas is something that most law review members, myself included, take for granted most of the time, but that day I basked in it like warm sun.
After the event, as per the custom of BC law reviews, several senior editors and I, as well as Roz Kaplan, the matriarchal manager of all of the school's law reviews, took the symposium guests out for a night on the town. We had a lovely dinner at a local restaurant. The professors were uniformly gracious and friendly, and they put aside the trappings and pretensions of the academy to enjoy an evening with bright and excited students. We talked politics, laughed at silly law school protocols, and discussed the idiosyncrasies of the Supreme Court justices for whom the professors had clerked. I had an engrossing conversation with a professor from New York who told me about her young family. As the party lingered into the evening, the wait staff eyed us as if we would never leave.
Moments like these have profoundly humanized law professors for me. We students begin law school in fear and awe of the iconic scholars of contract and tort who baffle and toy with us in the classroom, the Socratic method their scalpel. In our second year, we are less beguiled, and by our third, we are often downright cynical, focusing on the professors' shortcomings rather than marveling at their powers and anxious simply to be done with our studies.
A relaxed and friendly evening with affable professors happily completes the circle: I was reminded at dinner that night that law professors are simply people. They can be magnanimous or surly, avuncular or childish. A law professor can interact with a student editor in the pouting, impossible- to-please tones of Professor X, with whom I corresponded daily about newly discovered comma splices and footnote additions, or Professor Y, who shared stories with me, listened to what I had to say, and reminded me to be a human being as well as a lawyer.
ONE OF MY LAST TASKS THIS YEAR has been to update the Third World Law Journal's "EIC manual" for the use of our incoming editor in chief, Audrey Kwak. Colorful lines are jumping out at me: Don't hold meetings that have no purpose, as the staff will be upset with you. Be sure to tell professors how much you enjoyed reading their article when you call to make them an offer of publication. If you can't find the answer in the Bluebook, ask John Gordon.
As chestnuts of wisdom from one law student to another, these maxims seem almost quaint; at the least, compared to the global legal and political problems that our journal tries to elucidate, they are trifles. But, as the institutional memory of a position with quick turn-over and many priorities to balance, they are, in their own way, invaluable. They are a survival guide to an impossible and incomparable year.
Audrey will be a great editor.
And I'm so glad my shift is over.
Michael O'Donnell '04 is a law clerk at the US Court of Appeals for the Seventh Circuit in Chicago.