The Relevant Historian
by vicki sanders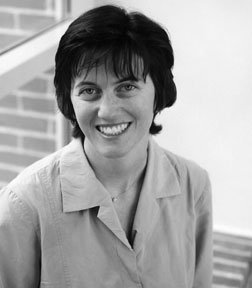 Professor May Bilder provides "a new explanation for the origins of judicial review and federalism, and underscores the centrality of the colonial period in understanding modern American law."(Photo by Suzi Camarata)
Past and Present Relate in Bilder's Scholarship
In her third year of law school, Mary Bilder was still a student in search of a calling. She'd squared away a bachelor's degree in English at the University of Wisconsin-Madison and was completing her law degree at Harvard when her epiphany appeared in the person of Pulitzer Prize-winning historian Bernard Bailyn.
She describes his history class on the American Constitution as the best course she's ever taken. "He talked of all the things about the Constitution that no one ever told you in law school," Bilder remembers. She discovered how much of the Constitution was designed to solve contemporary problems in the 1780s and that it was not written soley as an idealistic document.
The Constitution's relevance and practicality struck a chord in her that continued to resonate throughout her clerkship with the Fourth Circuit Court of Appeals in Baltimore, Maryland, and her pursuit of a master's and PhD in history, for which she returned to Harvard. There remained, however, some career sorting out to do.
Graduate school was teaching Bilder that she missed the professional focus of law school, "being around people who were practically oriented." That understanding, together with an interest in teaching, led her in 1994 to an assistant professorship at BC Law. Today, she is celebrating two new accomplishments, promotion to full professor and the publication of her first book, The Transatlantic Constitution: Colonial Legal Culture and the Empire, by Harvard University Press.
In a sense, Bilder's book is a consummation of the ideas Bailyn awakened in her: It expresses her belief in the currency of history and interest in the applicability of law.
In the book, she argues that American law and legal culture developed within the framework of an evolving, unwritten transatlantic constitution understood by the legal communities on both sides of the Atlantic. She describes how the pragmatic and flexible conversation about this constitution shaped colonial law. According to the publisher, Bilder thus provides "a new explanation for the origins of judicial review and federalism, and underscores the centrality of the colonial period in understanding modern American law."
In the classroom, as well as in her scholarship, Bilder's historical perspective adds relevance. Because, as she sees it, law is inherently historical—it's about what happened in the past regarding case and legislative precedents—"studying legal history allows you to understand where legal procedures, traditions, and laws come from and how they were part of our society, and it lets you decide if they still should be part of this society," she says.
It's no wonder, then, that Bilder enjoys teaching Property as much as she does her legal history courses. "Early American and colonial law is so property related," she observes. And Property pertains to real life, the stuff that really matters to people, she says. "It's all about people's disagreements with each other over land or things."
Bilder's recent academic achievements are not her only ones. In 2001 she married David Mackey and became stepmother to his daughters, Lizzie, ten, and Dana, fourteen. The couple's newest daughter, Eleanor, was born nearly a year-and-a-half ago. Herself the eldest of four siblings, Bilder is the daughter of an international law professor and a painter.
What's next on her agenda? She's planning a book about James Otis, a Massachusetts lawyer at the time of the American Revolution.