Women Are Not Like
by april otterberg '06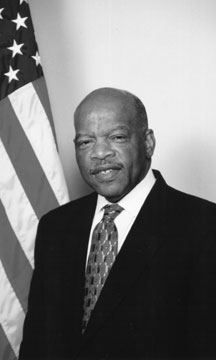 Georgia Congressman John Lewis believes America is on its way to ridding itself of the problems of race.
A walk in a civil rights worker's shoes
Long before John Lewis was elected a congressional representative from Georgia in 1986, he was making political waves—fighting racial injustice alongside Dr. Martin Luther King Jr. and others as one of the "Big Six" leaders of the Civil Rights Movement.
Born in 1940 as the son of a sharecropper in Alabama, Lewis learned early about discrimination and the fear of disrupting the system of segregation. "I asked my mother and my father, 'Why segregation? Why racial discrimination? Why those signs?'" said Lewis in his Diversity Month address at the Law School in April. "And they said, 'That's the way it is.' And over and over again, my parents…would tell us, 'Don't get in trouble! Don't get in the way!'"
But after hearing King speak over the radio while attending high school in the late 1950s and after being denied admission to what was then Troy State College in Alabama, Lewis was inspired to start getting in the way.
While in college in Nashville, Lewis organized sit-ins at segregated lunch counters, later volunteering to participate in the 1961 Freedom Rides, which challenged segregated bus transportation in the South. As the chairman from 1963 through 1966 of the Student Nonviolent Coordinating Committee, which oversaw the activities of students in the fight for racial equality, Lewis turned his attention to voting rights and led a 600-person march across the Edmund Pettus Bridge in Selma, Alabama, in early 1965. Attacked by state troopers in what became known as Bloody Sunday, Lewis and other march leaders didn't give up—and the march helped spur the passage of the Voting Rights Act of 1965.
That and other legislation of the late 1960s began what Lewis termed a "nonviolent revolution under the rule of law"—a process through which racial equality continually is becoming closer to reality.
"Sometimes I hear people, especially young people, saying, 'Nothing has changed,' and I feel like saying, 'Come and walk in my shoes,'" Lewis said. "We live in a different country. We are in a process of laying down the burden of race."
The philosophy behind the Civil Rights Movement was not disruption, Lewis said, but rather an attempt to allow all parts of society to work together as one whole—an effort to "hold the American house together." And in Lewis' opinion, law was and should continue to be paramount to creating racial equality.
"Lawyers played a major role, helping to create the climate [and produce] the environment for making our country a better place. …You must use the law as a tool, as an instrument, to bring about change," Lewis urged. "Use the law as a nonviolent weapon…to usher in a greater sense of community, a greater sense of what I like to call one nation, one community, one family, one house."
Other Articles from Legal Currents
A New, Disquieting World
The Federal Tax Quandary