A New, Disquieting World
by david reich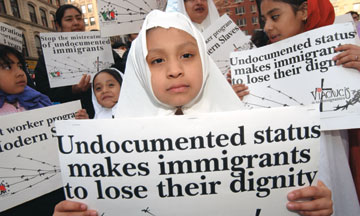 Demonstrators demanded civil rights for immigrant workers at a protest on Good Friday in front of the Federal Plaza in New York. (Photo by Ramin Telaie/Corbis)
Immigration, human rights and the war on terror
Near the start of the March BC Law Human Rights Program conference on immigration law and human rights, Professor Daniel Kanstroom recalled a law school class on the topic that took place on September 11, 2001. Instead of launching into their work for the day, students watched television coverage of the terrorist attacks. "As I saw the firefighters and police streaming into the World Trade towers," Kanstroom said, "it occurred to me that we would have to do that also…stream into a vacuum and rebuild the law."
Lawyers, of course, haven't faced the same dangers as police and firefighters did that day, but as was evident from this year's conference, which was co-sponsored by the Boston College Third World Law Journal, immigration law practitioners do face a new, disquieting world in the aftermath of 9/11. In that world, Kanstroom argued, distinctions between criminal and civil law, citizen and non-citizen, and even war and peace have started to blur—with worrisome implications for civil liberties and human rights.
Finding Fault
Kanstroom, like several colleagues who followed, explained and also faulted the Bush administration's use of the immigration system as a tool in its so-called war on terror. Compared to criminal law, where an arrest is based on probable cause, immigration law is so complex and gives law enforcement personnel such enormous discretion that they can find a reason to detain or deport virtually any non-citizen.
Further, as Kanstroom and other presenters pointed out, defendants in immigration proceedings lack most rights accorded criminal defendants, including the right against self-incrimination and the rights to bail, a public trial, and habeas corpus review of detentions. Indigent defendants in immigration cases—including many rounded up after 9/11—also have no right to legal counsel.
Even the limited rights available under immigration law have been abused by the government since 9/11, according to several of the presenters. Professor David Cole of Georgetown University Law Center reported that a client, a Canadian citizen born in Syria, was detained while changing planes at a New York airport on the basis of "secret evidence" and later deported to Syria, where he was held without charge and tortured for ten months before being released. Cole said his client has visited the US without incident since returning home to Canada, a tacit admission by our government that he wasn't involved in terrorism.
Another speaker, Susan Akram, a professor at Boston University Law School, wondered whether the fact that US citizens who are Muslims, as well as Muslim immigrants, have gotten special attention from law enforcement authorities suggests that the immigrants are being targeted not on the basis of nationality—which courts have sometimes tolerated in immigration cases—but on the impermissible bases of religion or ethnicity.
Nancy Morawetz, a professor at New York University Law School, detailed another questionable practice: the transfer of immigrants with pending appeals of deportation orders to a detention facility in Oakdale, Louisiana, a community where legal resources are scarce and the federal First Circuit has no jurisdiction. "It's an unsympathetic court that sides with the government on lots and lots of issues," Morawetz said. "It also sees itself as having limited jurisdiction…saying, 'Our court has no power to stay deportation.' " Though the government, she said, defends the transfers by arguing that Oakdale is a low-cost facility, "there's no question the government keeps up its high statistics of deportations by shipping people off to Louisiana."
"The New Penology"
Teresa Miller, an associate professor of law at SUNY Buffalo, likened the singling out of Arab and Muslim immigrants by law enforcement authorities to a trend in criminal justice thinking called "the new penology," which focuses not on rehabilitation or individual justice but on incapacitating racial or ethnic groups thought to be involved in crime. In general, she said, immigration cases, which technically fall under civil law, are increasingly becoming "criminalized," with the punishment of deportation, previously reserved for truly dangerous criminals, now being meted out for minor infractions like shoplifting.
Aside from its human rights and civil liberties implications, the interrogations, arrests, and deportations of thousands of Arabs and Muslims in this country has resulted in few or no arrests of terrorists while alienating Muslims here and worldwide, according to Kanstroom and others at the conference.
As Georgetown Law Center's David Cole said, "Anti-Americanism has risen to unprecedented levels around the world because we've sacrificed the rights of noncitizens to protect citizens' rights. That double standard corrodes the legitimacy of the war on terrorism and ultimately makes us less free."
Also participating in the conference were Mary-Rose Papandrea, who will be teaching at BC Law in the fall, David Martin of the University of Virginia School of Law, Stephen Legomsky of Washington University School of Law, and Sophie Robin-Olivier of the Université du Littoral Côte d'Opale. In the lunchtime address, Debra Brown Steinberg '79, a partner at Cadwalader, Wickersham & Taft in New York City, spoke about her experiences as head of her firm's pro bono representation of survivors of 9/11 victims.
Other Articles from Legal Currents
Laying Down the Burden of Race
The Federal Tax Quandary