Class Notes
compiled and edited by deborah j. wakefield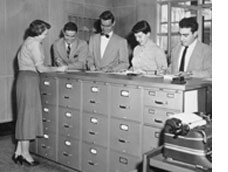 Low-Tech Law: In the good old days, a helpful assistant and paper and pencil were law students' best tools. (Photo courtesy of University Archives/Burns Library, Boston College)
Esquire
1950s
1960s
1970s
1980s
1990s
2000s
In Memoriam
Citations
We gladly publish alumni news and photos. Send submissions to BC Law Magazine, 885 Centre St., Newton, MA 02459, or email to sandervi@bc.edu.
1950s

Gilbert L. Wells '58, commander of the American Legion Portugal Post PO01 in Colares, Portugal and his wife, Justina, participated in the organization's ceremonies marking the fiftieth anniversary of the Korean War Armistice in Portugal in July.
Alan S. Goldberg '67 was elected council member of the American Bar Association Health Law Section and appointed chair of the section's Website Development and Enhancement Committee; was appointed to the Legal Affairs Committee of the American Telemedicine Association; and was named co-chair of the Seventh National HIPAA Summit in Baltimore, Maryland. A partner in the Washington, DC, office of Goulston & Storrs, he is a co-author of HIPAA Terms: An Annotated Glossary, published by the American Health Lawyers Association.
1970s

David T. Flanagan '73 was elected chair of the board of trustees of the American University in Bulgaria in Blagoevgrad, Bulgaria, in September.
Walter B. Prince '74 was elected to a three-year term on the board of directors of the Boston Chamber of Commerce. He is a senior partner at Prince, Lobel, Glovsky & Tye LLP in Boston.
Allan M. Tow '76, an associate professor in the legal studies program at Suffolk University in Boston, was featured in Massachusetts Lawyers Weekly as "one of the most recognizable faces in Boston's acting scene." An actor for more than a decade, he directed a workshop for legal professionals titled "Law and Dramatic Art" at Boston Casting in June.
Patricia A. M. Vinci '78 has assumed the position of in-house counsel at Ibis Consulting, Inc., in Providence, Rhode Island, where she has worked for five years. She lives in North Kingstown, with her husband, Tony, and children, William, age 15, and Elizabeth, age 12.
Robert J. Ambrogi '80 joined Jaffe Associates, headquartered in Bethesda, Maryland, as vice president of editorial services and director of the firm's legal writing service, WritersForLawyers.com.
Rear Admiral Robert F. Duncan '83 assumed command of the Eighth Coast Guard District, headquartered in New Orleans, Louisiana, and is responsible for all Coast Guard operations in twenty-six states. He was previously the chief counsel and judge advocate general of the US Coast Guard.
Bobby B. Gillenwater '83 was selected managing partner of Barnes & Thornburg in Fort Wayne, Indiana. He chairs the firm's intellectual property department.
James P. O'Hare '83 joined the Boston office of Kirkpatrick & Lockhart LLP in the firm's corporate practice. Previously, he provided investment banking services to emerging technology companies.
John S. Brennan '84 was promoted to full professor of law with tenure and appointed chair of the Property Department at Thomas M. Cooley Law School in Lansing, Michigan. His article, "The First Amendment Is Not the Eighth Sacrament: Exorcising the Ecclesiastical Abstention Defense from Sexual Abuse Claims against Clergy," was published in the Thomas M. Cooley Journal of Practical and Clinical Law.
Christopher R. Vaccaro '84 recently argued the case of McDermott v. Melrose Board of Appeals before the Massachusetts Appeals Court, obtaining a reversal of a summary judgment rendered against his client by the Superior Court in a case arising under the Massachusetts Zoning Act. The case addressed the consequences of a property owner's failure to record a special permit with the registry of deeds. Vaccaro's law offices are in Boston and Hyannis.
Julia K. O'Neill '85 is co-author of the Entrepreneur's Internet Handbook: Your Legal and Practical Guide to Starting a Business Website and How to Start a Business in Massachusetts, published by Sphinx Publishing. A partner in the Boston firm Fleming & O'Neill, P.C., she practices business, corporate, and securities law. She and her husband, Douglas Fleming, have two sons and live in Holliston, Massachusetts.
Cid H. Inouye '86 was featured in an article in the online version of the Honolulu Star-Bulletin regarding his new position as chair of the board of directors for Junior Achievement of Hawaii. He is a partner at Reinwald, O'Connor & Playdon in Honolulu, Hawaii.
Michael C. Fee '88 was appointed chair of the Massachusetts Bar Association Property Section Council. He is president and managing director at Fee, Craig & Feeney, P.C., in Sudbury, Massachusetts.
Jonathan D. Lee '88 and his wife, Carol, announce the birth of their daughter, Esperanza Noelle, in July. He is a financial adviser with Global Private Client Group of Merrill Lynch in Minneapolis, Minnesota.
1990s

Maribeth Petrizzi '90 was named chief of the Litigation II Section of the Antitrust Division of the US Department of Justice in September. She was formerly with Clifford, Chance, Rogers & Wells in Washington, DC. She resides in Arlington, Virginia, and can be reached at Maribeth.Petrizzi@usdoj.gov.
Lori M. Bodwell '91, outgoing president of the Alaska Bar Association, attended the association's annual convention in Fairbanks in May. She and local attorneys took convention keynote speaker, US Supreme
Court Justice Antonin Scalia, halibut fishing in Homer.
John F. Malitzis '92 is senior vice president and associate general counsel at Citigroup Global Corporate and Investment Bank in New York. He was formerly with the Nasdaq Stock Market.
Anthony D. Rizzotti '92 was promoted to partner at Ropes & Gray LLP in Boston as in the firm's labor and employment department. He and his wife, Jill Huban Rizzotti '95, have two sons and live in Sudbury, Massachusetts.
Susan L. Tiffany '92 is of counsel at Stratton & Feinstein, P.A., in Miami Beach, Florida, where she practices in the areas of corporate, small business, franchise, and real estate law.
Don J. J. Cordell '94 is a partner at Seegel, Lipshutz & Wilchins, P.C., in Wellesley, Massachusetts, where he specializes in estate planning, elder law, and business law. A member of the Academy of Elder Law Attorneys, he is a frequent speaker in the areas of estate planning, probate, and long-term care planning.
Christopher M. Mirabile '94 was appointed general counsel of IONA, a worldwide provider of high-performance integration solutions. He was formerly with Testa, Hurwitz & Thibeault LLP in Boston.
W. Kenneth Hunt '95 married Rossana Vera on Martha's Vineyard in May. Josh Goodman '95 officiated at the ceremony attended by many BC Law alumni.
Karen Langan Lane '95 was promoted to partner at Choate, Hall & Stewart in Boston and practices in the area of labor and employment litigation. She and her husband, Don, and son, Jack, announce the 2002 birth of Allison Maeve. The family lives in Medfield, Massachusetts.
Peter J. Millones Jr. '95 married Jennifer L. Johnson '96 in July. He is an executive vice president and the general counsel of priceline.com, an internet travel services company based in Norwalk, Connecticut. She is an intellectual property litigator at White & Case LLP in New York.
Ingrid C. Schroffner '95, as a steering committee member of the Boston Bar Association Family Law Section, organized "Marriage, Math, and Malpractice: The Division and Valuation of Pension and Retirement Benefits," an event at BC Law in September. An associate at Burns & Levinson LLP in Boston, she is the author of "Address Probate Issues, Protect Your Assets" in Women's Business Journal in September and "Cultural Considerations in Massachusetts Courts" in Massachusetts Lawyers Weekly in June.
W. Alan Wilk '95 was elected a member of Dykema Gossett PLLC in the Lansing, Michigan, firm's government policy and practice group.
Craig J. Coffey '96 and his wife, Kristina, announce the birth of their first child, Dylan James, in August. The family lives in Providence, Rhode Island.
Douglas J. Nash '96 is of counsel in the Syracuse, New York, office of Hiscock & Barclay and focuses his practice on complex commercial litigation. He was formerly a partner with Hale & Dorr LLP in Boston.
Erin O'Donnell Sibley '96 joined Coldwell Banker Residential Brokerage in Newton Centre as a licensed real estate broker. Recently married, she has lived in this area for over ten years.
Darek A. DeFreece '97 joined the law department of Wells Fargo Bank, N.A., in San Francisco, California, as senior counsel specializing in investment management and financial derivatives.
Annica H. Jin '97 was named general counsel to Deloitte in New York.
Peter D. Callahan '99 was featured in an article titled "A Jobless Lawyer Seeks a Destination" in the Massachusetts Lawyers Weekly in July. He joined the Concord, New Hampshire, office of Hinckley, Allen & Snyder LLP as an associate in the firm's health law practice group in September.
Gregory F. Corbett '99 married Elizabeth G. Moulds '99 in June. Attendants included Cara E. Corbett '02, Kristy L. Nardone '99, Benjamin M. Richard '99, Brian P. Frane '00, and James A. Reidy '99. Greg and Elizabeth live in Washington, DC, where they practice law at Kirkland & Ellis and Ballard, Spahr, Andrews & Ingersoll, respectively.
2000s

Cleora S. Anderson '00 married William Sellers IV '01 in September. They live in Atlanta, Georgia, where she is a securities fraud litigator with Chitwood & Harley LLP and he is a management consultant for D. J. Miller & Associates.
Louis P. A. Lehot '00 is an associate at Shearman & Sterling in London, England, where he specializes in international capital markets. He and his wife, Tita, have a son, Adam Norman, born in November 2000.
Alex Soufflas '00 joined Spector, Gadon & Rosen, P.C., as an associate in the Philadelphia, Pennsylvania, firm's business services group. He was formerly with Sullivan & Worcester LLP in Boston.
Evan L. Hammonds '01 joined Bernstein, Shur, Sawyer & Nelson in Portland, Maine, and is a member of the firm's bankruptcy and insolvency practice group.
Gail E. Magenau '01 joined the Boston firm Moehrke, Mackie & Shea, P.C., where she focuses on environmental litigation, enforcement defense, negotiation and analysis of business contracts, and regulatory compliance.
Adela T. Iturregui '02 joined the Walter Law Group in Fresno, California, and practices in the areas of commercial litigation and bankruptcy.
Jaime N. Morris '03 is an associate at Riker, Danzig, Scherer, Hyland & Perretti LLP in Morristown, New Jersey. She is a member of the firm's labor and employment group and concentrates in litigation matters.
Carla A. Salvucci '03 joined Brown Rudnick Berlack Israels LLP in Boston. Now that she has passed the Massachusetts State Bar exam, she works in the firm's litigation practice group.
William C. Madden '39
Thomas J. Hogan '43
Donald G. Holland '44
Frances C. Kissell '48
Kinji Kanazawa '50
Wilfred F. Elwyn '51
Hon. Anthony A. Giannini '51
Robert Heffernan '54
Neale D. Murphy '55
Edward F. Hennessey '61
John C. Wrightson '61
Marc A. Comras '70
Daniel O'Connell III '72
Arthur Harris '04

J. Owen Todd '60, Louis P. Aloise '75, and John A. Tarantino '81, named "Lawyers of the Year 2002" by Massachusetts Lawyers Weekly.
Andrew L. McElaney Jr. '70 and Robert B. Remar '74, elected fellows of the American College of Trial Lawyers.
Harold Damelin '72, confirmed by the US Senate as inspector general of the US Small Business Administration.
William D. Metzger '72, new associate dean of admissions, alumni affairs, and career services at Western New England College School of Law in Springfield, Massachusetts.
Paul B. Smyth '74 received the Presidential Rank of Meritorious Executive Award as acting associate solicitor for the Division of Land and Water Resources in the US Department of the Interior during the first year of the Bush administration.
Daniel F. Polsenberg '82, elected fellow of the American Academy of Appellate Lawyers.
John P. Winn '86, appointed judge of the Sacramento (California) Superior Court.
Meg Mahoney '88, appointed judge of the Maricopa County (Arizona) Superior Court.
Anne Robbins '92 and Christine M. O'Connor '00, honored by Boston Bar Association's Volunteer Lawyers Project for contributions to pro bono civil legal services.
James B. Eldridge '00, only 2002 Clean Elections candidate to win seat in the Massachusetts House of Representatives.