More In Brief from BC Law Magazine
fall/winter 2003
Collecting Your Stories
Memories Wanted for BC Law History
Do you remember the days when the Law School was located amid the burlesque theaters of Scollay Square in downtown Boston?
Did you experience the protests and passionate opinions, on both sides, during the Vietnam War?
Were you one of the people who helped BC Law transition from having women as members of the Wives' Club to having them as vocal students in the classrooms?
As part of the celebration of its upcoming seventy-fifth anniversary, BC Law is preparing a history of Boston College Law School. Alumni are invited to contribute by submitting photos, anecdotes, and reflections on their time at BC Law.
Perhaps you remember when students opposed to Dean Robert Drinan's support of the Vietnam War wore their military uniforms to class. Or maybe you had an experience akin to that of Enid Starr '67, who, at thirty-four with four children, two advanced degrees, and her own advertising agency, applied to law school at Harvard and BC. Harvard denied her, saying they weren't interested in a married woman with children who would likely never practice. Drinan, in response to her asking how he felt about women, responded, "I like them a lot." He accepted her at BC Law, and afterward she became a partner at Barron & Stadfeld, P.C., in Boston.
Submissions should be directed to Vicki Sanders, editor in chief of BC Law Magazine, by mail at Boston College Law School, 885 Centre Street, Newton, MA 02459 or by email at sandervi@bc.edu.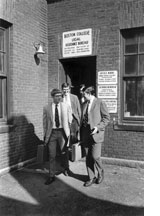 (Photo by: University Archives/Burns Library, Boston College)

LAB Turns 35
BC Law in October celebrated thirty-five years of bringing justice to those who might otherwise not be able to afford it.
Legal Assistance Bureau alumnus Hon. Francis X. Spina '71, an associate justice of the Massachusetts Supreme Judicial Court,s, reminisced in his keynote address about the early days, when students worked out of a crude office on desks made of wood planks and sawhorses.
Since 1968, LAB has provided legal services to 8,000 clients. It now trains forty-eight students annually and is one of the highest-ranked programs in the country.


Other articles from In Brief
Massachusetts' Secret Weapon
Mass Confusion
The Face(s) of 2006
Blazing New Trials