Blazing New Trails
by jane whitehead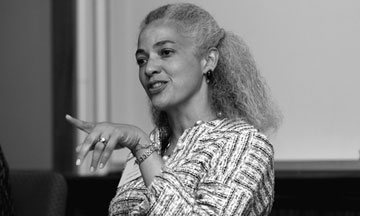 Landers '85 says promoting diversity is important, but it won't be the only focus of her term at the Boston Bar Association. (Photo republished with permission of Globe Newspaper Company, Inc.)
Landers Achieves a First as Head of BBA
How does Renée M. Landers '85 respond to the label "woman of color," as in "first woman of color to lead nation's oldest bar association"?

"It's good in some ways," says Landers, forty-eight, who took the helm of the Boston Bar Association (BBA) in September 2003. "It's a signal to other people that they can do what they want, even if no one like them has ever done it before." On the other hand, she worries that it can be "too narrowing." Promoting diversity is a dearly held goal, but she emphasizes, "it's not the only thing I know about, or care about, or do."
The litany of things Landers knows about, cares about, and does is formidable. But this is not immediately apparent from her convivial demeanor as she speaks by telephone from the house in Watertown where she lives with husband Thomas Barrette Jr. '82, and their eight-year-old son.
"I have to be honest. I don't do everything equally well," insists the Harvard graduate who at age twenty-four sprinted into the higher ranks of Massachusetts state government, and after practicing and teaching law was drafted by the Clinton administration to fill posts in the Department of Justice and the Department of Health and Human Services.
Landers is a former president of Harvard University's Board of Overseers and sits on a fistful of boards of prestigious hospitals and schools, in addition to her workload as associate professor at Suffolk University Law School and her new responsibilities at the BBA.
For as long as Landers continues to find herself—all too often—the only person of color in a roomful of decision makers, boosting diversity at all levels of the legal profession will remain the primary goal of her presidency.
Her plans for the organization also include getting more legal academics involved in order to foster a freer flow of information between the profession and the academy.
So perhaps Landers is stuck with the "woman of color" tag for now. But she reflects: "People who know me, know that I'm more than that characterization. So it doesn't really bother me."

Other articles from In Brief
Massachusetts' Secret Weapon
Mass Confusion
The Face(s) of 2006
More from In Brief