Mass Confusion
by nathan winegar '06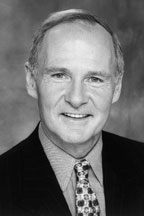 Thomas Reilly '70: "The institutional acceptance by the hierarchy of the church became one of the greatest tragedies ever to befall the children of this state."
AG Explains Clergy Sex Abuse Decision
Last year, during his office's investigation into the sexual abuse scandal at the Boston Archdiocese, Massachusetts Attorney General Thomas Reilly '70 took home some of the case files.
"I was absolutely disgusted by what I read," Reilly said in an address at Boston College Law School in September. "I was very disturbed by who [in the church] knew what was going on and who allowed it to go on."
The scandal outraged many, and when Reilly decided not to pursue criminal charges against church leaders, he found some of that anger directed toward him.
Due to statutes of limitations and a state law that did not require clergy to report cases of sexual abuse (it has since been changed), the decision not to press charges was not a surprise to the legal community.
But the general public had difficulty understanding how church leaders could not be held criminally responsible after Reilly's investigation found 789 allegations of sexual abuse spread over six decades, implicating some 250 church employees.
To give the public a better understanding of the extent of the problem and the reasoning behind his decision, Reilly's office last July issued a report, "The Sexual Abuse of Children in the Roman Catholic Archdiocese in Boston," that detailed the findings of the sixteen-month investigation.
The report explained how the attorney general's office did not uncover any recent allegations of abuse and found the church did not know of any alleged abusers still in the ministry.
The investigation did show, however, that church leaders were fully aware of the scope of the problem within the Boston Archdiocese and worked to keep it under the table.
"The church made a decision to...protect the reputation of the church at the expense of warning people," Reilly said. "The institutional acceptance by the hierarchy of the church became one of the greatest tragedies ever to befall children in this state."
The attorney general's office has been working with the church to improve practices to identify possible cases of sexual abuse and to set up a system where victims feel comfortable coming forward.
Reilly said cooperation between his office and the archdiocese has improved under the leadership of the new archbishop, Sean Patrick O'Malley. "[O'Malley] recognizes the magnitude of what happened and seems determined to change things," Reilly said.

Other articles from In Brief
The Face(s) of 2006
Blazing New Trails
More from In Brief
Massachusetts' Secret Weapon