Massachusetts' Secret Weapon
by april otterberg '06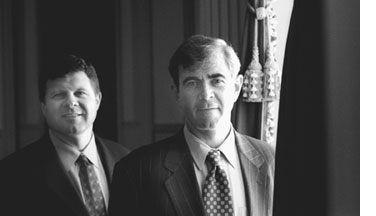 Massachusetts Securities Commission Director Matthew Nestor (l) and Secretary of State William Galvin have been major players in the investigations of market timing and investment fraud. (Photo republished with permission of Globe Newspaper Company, Inc.)
Nestor Exposes Mutual Fund Misdeeds
In late October, Massachusetts grabbed national attention when it became the first state to charge a mutual fund company on allegations of market timing. Targeted was Boston's Putnam Investments, the nation's fifth-largest mutual fund company.
With investors squirming and regulators scrutinizing other companies, the ripple effect through the mutual fund industry continues to be huge—and one BC alumnus is at the heart of it all.
As director of the Massachusetts Securities Commission, Matthew Nestor '91 is the state's top deputy, under Secretary of State William Galvin, in the fight for the little guy in big (and sometimes bad) corporate America. This means going after companies with budgets many times larger than his own. But Nestor isn't intimidated.
"It's great to be a lawyer in the public interest," he says. "…In a very small way, you know that you're making a difference."
Nestor's office is charged with ensuring that investment companies adhere to securities regulations, so it pursues tips—like those it received about market timing at Putnam—that allege companies may be engaging in unfair or illegal practices. Market timing, which involves rapid, short-term trading to take advantage of time-zone differences among the world's markets, isn't illegal, but it can hurt less active investors who don't reap the quick profits yet still pay for the trading commissions.
The most recent investigation doesn't represent the first time Massachusetts took the lead in securities regulation, thanks in part to Nestor's persistent efforts.
In 1999, the state was the first to warn against the daytrading fad as unprofitable for most investors.
And in 2002, Massachusetts took on Credit Suisse First Boston, alleging the firm's analysts, like others in the industry, had written favorable reports on companies they knew were unsound. Nestor says Credit Suisse adamantly denied the claims—until he and his team unearthed from a mountain of documents strong evidence to the contrary. The result? Credit Suisse paid a $200 million settlement.
Although the mutual fund probe is Nestor's current focus, there's certainly no lack of issues for the commission to explore—but there's no shortage of dedication to the task either.
"We have people who are really committed…and energetic about their work here," Nestor says. "[We] take tremendous pride in the cases we've brought."

Other articles from In Brief
Mass Confusion
The Face(s) of 2006
Blazing New Trails
More from In Brief