Gallery
by april otterberg '06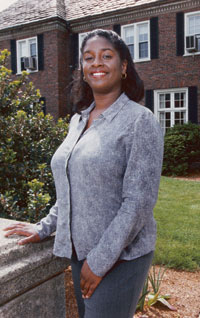 (Photo by Gary Gilbert)
Kali Billingslea '04
Duke University '95. 1st Circuit Lt. Governor, American Bar Association, Law Students Division. Convention coordinator, National Black Law Students Association.
Why did you leave your career? When I was a project manager for IBM, an article on my wall said, 'The new path to CEO is project management.' But when I realized after five years it wasn't what I liked, I had a quarter-life crisis: What do I do now?
How did you decide on law school? After the 2000 presidential election, when both sides were still contesting the results, an IBM colleague said to me, 'I saw this guy arguing in front of the Supreme Court, and that's what you're supposed to do.' I'd never told her I'd thought about law school. Right then, I just knew. It was January 12. Within a month, I'd taken the LSAT and applied to schools.
You've been drawn to the courtroom in your clinical work. Why? A very small portion of the population deals with corporate lawyers. The courtroom is where justice happens for most people. I love being in the courtroom and trying to find solutions for my clients. There was no reason to leave my job at IBM and go in a different direction if I wasn't going to follow my heart.
What's next? My ultimate goal is to open a sports management firm with friends from Duke. You don't grow up with four brothers in the South and not like sports. There are so many young people who get exploited by the sports machine. I think we could help them make better decisions.