Through the Looking Glass
vicki sanders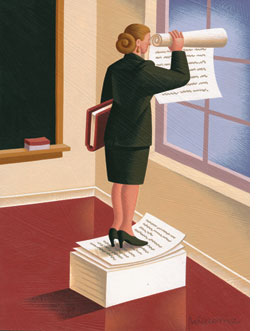 (Illustrations by Adam Niklewicz)
A new strategic plan offers a glimpse at the BC Law of tomorrow

Professor Hugh Ault leans back in his chair as he ponders the question of the importance of Boston College Law School's new strategic plan. He's been on the faculty for thirty-five years—long enough to have some perspective on BC Law's character. "Ours has historically been a 'let many flowers bloom' approach to planning," he says. Though he regards the process as legitimate, he also believes that the new demands placed on law schools by an increasingly complex world require new approaches to self-evaluation and goal-setting.

"This is not a time for legal education to rest on its laurels," says Ault, a member of the Strategic Planning Committee. "The world is changing and we've got to be part of that process. The strategic plan is an important initiative to make sure we stay in the game."

Dean John Garvey recognized that the school was at a crossroads, and it motivated his decision two years ago to launch the assessment process. "It's sound business practice always to be looking ahead, and BC Law is a pretty big business with lots of faculty, students, and alumni," he says. "We are training people for a world that is changing fast and we need to be sure we are providing the right training and that we are keeping up with the competition."

The Strategic Planning Committee, under the direction of chair Professor Judith McMorrow, issued its report in September. It envisions a Law School focused on three core commitments: 1) to improve scholarship, teaching, and student support; 2) to build depth in select areas; and 3) to create a culture of creativity responsive to the rapidly changing world. Many of the outcomes, McMorrow says, "were things that people had a fire in their belly about. Their passions helped frame the issues."

To accomplish the first goal, the plan proposes creative new ways of aligning faculty time to maximize their teaching as well as their scholarship and research. It urges more support for scholarships, expanding loan repayment assistance for alumni in public interest work, and graduate-student housing.

The areas selected for enhancement under the second core goal are international law, emerging enterprises, public service, and ethics, religion, and public policy.

"With the proper programmatic and institutional investments, BC Law can…become a leading US academic center for the integrated study and practice of international law and justice…," the plan states. Proposals in this category include offering an LL.M program integrating private business and human rights dimensions of international law and an expanded human rights program that hosts visiting scholars and offers training that certifies students as specialists in the field.

The imagined Emerging Enterprises and Business Law Program offers students a comprehensive curriculum in the theory and practice of business law as well as faculty research support and scholarly symposia. Some elements of this initiative already are under way.

Public service initiatives, which the report sees as central to the Jesuit and Catholic tradition of BC Law School, include the creation of a program for Public Interest and Social Justice that builds on the existing Mary Daly Curtin and John J. Curtin Jr. Center for Public Interest Law. Features under consideration are post-graduate social justice fellowships, the promotion of research and scholarship, and curricular and clinical enhancements.

The strategic plan also suggests a program for Ethics and the Legal Profession that refines the legal ethics orientation for first-year students, serves as a home for sponsored research, and offers workshops and roundtables to educate students and alumni on the ethical issues that arise in practice. A recognition of the need for such programming came, in part, from the results of the alumni survey in last spring's BC Law Magazine. Half the respondents reported confronting ethical issues in the workplace on a weekly basis. A program in Law and Religion is seen as another way to develop a stronger curricular focus on morals, ethics, and the role of law and religion in society.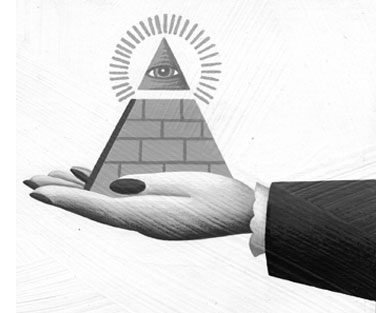 From Dean Garvey's perspective, the strategic planning process, which involved input from faculty, students, staff, and alumni, has been valuable for reasons that go beyond the actionable proposals it engenders. One of the intangibles, he says, "is the renewed commitment to the importance of being a really strong academic institution. The report states right up front that scholarship and teaching is the most important work of the faculty. It's good to reaffirm that commitment."

Another accomplishment of the plan, in Garvey's view, is its focus on the needs of students. "At the same time we are providing the best education and other services, we need to worry about the cost," he says. The report recognizes that BC Law's ability to maintain a competitive edge among peer schools means not only adding funds for need-based scholarships but also increasing scholarship support for academic excellence. And if the Law School wishes to fulfill its commitment to diversity, the report concludes, it must make graduate housing a top priority so the school is more attractive to students from all economic backgrounds.

The proposals in the report are assigned benchmarks for success, some of which can be reached in stages. The costs in human and space resources are also assessed and provide an aid to Garvey in his discussions with the university about possible campus renovations and expansion.

Twenty-two months of talking and listening among members of the Law School community have yielded both a clearer picture of BC Law's identity and a more unified articulation of its purpose and goals. "It got the faculty to focus on a few areas they felt were important. So we now have a kind of momentum or understanding," Garvey says, which means many curricular, programmatic, and hiring decisions can be made without rearguing each choice.

McMorrow says the faculty learned of their deep commitment to a balanced curriculum, or liberal arts model, of legal education. "We did not want to become known as a niche school, to emphasize a certain area of expertise at the expense of a balanced education," she explains.

"I think the Law School has accomplished a great deal," says James Champy '68, vice president of Perot Systems Corporation and a strategic planning expert who consulted on the project. "In the end the whole faculty has to be aligned and in agreement, and I believe they have accomplished that. It took more time than in a commercial setting, but that's understandable. The work of a faculty is to debate until it believes it has discovered the truth."

BC Law's strategic plan now enters its second phase, the delicate task of turning some of the ideas into reality. Professors George Brown and Zygmunt Plater co-chair the committee with that mandate. The programmatic initiatives, in particular, will be developed for further faculty discussion.

"Any great institution or company, private or public, really needs to have a sense of purpose," says Champy. "The Law School's statement achieves a sense of that higher purpose, and that's important because that is part of the mobilization. My test of a good strategy is, Will it mobilize people? And, yes, I think that will happen."