Good Sports
by tiffany wilding-white
(Photos by Michael Manning)
Robert Martin '02 has staked his future as a sports agent as much on players' integrity as on their RBIs.

Robert G. Martin VI graduated from Boston College Law School in 2002 without ever having set foot in the Career Services Office. But he had already made partner in ICON Sports Management, LLC. In fact, he'd worked a grueling schedule throughout law school as a principal and founder of the sports agency, which represents professional baseball players selected as much for their personal character as their baseball ability.

Martin signed his first contract with a player just three months after receiving his B.A. in economics from Grinnell College in Grinnell, Iowa. With two teammates from his college baseball team, Martin responded to the 1995 baseball strike with the novel idea that there are many outstanding athletes who are also extraordinary people, and he set out to represent them.

"We founded ICON because we believe in the power each individual has to inspire others," says Martin. "We envisioned a way to represent professional athletes where we could assist them in making an impact on a vast number of lives due to their social status. Our mission was to find incredible athletes who were also outstanding individuals, and then to help those athletes do more with their talents than just play pro sports. We wanted to represent heroes, or icons, if you will."

In founding their company, he and friends Michael A. Hunt and David M. Lukowski decided Martin was the one who would earn a law degree, and as a group, they chose Boston College Law for him to attend.

"We looked at the scholarships all the schools offered me and decided on BC mainly for Professor Robert Berry's sports law class," Martin says. As he explains in an interview on the BC Law website, " I would visit other schools that had top-notch sports law programs, and their textbooks would be written by Bob Berry. It just seemed like if I wanted to do this right, I should learn from the best."

The group moved to Boston in 1999, set up a home office for their fledgling business, and Martin dove right in, attending classes and growing the firm simultaneously. He estimates he spent forty to seventy hours each week working on the business. "I'm fortunate, because I don't need to sleep that much," he says. "I did not do law school like a normal student."

Berry says Martin's diligence paid off. "He did superlative [school] work. He has always surprised me with the pace he maintains.

Often on the road as much as two weeks each month during law school, Martin thrived on BC Law's non-competitive atmosphere, where students generously informed him of what he'd missed in class. Professors gave him some leeway and worked with him outside of class to allow him to balance his full-time job with full-time classes. His founding partners picked up the business slack when his classroom demands pushed ICON to the side. No slacker in either field, he graduated with a 3.37 GPA.

Even though Berry's sports law class was a level-two course, Martin was so anxious to take it that he sat in on it as a 1L, becoming a research assistant to Berry in the summers. "Bob was a benefactor to our business with his expertise, and a mentor to me," Martin says. "We wouldn't be where we are without his knowledge and support."

"My involvement grew from answering many of Rob's questions about ICON's basic business structure," says Berry, who has since retired to Ohio. Following ICON's merger in 2002 with Riverfront Sports Management, Berry became a principal with ICON.

That merger added Ken Griffey Jr., a standout on and off the field since his first- round draft pick by the Seattle Mariners in 1987, to the company's already impressive list of clients. As agents for such clients, Martin and his partners not only negotiate salaries, they also build unusual incentives into the contracts that allow players to give money to support their high school teams, create scholarships for youth baseball programs, and fulfill their other philanthropic interests.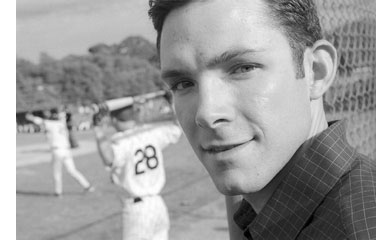 "We work with each athlete to find what's important to him in the community. Of course, we also arrange it for maximum tax deductibility," Martin explains. One of his players, Travis Schlichting, was selected ninety-eighth overall in the 2003 draft by the Tampa Bay Devil Rays, with the largest signing bonus in his round and a $100,000 scholarship. In addition, ICON wrote a provision into the contract providing Travis with $15,000 from the Tampa Bays Rays of Hope Foundation, the team's vehicle to promote players' involvement in community service. "He plans to set up a scholarship to his select team, allowing other outstanding athletes to follow in his footsteps and earn college scholarships and catch the eye of pro scouts," says Martin.

Martin's younger brother, Forrest K. Martin, caught the eye of scouts as a Division III All-American at Southwestern University in Georgetown, Texas. "I was happy when Forrest referenced ICON as his future management group when he was being interviewed out of college," says Martin. "When my hometown paper wrote an article on the accomplishments of my brother and me—he a baseball player and me representing baseball players—my parents were so proud."

Forrest began his first season striking out more than a hitter and a half per inning for the rookie level Arizona League, and was quickly promoted to the playoff-bound Beloit Snappers in the Midwest League (A). For the playoff series in which Forrest pitched eight shutout innings, the Brewers' general manager was in town and promptly called an ICON scout to rave about the standout newcomer. "Our scout said the manager was so thrilled to have gotten this terrific player. And I was so thrilled because my brother had just pitched a great game. That was one of the most fulfilling nights I've had in the business," Martin says.

Since its founding on Rob Martin's twenty-third birthday in 1999, ICON has assembled a strong stable of clients. The present ICON partnership represents nine major leaguers and more than thirty minor leaguers. But Martin's duties include much more than contract negotiations. He recruits potential clients across the nation, always on the lookout for good baseball skills and that extra something: personal integrity. "We specifically look for individuals with a good family background and a reputation of handling themselves with class," says Martin.

Once signed, the players often look to Martin for legal advice and personal guidance. "I receive as many phone calls from players around Valentine's Day, asking me what they should give their girlfriends, as I do around the draft, asking about their contract details." Martin laughs. He also says parents of many amateur clients hope Martin can act as a surrogate dad, too. "Fathers call me up and say, 'Rob, can you get my son to cut his hair? But don't tell him I asked you.' I'm a little bit contract negotiator, a little bit sport psychologist, and a little bit dad."

Martin's own father and mother raised him and his two siblings on a Buffalo Valley, Oklahoma, ranch in "the middle of nowhere." Martin credits long, hard days on the ranch and his parents for instilling in him a solid work ethic and respect for others. Going from a rural existence to big city wheeling and dealing was jumpstarted by a scholarship he received in seventh grade from the Norman Family Foundation. Giving him full tuition at the college of his choice, the generous award inspired ICON's first mission statement, which Martin wrote as a junior in college.


That statement reads, in part, "We will succeed not only because we represent the good of the game, but because we have the best approach from the crucial bottom line financial perspective. Our clients will make more money. We will foster winning for the game, winning for society, and winning for our clients…personally, professionally, and financially."

With Martin's professional success and positive experience at BC Law comes a strong desire to give back to the school. He is working with Career Services to establish an internship that provides students with the kind of mentoring and generosity he received.

All this without ever having walked into the Career Services Office.