Profile
by jane whitehead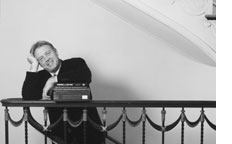 Cunningham's belief in value investing led him to Warren Buffett, about whom he's written widely. (Photo by Suzi Camarata)
Tragedy, good fortune inform Cunningham's scholarship
Professor Lawrence Cunningham is a prolific, successful author, an internationally recognized authority on accounting, finance, and corporate governance, and a teacher with a flair for animating the dry bones of corporate case law.
But Cunningham would have achieved none of this, he insists, had it not been for the defining tragedy of his childhood. His "ordinary, suburban, middle-class family life" in Wilmington, Delaware, imploded after his father died prematurely, leaving behind five children and no life insurance.
This family catastrophe changed the course of his life, says Cunningham, forty-one, whose warmly energetic, boyish manner contrasts with the hard times he recalls. His mother's stoicism in the face of tragedy, sustained by her devout Catholic faith, left her youngest son with an indelible example of "grace under pressure."
At thirteen, Cunningham was enrolled at Girard College in Philadelphia, a boarding school founded in 1848 to "take poor people and give them a leg up." Girard College gave Cunningham two gifts that were pivotal to his development: a rigorously practical humanist education and a hero and role model in the school's founder, Stephen Girard, a French immigrant orphan who rose from cabin boy to shipping magnate and amassed one of the greatest fortunes in America by the time of his death in 1831.
Later, while studying economics at the University of Delaware, Cunningham worked as a legal assistant in the Wilmington law firm of Skadden, Arps, Slate, Meagher & Flom. There, he first scouted the territory he has colonized over the last decade: the intersection of business and the law. As a bit player in Moran v. Household International, Inc., which Cunningham calls "one of the most important corporate law cases of the last thirty years," he saw first hand the potency of the law to shape corporate practice and define corporate power.
Cunningham never seriously considered any career other than law. After graduating from Cardozo Law School and practicing as a corporate lawyer in New York for four years, he returned to Cardozo with a post on the faculty. "Teaching has an acting dimension that I embrace," says Cunningham, who dramatizes scenes of boardroom conflict to remind his students that cases are, in the end, about "people making mistakes and fooling themselves."
Another arena for folly on a grand scale, the stock market, has provided Cunningham with a mother lode of material. Following the publication of his bestselling selection of The Essays of Warren Buffett: Lessons for Corporate America (1997), Cunningham has become an evangelist for the neglected traditional theory of "value investing," as practiced with spectacular success by Buffett.
Since meeting Buffett at the 1976 law review symposium at Cardozo, which Cunningham organized to introduce Buffett's theories to an audience of lawyers, Cunningham has corresponded with him and attended his annual meetings at Berkshire Hathaway. "He's a salt-of-the-earth, sensible, fair, honest, fallible person," Cunningham says of one of the legends of twentieth-century investing.
Even the author of How to Think Like Benjamin Graham and Invest Like Warren Buffet (2001) and Outsmarting the Smart Money (2002) admits to "one dumb investment." In defiance of all the principles of value investing, including rational estimates of future cash flow and thick safety margins, Cunningham bought 100 shares in Amazon.com in 1998. "I had no business buying that stock. It had no track record, it was highly speculative," he laughs. The fact that the stock has significantly risen, he says, jabbing the table for emphasis, in no way affects the stupidity of the decision to buy. Unlike the majority of investors, Cunningham does not believe in justification by hindsight.
Stephen Girard built his fortune not by hoping and wishing and following hunches, but by relentless attention to "facts and things." In his writing and teaching, Cunningham distills the same practical wisdom for a new generation of students, colleagues, and investors. Girard would be proud.