More Esquire from BC Law Magazine
fall/winter 2003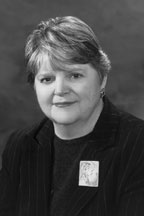 (Photo by Bachrach)
Connolly to widen geographic reach

This is a story that new BC Law Alumni Council President Mary "Meg" Connolly '70 loves to tell. The California chapter of the Alumni Association held a reception for admitted applicants last spring. Attendants spent a lot of time telling the prospects why they should select BC Law School. One candidate remembers being impressed by two things: one, the number of alumni who turned out to support the school and, two, how enamored they were of their law school experience. The candidate was sold.
That kind of alumni solidarity is what Connolly plans to build upon as she embarks on her one-year term as head of the association. Because BC Law has grown in reputation as a national law school, it has drawn increasing numbers of students from throughout the US and has seen more and more alumni scatter back across the states upon graduation. In response to these new demographics, Connolly says, "I'm interested in reaching out to alumni throughout the country and having them participate in more activities of the association." And that includes a push to bring in young alumni.
Expanding on past president Joanne Locke's successes in establishing improved communications with alumni, Connolly will continue to press for new and better means to keep alumni in touch with each other and to get the word out about campus and other events of interest.
She also intends to use the revived pro bono committee to encourage alumni to do pro bono work, a subject dear to Connolly's heart. She is the executive director of the Volunteer Lawyers Project and sees her council presidency as symbolic. "We may be the only law school in our league that has a public interest lawyer as president of its alumni association. It sends a great message about how the public interest is valued by the Law School," she says.
Connolly regards alumni as ambassadors of the Law School. People's strong personal relationship and allegiance to the school, she believes, set a tone that draws good applicants and first-rate faculty and keeps the ratings high. Many alumni are committed to sustaining the ideals that defined their education, she says, which means their association remains willing to "dig in and help the school however it needs."
—Vicki Sanders
Table Talk: The Savvy Girl's Alternative to Networking by Diane Danielson '93 and Rachel Solar-Tuttle

Table Talk sets out a new model of networking unashamedly tailored to women. Diane Danielson's mission is to "put women together, and make sure they communicate, exchange leads, and help each other." As president of DWC Services, Inc., a business development consulting firm in Boston, she has authored this book in conjunction with the expanding network of Downtown Women's Clubs, which she founded in Boston in 1998.
Table Talk is based on a simple premise: Women excel at building strong, mutually supportive relationships in intimate settings, yet many balk at Old Boy-style networking for professional advantage. For Danielson and co-author Rachel Solar-Tuttle, "table talk" embodies the collaborative, supportive ways of sharing information that women tend to favor.
In an upbeat, among-girlfriends style, Table Talk serves up a smorgasbord of strategies and tips to help women hone their table talking skills. The life-as-dinner-party metaphor yields the notion of "tables," geared toward topics such as "company," "industry," and "business community," to which existing and new contacts are invited.
Rules of etiquette include always following through on any promised action and never showing up at the table empty-handed. Gossip is recommended as seasoning, liberally mixed with time-management techniques, a support system, and a dash of nurturing relationships.
If this sounds familiar, that's the whole point, Danielson says. "We're trying to persuade women that they're doing this all the time—they just need to think of it a little differently."
—Jane Whitehead

Other articles from Esquire
Riding on Air
Mr. Henneberry Goes to Ireland
Serving God and Community