Serving God and Community
by april otterberg '06 and stephanie hauser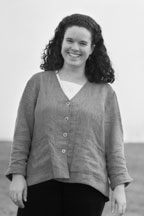 At 32, Deidre Griffin '99 decided to become a nun--but that doesn't mean she'll leave her career goals behind. (Photo by Christopher Churchill)
Griffin makes a habit of it
At age thirty-two, Deirdre Griffin '99 isn't a likely subject for a cover story in the Boston Globe Magazine. Not quite five years out of law school, she didn't win a multimillion-dollar jury verdict and she didn't receive a top judicial appointment. What Griffin did do, however, was decide to become a nun.
Of course, growing up in a devout Irish-Catholic family, Griffin had learned to value religious faith and service to others, but she also had internalized the societal significance of professional success, marriage, and family life. She told the Boston Globe it never occurred to her then to become a nun. In fact, after graduating from Bowdoin College, becoming a nun was furthest from Griffin's mind. She was working a stable job and maintaining her commitment to others—and she was in love. But a turning point was brewing: Her social justice work during a year in the Jesuit Volunteer Corps taught her she needed to know about the legal system if she really wanted to help the disadvantaged. Her desire to become a lawyer was born.
She enrolled at BC Law soon thereafter, and she started attending prayer services with the Sisters of Saint Joseph, gradually connecting to the order she later would enter. By her second year of law school, she wasn't as certain about her long-term relationship, as she couldn't imagine not making social justice her top priority in life. Eventually, Griffin began to contemplate religious life, and last August, she quit her job in immigration law to take the first leap in the multi-year process of joining the order.
She now lives with a group of sisters, most in their sixties, who symbolize the era when becoming a nun was, in itself, a measure of success. Griffin is among only 665 women nationwide who are in the initial stages of becoming nuns—meaning she confronts an uphill battle in persuading society not only that the sisterhood doesn't mean wearing a habit within the walls of a secluded convent, but also that she isn't throwing away her opportunities in doing so. And so far, Griffin is rising to the task: To all outward appearances, she leads a normal life and stays busy working with the sisters in Boston's disadvantaged neighborhoods. She's even looking forward to practicing law again—as a nun, certainly, but also as someone free to make her community commitment her top priority.
"Because I don't have other commitments to watch out for, I can feel free to do it," she told the Globe. "And that's what engages the passion in me."

Other articles from Esquire
Riding on Air
Mr. Henneberry Goes to Ireland
More from Esquire