Riding on Air
by april otterberg '06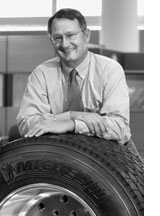 Micali: "Your legal training helps you sift through both sides, go to the facts, and eventually come up with the right answer."
Michelin Man James Micali
When James Micali '73 entered law school, he crossed his fingers that the Rhode Island National Guard, in which he'd just enlisted, would not draft him immediately. The recruiting officer promised him just that, knowing law students at that time had to finish their first year in one continuous period or risk repeating the whole year. Micali was more than a little surprised, then, when he found himself in boot camp three weeks later. Now, however, he jokes that this incident instigated his first lesson in the law: Get it in writing.
And getting it in writing is something Micali now does regularly as the chairman and president for Michelin North America, which accounts for 40 percent of Michelin's overall global tire sales. He doesn't have a business degree, but he does have business savvy after twenty-six years with Michelin.
A long-term career with a corporation was not in the picture while Micali was in law school, where he competed in moot court competitions as a way of exploring his fascination with trial practice. After graduating in 1973, he sought, simply, a "reasonably fun job" where he might gain trial experience. He joined a firm in Providence, Rhode Island, and remained for nearly four years until the allure of the big city—and an opportunity at Michelin's North American headquarters—drew him to Manhattan.

As an international company based in France, Michelin also offered him the chance to live and work abroad, and Micali was intrigued at the prospect. He served in legal counsel positions that included many stints abroad and was named general counsel of the North American division in 1985. Working so intimately with a large company meant Micali came to know Michelin extremely well—and that he had to be dedicated to it.
"[In private practice], if you have a problem with a client, you can, at the end of the day, tell the client, 'Gee, I don't want to represent you anymore,' " he says. But Micali also discovered the long-term relationship itself strengthened his loyalty to Michelin.
"Not only do you have the satisfaction as a lawyer, but you also have the satisfaction for the business," he says. "You have a vested interest that the business does well too."
Michelin has been a company on the move during Micali's tenure. It surpassed Goodyear to rank No. 1 in global tire sales, now employs 125,000 workers worldwide, and generates $15 billion in annual sales. With the growth came the need for key executives who knew how the company worked. In 1990, Micali was named executive vice president for legal and finance of the North American division.
"Now, all of a sudden, I was the CFO of this company as well as the chief legal officer. I had to learn…on the job. I hope I did okay," he says.

Finally, in 1996, Micali assumed his present position supervising all aspects of Michelin North America from its current headquarters in Greenville, South Carolina. In 2001, he also became the first non-European to be named to the Executive Council—meaning he directly advises Michelin's CEO. As such, he focuses on Michelin's business side but still uses his legal background.
"[Your legal training] helps you to sift through both sides, go to the facts, and eventually come up with the right answer," he says. "…There are very few important issues that are absolutely black and white."
With such a long tenure at one place, Micali gains fulfillment from having made a genuine impact on the company. "You get to see the fruits of your labors and the fruits of your collective work over time, [and the results of your work are] very tangible," he says. "You get to hang around long enough to see if the decisions you made were good ones or bad ones."

Other articles from Esquire

Mr. Henneberry Goes to Ireland
Serving God and Community
More from Esquire