Which Way Will the Wind Blow?
by brian price '04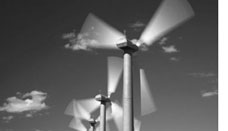 Eye catchers or eyesores? The Cape Wind project kicks up some legal dust during a panel discussion on the aesthetics and procedural viability of locating turbines in the waters off Cape Cod. (Photo by Royalty Free/Corbis)
Proposed Ocean Wind Farm Creates Legal Turbulence

Wind power's emergence in Massachusetts has been marked by great controversy. The proponents of Cape Wind Associates' proposal to install 130 wind turbines on twenty-six square miles of Horseshoe Shoals in Nantucket Sound argue that renewable energy sources are needed immediately, and that their opponents' complaints amount to no more than cries of "not in my front yard." While those against the wind farm readily admit aesthetics is a main factor in their opposition, they also contend various environmental harms could arise and that current federal law is not equipped to deal with this kind of project.
This fall, the Boston College Environmental Affairs Law Review hosted "Coastal Wind Power Energy Generation: Capacities and Conflicts," a symposium on the arguments animating the current wind power debate. Representatives of both Cape Wind, the company proposing to build the wind farms, and the Alliance to Protect Nantucket Sound, its chief opponent, presented their positions in conjunction with those of various legal practitioners, academics, and scientists. While the arguments and numbers weighed to the side of the project's proponents, there was lively discussion of the environmental, legal, and aesthetic repercussions of the proposed wind farm.

Cape Wind chose Horseshoe Shoals because it has two conditions in abundance that are vital to an off-shore wind farm's success: relatively shallow waters and strong, consistent wind. It is also outside of
shipping lanes, flight patterns, and away from undersea cables. James Manwell, director of the Renewable Energy Research Laboratory at the University of Massachusetts-Amherst, said land-based locations pale in comparison. He explained that constraints on land use would force a facility to be too far from demand and would limit the size and quantity of the turbines.
In rebuttal, the Alliance's Ernie Corrigan said wind turbines on the horizon are "not what people go to the Cape for." The Alliance grounds its claims, aesthetic and otherwise, in federal and common law, which, it contends, are unsatisfactory because they were not intended to deal with proposals of this type.
Alleging that the installation of 130 wind turbines on Horseshoe Shoals will also disrupt the migratory patterns of endangered birds, disturb local fish populations and those who harvest them, and destroy views from beachfront homes, the Alliance has sought review of the proposal under NEPA (the National Environmental Policy Act). The group further contests a private, for-profit use of public property, saying it violates the amorphous public trust doctrine.
(The Alliance recently lost a legal challenge to block Cape Wind's installation of a weather monitoring tower. It failed to persuade a federal district judge that the Army Corps of Engineers did not have authority to permit the tower under RHA, the Rivers and Harbors Act of 1899.)
Among those at the conference critical of the Alliance's aesthetics argument was Jay Wickersham of Noble & Wickersham, an environmental and construction law firm. He contended the turbines are graceful and would take nothing from the Sound's natural beauty. The wind farm, he said, could become a positive symbol for the area—much like the Eiffel Tower in Paris, which was at first reviled as an alien structure and a blemish on the city. Other presenters pointed out that offshore wind farms in Denmark have become tourist attractions.
Jim Gordon, president of Cape Wind, acknowledged that "for many people who own beachfront estates, this may be a sacrifice." But Cape Wind also has taken seriously the other objections to the project and has been diligent about the permission and public review processes. For example, though the turbines would be more than three miles from the shores of Martha's Vineyard, Cape Cod, and Nantucket—firmly in federal waters—Cape Wind has nevertheless submitted the project for state review under MEPA (the Massachusetts Environmental Policy Act). Gordon said he did so in part to assuage the Alliance's concerns that RHA does not have appropriate review procedures.
Renewable energy from wind is supported by many people because it is clean; it has none of the harmful fossil fuel emissions of conventional power plants. Technological advances have also made it more affordable than other forms of renewable energy, including solar power.
The impetus behind the Cape Wind project is the state mandate that by 2010, 5 percent of the power consumed in the Commonwealth must come from renewable sources. According to Greg Watson of the Massachusetts Technology Collaborative, the state's development agency for renewable energy, both state and federal programs exist to hasten renewable energy development. Massachusetts has created a $200 million fund for the purpose, and a federal tax credit is also available, he said.
Given the debate at the conference over Cape Wind's proposal, it is clear that the issue remains a volatile one with far-reaching ramifications. It's a matter with the potential to change policies and laws well beyond Massachusetts' shores.
---
Brian Price '04 is managing editor of the
Boston College Environmental Affairs Law Review
.

Other Articles from Legal Currents

Judicial Precedents and Setbacks
The Vagaries of Global Lawmaking