Home, (Not so) Sweet Home
by jane whitehead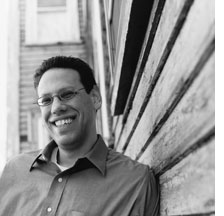 Jonah Goldman '03 signed up for the Homelessness Litigation Clinic at BC Law's Waltham, Massachusetts- based Legal Assistance Bureau (BCLAB) with an important question on his mind. After one year of law school, the former lobbyist for nonprofits and social justice causes in Washington, DC, wondered whether he could square his ideals of justice with the realities of legal practice. Nine months later, Goldman not only had the answer to his question, he also had won a $20,000 settlement for his client in a tenant-landlord dispute.
Goldman's first client at BCLAB was Guatemalan Sandra Lopez Teo, a single working mother struggling to make a life with two young sons in a run-down Waltham apartment. Lopez Teo was being threatened with eviction for withholding rent, which she refused to pay until her landlord remedied a list of defects, including rodent infestation, broken windows, holes in the floor, and malfunctioning heating. Her case was fairly typical of those seen by the clinic, says Goldman's faculty advisor Professor Paul Tremblay, but unusual in that the landlord would not agree to a fair settlement out of court.
Through almost constant contact with Lopez Teo, and in spite of the language barrier and problems with interpreters (she speaks little English, he speaks little Spanish) Goldman began to win the trust of his client. He discovered that one year previously, Lopez Teo had been granted Section 8 certification, a form of federal assistance to lowincome families that subsidizes rent so long as the accommodation in question meets certain standards. Lopez Teo had offered to pay her landlord using her Section 8 voucher, but a housing agency inspection found the apartment not up to code, and the landlord refused to make the necessary repairs.
Goldman, aware of a Massachusetts statute prohibiting discrimination on the basis of receipt of housing benefits, saw an interesting angle to the case. He would claim that by refusing to make repairs, the landlord had effectively discriminated against his client on the basis of her source of income. "This was a really valuable claim," says Tremblay, and "a wonderful thing for [Goldman] to have discovered."
The case went to trial in Waltham District Court in May 2002. Tremblay says that Goldman "worked like crazy to pull everything together and put on a really skillful trial." The judge decided the case last January, accepting Goldman's claims and awarding Lopez Teo $20,000.
When she learned of the award, Goldman says his client was ecstatic. She told him the money would change her life by allowing her to provide for her children in ways she could not have imagined. More fundamentally, the experience had shown that she had the power to improve her situation. For Goldman, too, the experience was empowering. "I love the social justice aspect of it," he says, adding that the case is an example of "the impact that BCLAB has on the community."
Other articles from In Brief
Immigration Quandary
Other articles