Immigration Quandry
jane whitehead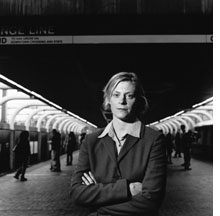 Alison Kane, '03
The tragic case of Adama Hawa Barry made headline news in February. Barry, 32, was nine months pregnant when she was shot in the stomach by a gunman on the Orange Line of Boston's subway system. Her baby son was delivered but lived only hours. To devastating injury and bereavement was added the threat of deportation when the subsequent investigation revealed that Barry had entered the United States from her native Guinea on a visitor's visa in April 2002, and that she was now classed as an illegal immigrant.
Media reports of Barry's plight galvanized Alison Kane '03. "When I read about the case, I really wanted to work on it," says Kane, who has a passion for immigration and asylum law and a strong connection to Guinea, where she volunteered in the Peace Corps for two years. With the support of her advisor, Professor Dan Kanstroom, director of BC Law's Immigration and Asylum Project, Kane offered to help Barry apply for a new class of visa. The "U" visa is designed to give security and legal status to victims of violent crime who otherwise would be unwilling to appear as witnesses.
"It was great that Alison was willing to take it on," says Kanstroom, who was confident of Kane's experience and abilities after supervising her work on the Immigration and Asylum Project for over a year. He was nevertheless concerned about the "complexity and the amount of work that might be involved." Applying for a "U" is sailing into "uncharted waters," he explains. Congress passed legislation creating the visa in 2000, but the Bureau of Citizenship and Immigration Services (BCIS) has not yet issued regulations, although it has given guidance on providing interim relief for eligible applicants.
As Kane assembled documentation for the application, her familiarity with Barry's native land and culture helped forge a connection with the family. Kane speaks some Pulaar, Barry's mother tongue, and Kane's husband, freelance journalist Josh Johnson, had visited Barry's village while in the Peace Corps.
A crucial element in the visa process, says Kane, is the testimony of law enforcement officials, who must declare that the applicant is essential to an investigation. Kane secured the support of the detectives working on Barry's case and obtained affidavits from Barry, her perinatal social worker, her husband, and cousin. After reviewing all the papers with Kanstroom, Kane submitted the application to the Boston office of BCIS in February. If Barry is granted interim relief, once the visa comes into effect, she and her husband will be granted residency and employment authorization for three years, after which they can apply for Green Cards.
"You can never guarantee anything in immigration law," warns Kanstroom, but he praises Kane for an "outstanding job," and is cautiously optimistic about the outcome. Kane sums up her work on the case as "the culmination of everything I've done in my life, and everything that interests me."