Gallery
jane whitehead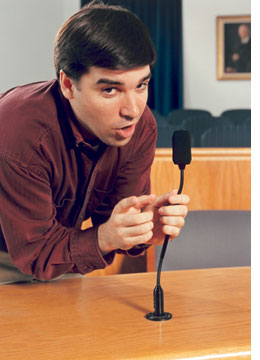 Kenneth Byrd '04
Samford University '95, majored in math. Incoming president, Law Students Association.
WHAT'S YOUR FAMILY BACKGROUND? I grew up in Nashville, Tennessee. My parents are progressive, Jimmy Carter kind of Baptists, not the boycott Disney kind of Baptists.
WHAT CAME BEFORE BC LAW? After Samford University in Birmingham, Alabama, I interned as a journalist at the Baptist Joint Committee, a church/state watchdog group. I was the Congressional correspondent for their news service. Later I became the Washington, DC, Bureau Chief of Associated Baptist Press. I covered the White House, the Supreme Court, and Congress. I was like a one-man office, but being a credentialed reporter gave me reserved seats at some historic events: the Clinton impeachment trial, the Bush v. Gore oral arguments in the Supreme Court, and several State of the Union Addresses.
WHY SWITCH TO LAW? After I'd been a reporter for a while and been around policy-making, I got to the point where it wasn't enough to merely report on matters that impact society. I wanted to be more involved in the wheels of change.
WHAT DO YOU HOPE TO CHANGE? I'm interested in social justice and very concerned about the gap between rich America and poor America. The greatness of our country will be judged by how we treat the less fortunate. Some people don't want to rock the boat because some of their stuff may fall out. I think it's time to rock the boat.