Getting a Firm Grip
by david reich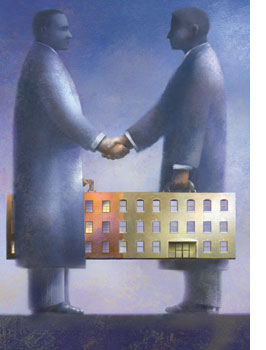 Mergers, downsizings, and closings are challenging the once-sacrosanct rules by which law firms have operated for generations. What's it all mean?

(Illustration: Michael Gibbs)
A big city law firm wants to beef up its litigation practice. If it's 1982, the firm locates and recruits the most promising future litigators from the ranks of second- and third-year law students. If it's 2002, though, they more likely start looking for a merger partner known for its litigation practice, quite possibly a firm several thousand miles away that will help the firm build a "national platform"— in other words, a widely recognized brand name and the legal experience to back it up.
Behemoths, Blowouts, and Boutiques
The year 2002 saw fifty-three mergers of US law firms, and that came on the heels of a record eighty-two mergers in 2001. (Last year's biggest merger joined Boston's Bingham Dana with the San Francisco law firm McCutchen, Doyle, Brown & Enersen, to form the 800-lawyer megafirm Bingham McCutchen, which has offices in cities up and down both coasts, as well as in Singapore and London.)
Oddly—or maybe not so oddly—2002 was also a year of failures and radical downsizing for big-name law firms on both coasts. In northern California's Bay Area, the 900-lawyer Brobeck, Phleger & Harrison and the 67-lawyer intellectual property powerhouse Skjerven Morrill both closed their doors after the tech bubble burst. The Minneapolis firm of Oppenheimer Wolf & Donnelly closed its New York City office, sold a 40-lawyer office in Silicon Valley, and combined its two southern California offices. In Boston, the venerable, 107-year-old Hill & Barlow, which had given Massachusetts three governors, became history itself when it went out of business in December. Also in Boston, the 111-lawyer Hutchins Wheeler & Dittmar, which at 159 years old was the city's oldest firm, got swallowed up in a merger with the 13-city megafirm Nixon Peabody, while Peabody & Arnold, a firm that goes back a hundred years, shed more than two-thirds of its lawyers, remaking itself as a small boutique firm specializing in insurance litigation.
What exactly was going on? Some observers of the legal industry say midsize firms like the late Hill & Barlow (145 lawyers) and Peabody & Arnold (100 lawyers before the downsizing) can't swim in the same waters as the Bingham-size behemoths that have increasingly come to dominate the legal business. (Last November, the National Law Journal reported that 12 US firms now have more than 1,000 lawyers each, including the 3,244-lawyer Baker & McKenzie; that 32 firms have more than 750 lawyers; and that since 1987, the total number of lawyers in the biggest 250 firms has gone from 58,533 to 108,361, an increase of 85 percent.) Indeed, one Hill & Barlow partner reportedly sent an email to clients blaming the decision to go out of business on many partners' belief that "the midsized firm model is not a viable one." And shortly after the Hill & Barlow failure, Harvard Law School Professor David Wilkins told the Boston Globe, "Midsize firms [can] do one of three things. They can downsize and become boutiques, shedding services and specializing in one area. Secondly, they can merge with a larger firm, or they can implode and go out of business."
Others see the picture as more complicated, pointing out that the midsize Boston firm Choate Hall & Stewart earned record profits in 2002, a year when the national economy wasn't exactly flourishing, while Goulston & Storrs, another midsize Boston firm, actually brought in 15 new lawyers, growing by roughly 10 percent at a time when some bigger firms in the city were shedding lawyers by the dozens.
The fate of midsize law firms aside, however, it's hard to deny that by 2002 the legal industry was facing unprecedented pressures, becoming less an insulated realm unto itself and more a business like other businesses.
In Their Own Image
Boston College Law School Professor James Repetti, who did tax work for Hill & Barlow on an of-counsel basis, says the pressures on law firms started mounting, however slowly, in the early 1980s, when big accounting firms began advising law firms on how to increase their bottom lines. One thing the accountants told the lawyers, according to Repetti, was to load up on associates. Instead of viewing the young lawyers as future partners, Repetti says, the firms, unlike Hill & Barlow, that followed such advice increasingly came to view them as profit centers, or "fungible commodities," worth some $100,000 each in added profit every year. It was a strategy the accounting firms had been following themselves, he says; thus, they were essentially "recreating the legal profession in their own image."
While many successful large and midsize law firms still hew closely to the traditional one-to-one ratio of associates to partners, many others, mostly big firms with more than 300 lawyers, now have two, three, even four associates per partner, according to figures on the National Association for Law Placement website. One result is less contact between the partners and associates and thus less chance for mentoring and professional development. Another is a greatly reduced chance of making partner. "In the 1980s," says Repetti, "the expectation was that everyone was going to make partner. Now the expectation in many big law firms is that you won't make partner."
That, in turn, erodes loyalty. Holly English '83, a former practitioner and now a writer and consultant to law firms and other organizations on management issues, points out that by the middle 1990s, 43 percent of associates were changing firms before the end of their third year of practice. "This," says English, the author of the new book Gender on Trial: Sexual Stereotypes and Work/Life Balance in the Legal Workplace, "results in less continuity for clients and lost revenues for the firm as they scramble to replace people who have left, train new people, etc." Adds Brian Lenihan '93, formerly of Hill & Barlow and currently a partner at Choate Hall & Stewart, where he helps corporate clients arrange venture capital and merger deals: "If you think of highly leveraged firms where work is constantly being pushed down to associates, that's going to affect the quality of the work." Still, it's hard to deny the seductiveness to partners—and to potential partners being recruited from other firms—of $100,000 per associate per year added to the bottom line.
Along with bulking up on associates, many law firms increased their revenues by increasing the billable hours per lawyer. "In 1963 the ABA recommended that the typical full-time lawyer bill 1,300 hours a year," English points out. Nowadays, typical expectations range from 1,600 billable hours to more than 2,000. This results in what English calls an all-work-all-the-time environment. "The ceaseless pressure for hours above all else (performance seems not to matter much oftentimes) is demoralizing," she says. And it inevitably results in padding hours and cheating…sometimes to sabotage the workplace and other times because [lawyers] simply can't accumulate the number of hours they're expected to."
At the same time that they were jacking up revenues by adding associates and increasing expectations for billable hours, many firms were also trimming costs. Lawyer-to-secretary ratios began creeping up towards three-to-one. Office space began shrinking. In February Chicago Lawyer reported that the average square footage in Chicago legal establishments had gone from 1,000 to 750 per attorney and that many law firms on both the East and West Coasts now featured the "one-size-fits-all office, whether for partner or associate."
Meanwhile, especially in the current down economy, the law firms' corporate clients have also gotten into the cost-cutting act, demanding, often for the first time ever, that the firms compete for work. "Many clients now hold bakeoffs for lawyers," says Lenihan, "where they interview three or four firms. In the past the same work tended to be given out more on a referral basis." This new competitiveness meant that some law firms, particularly midsize firms without national brand names, had to cut their fees to bring in work. It also meant that virtually every firm had to market its services—an activity at which corporate lawyers might once have looked down their noses.
By 2002, Bingham McCutchen, Boston's largest firm, had an advertising budget in the millions of dollars that paid for ads in publications like the New York Times and the Wall Street Journal, mailings to potential clients, and back-lit signs at airport terminals. Even smaller firms, who can't afford—and probably don't need— the kind of advertising that it takes to build a national brand, still must find new ways to grab the attention of potential clients, lest they find themselves, like Hill & Barlow, with high fixed costs and declining revenues.
The Hill & Barlow Story
Hill & Barlow, by all accounts, was one of the city's best legal employers and one of its most public-spirited law firms. Former partner David Hoffman, in an emotional Boston Globe opinion piece penned shortly after the firm folded, wrote that Hill & Barlow was "as much a family as a business."
But as with many families, there were tensions among the members. The firm came apart after one-third of its lawyers, all from its thriving real estate practice, left en masse to join Piper Rudnick, a multi-city megafirm. Departing real estate partner Elliot Surkin told the Globe that Hill & Barlow was one of a number of "wonderful old firms in Boston that can't compete at the highest level anymore.… We had to take our clients to a different place."
Others have a less forgiving interpretation, arguing that the lawyers from the real estate practice felt Hill & Barlow's less successful corporate and litigation practices were acting as a drag on their earnings potential. Former Hill & Barlow partner Jim Aloisi '78, now a partner in the public law practice group at Goulston & Storrs, says, "I think it's about money. I do not think it's about client service. I do not think it's about the training of lawyers. I don't think it's about any of that.…Lawyers generally want to make a lot of money. I think that lawyers generally make too much." The firm might have survived, Aloisi adds, if the real estate contingent had shown more patience. "Hill & Barlow was rebuilding neglected practice areas, primarily the corporate area, and needed a little time," he says.
His ex-partner Brian Lenihan disagrees with that assessment, saying the real estate lawyers' exodus was just the final blow to a terminally weakened institution. Lenihan points to Hill & Barlow's high fixed costs—especially an expensive office lease—and their too-late realization that they had to start competing more actively for corporate clients. "They expected work to come to them" is the way an employee of another Boston law firm puts it. Even their belated marketing efforts, begun in 1999, took what Lenihan calls "an above-the-fray approach," with the firm taking out "sporadic" print ads but mainly just jawboning personal contacts. Apparently, it didn't work that well. By 2002, says Lenihan, "profits were down fairly substantially, after being off a few percentage points from 2000 to 2001."
Two other factors strained profits further. First of all, the firm didn't always get top dollar for its work. Though both Aloisi and Lenihan disagree, a lawyer familiar with Hill & Barlow cites this as a contributing cause of the failure, saying, "The firm took a lot of pro bono work and government work where they took haircuts on fees." Second, in keeping with the firm's commitment to mentoring young lawyers, Hill & Barlow, like many midsize firms, maintained a one-to-one associate-to-partner ratio.
The Peabody & Arnold Story
Like their counterparts at Hill & Barlow, the Peabody & Arnold partners experienced serious intrafirm dissension in the months before they underwent their drastic transformation. The 100-lawyer firm had practice groups in real estate, corporate, trusts and estates, and litigation, with the litigation practice devoted almost entirely to serving the insurance industry. Surviving partner John P. Connelly '85 says the litigation practice was attracting lots of work, "but it was not necessarily work that we could charge the highest rates for." Partners from the corporate practice group, for their part, "thought it would be hard to attract [corporate] work if the potential clients knew we were doing other work at a lower rate" than what the corporate practice charged, says Connelly. He adds that the firm was already under pressure from clients who were "constantly vigilant about the rates they're paying, shopping around to see who will provide them with the lowest rates."
Ultimately, the litigators bought out the other partners. In early April, the thirty-two remaining lawyers moved into new quarters downstairs from the firm's old offices. As part of a new austerity program, the total floor space per lawyer in the downsized Peabody & Arnold is 625 square feet, compared to 700 in the old establishment. In addition, the lawyer-to-secretary ratio is rising, with an ultimate goal of three-to-one, and the firm is employing fewer paralegals and marketing and IT personnel, sometimes farming out the work to subcontractors.
As for pro bono work, says Connelly, "It's something we do and we're going to continue to do, but there's a recognition that at certain times the firm might be in a position to do more of it, and at certain times the firm might be in a position to do less of it. You have to have flexibility."
Even the physical process of moving showed a new attention to keeping costs down. "In times before," says Connelly, "the move would have been accomplished by outside movers, a manager, even a moving consultant. This time, the lawyers rolled up their sleeves, shelved books, moved papers, hung art work on the walls. It gave them a new investment in the reconstituted firm."
The Bingham Story
Even before last year's mega-merger, Bingham Dana was one of Boston's biggest law firms, boasting 500 lawyers and offices in Hartford, New York, and Washington, DC, as well as overseas. But Bingham wasn't always big. In 1995, only seven years before the merger, the firm, with a mere 175 lawyers, wasn't much bigger than Hill & Barlow. That was the year managing partner Jay Zimmerman "went on a crusade" to grow via mergers and acquisitions, according to Hank Shafran, Bingham's marketing director. Between then and last year, Bingham brought aboard a Washington, DC, real estate practice recruited from another firm; wooed away a Hartford firm's senior partners in litigation, real estate, and finance and the associates who worked for them; acquired the boutique firm Marks & Murase, which specialized in international law and had offices in New York and Tokyo; acquired the Hartford firm Hebb & Gitlin, with fifty-five lawyers and international law and insolvency practices; and acquired Richards & O'Neil, a midsize New York City firm.
Fans of the Bingham style of growth call Zimmerman a visionary, saying he saw early on that the firm would have to grow fast in order to realize its potential in the coming years. The merged Bingham McCutchen has 800 lawyers, and, says Shafran, "when you get up into those kind of numbers, people start to know you're there." William McCormack '67, a partner in Bingham's litigation practice, adds that the merger with McCutchen strengthened both firms by giving each a presence on the other coast. What is more, says McCormack, while both merger partners were already fullservice firms, they complemented each other's strengths, adding McCutchen's strong reputation in the litigation area to Bingham's strong reputation in mutual funds and banking.
Bingham's profits were up 20 percent in 2002, after rising every year since 1995, statistics that would seem to bear out the wisdom of the merger/acquisition strategy. Nor is the firm finished merging and acquiring, says Shafran. "We are still very much in a growth mode," he says. "We're just starting to be large enough to compete for the highest level of business against the best firms in the country."
The Size Equation
The varied fates of Bingham, Peabody & Arnold, and Hill & Barlow neatly illustrate the options Harvard Law School's Wilkins laid out for midsize firms—growing out of the midsize category via merger; downsizing and becoming a boutique firm; or simply going out of business. But are these the only options? Will the midsize firm soon go the way of the dodo and the whooping crane? Not likely, says Jean French, BC Law's director of career services from 1982 to 2002. "Ten years ago," she says, "during the last economic downturn, there was also talk about the death of midsize firms, but they lived on."
Still, national megafirms have some undeniable advantages over their midsize competitors. Says Maris Abbene, who succeeded French in the career services office after fifteen years with Bingham Dana: "Corporations doing break-the-bank, really high-stakes things want to use a law firm that has done it before."And the law of averages dictates that a big firm is more likely to have someone who has done it before.
Abbene also points to the increasingly important role played by legal advertising. "Look at American Lawyer," she advises, "or the Boston Business Journal. You'll find any number of glossy ads [for law firms]. They even have awards for marketing in the legal industry now." In this area, again, the advantage goes to the bigger firms, because they're the ones that take out—can afford to take out—the glossy ads.
Megafirms may also be better suited for work with multi-state or international elements. Even Jim Aloisi, an outspoken advocate of the midsize firm who refers to megafirms as "legal Wal Marts," admits that "if you have an 800-person firm, chances are you can practice in more places than [a midsize firm] can."
But if big firms have big advantages, they also face some problems that come with size. French says, "You like lawyers to have loyalty and identification with the firm, and that's a challenge with large merged firms. It's easier for midsize firms, if you find the right niche, to create a culture where they can retain good lawyers and where people can be happy and productive."
Some argue, too, that midsize firms offer more efficient, more individualized service, especially to smaller business clients. Bingham's Shafran says, "If a large firm doesn't have that personal touch, that attention to client service, it's not going to succeed." But Brian Lenihan argues that "there's a big sector [of business] that needs high end legal services and would be willing to pay for them but would get completely lost in a thousand-lawyer firm." On the topic of big law firms, Aloisi says, "Judgment, counseling, attention to detail all get lost when you're trying to be all things to all people." Then, turning the tables on those doomsayers who predict the demise of the midsize firm, he adds, "I think some of these megafirms are going to prove untenable…. Sophisticated clients are going to see they can't get the kind of value they can get from a midsize firm."
Further, according to Lenihan, there are proven ways for midsize firms to market themselves to potential clients, thus overcoming what is perhaps their greatest disadvantage. "For a firm trying to establish a national brand, paid advertising is probably critical," he admits, but his practice group at midsize Choate Hall & Stewart has a more cost-effective strategy suited to the firm's more modest size. "We tend to sponsor a lot of conferences and seminars in areas we're expert in," he says. "And I try to do a lot of speaking. For a strong regional firm, having your attorneys involved in community work and professional organizations —that's really what's required."
In the end, for many clients, size doesn't matter, says BC Law School's Jim Repetti. "The argument," he says, "is that, for a high-paying client, if they're paying the same price to Hill & Barlow as to [the New York City megafirm] Sullivan & Cromwell, they're going to go to Sullivan & Cromwell. But usually, if you're a corporate client, you're working with a team of three to five lawyers whether they're from a big firm or a midsize firm."
Lenihan agrees that most clients are more interested in the lawyer they are working with than in the size of the firm where the lawyer works. "There's comfort for some large clients in going with a firm that has name recognition," he says. "But when I told my clients I was going to Choate, they came along. They said, 'We hired Brian Lenihan; we didn't hire Hill & Barlow.' "
The PEOPLE Issue: Six tips for managing a merger
by Holly English '83
With the trend towards consolidation, many law firms are merging with or acquiring other firms. Sometimes overlooked amid the concerns about strategy and economics are the people issues. Here are some key pointers for law firm decision-makers.
• Do your homework in advance. Make sure there's a cultural match before signing on the dotted line. If your firm is hard-charging and relishes weekends at the office, avoid hitching up with a firm whose lawyers prefer to spend Saturdays on the links. Nestor M. Nicholas, managing partner at Nixon Peabody, advises asking about the firm's cultural reputation and looking at compensation systems to see what the firm values.
• Anticipate adverse reactions. Don't be surprised if people aren't thrilled about a merger. They're losing autonomy, worried about new bosses, confused about unfamiliar procedures, and anxious about keeping their jobs. (Even a name change can be fraught. Two years after Providence's Tillinghast, Licht & Semonoff merged with Boston's Perkins, Smith & Cohen, the merged entity has yet to settle on a new moniker.)
• Listen and communicate. Hold open forums to allow people to air their anxieties and get them resolved quickly. If debate is squelched, it will only go underground. Share information widely so that questions are answered before concerns mount.
• Sell the benefits. It may be obvious to those who negotiated the deal that it's a winner, but others may not get it. So it's important to emphasize the benefits, such as greater resources and a broader client base. Debbie Freeman, formerly a partner at Hartford's Hebb & Gitlin, which merged with then-Bingham Dana (now Bingham McCutchen), says, "Where at Hebb you might have just done it yourself, after the merger you had to ask someone. People may have chafed at that at first." What saved the day, she reports, is that the Bingham lawyers and staff went out of their way to be helpful, overcoming resistance.
• Devise ways to build unity. For instance, the management from both firms can draft a set of values governing the new entity, defining the values with specific behaviors so that people know what's expected of them. Also, set up procedures that force people to mix. Freeman says that a formal associate assignment system at Bingham McCutchen "broke down the barrier of, 'I don't know this associate, I don't know the quality of his or her work.'"
• Take the best each culture has to offer. In a merger, there's nothing more flattering than for the bigger firm to adopt some of the smaller firm's systems. Holland & Knight director of marketing Marty Duvall says that they recently merged with a small Chicago firm and borrowed its method of providing biographical information on the web, even though it meant revising 1,200 resumes. Bingham McCutchen marketing director Hank Shafran says they picked up McCutchen's executive information system, retained Bingham's management structure, and built a hybrid risk management program.
The CONUNDRUM for Recent Graduates: The job search may be tougher, but the struggle has its benefits
by David Reich
Between the downsizing and failures of large and midsize law firms and the overall bad economic times, recent law school graduates are having a tougher time finding work. Almost all former partners from the defunct Boston firm of Hill & Barlow and the radically downsized Peabody & Arnold have found good positions at other law firms; so have many, though not all, associates laid off by the two Boston firms. Recent grads seem to be faring worse than either group. Says BC Law Professor James Repetti, "A lot of our students who had offers at large firms downtown were told, 'Sorry, don't show up. There's no work for you.' Some got severance bonuses from law firms without even having worked for them, and a lot of them are still out looking for jobs."
Nevertheless, says BC Law Career Services Director Maris Abbene, there is a bright side for those new to the marketplace. Having to work harder to find a job means many students are learning a lot about the workplace. "The students are developing good networking skills now and a good networking base that will help them with business development and client nurturing long into the future," Abbene says. "They are also showing a good sense of initiative in their searches, and good initiative is an important attribute for any lawyer."
Still, Repetti says, in this climate he's spending "a lot more time counseling our students and writing recommendation letters" —as well as phoning contacts at firms in Chicago, New York, and Washington, DC, on behalf of recent and prospective grads. He advises the students not to restrict their job search to Boston (or any other city in particular) and to think more expansively about the kind of job they might take. "If someone interested in corporate law is offered a job in securities litigation rather than in transactional work, I suggest they take it as an entrée," says Repetti. "If someone is interested in business law, they might take a job in real estate, where they can develop the skills they need in business law." Above all, he says, "I suggest they look for jobs in places where they will get good training because in the long term their success will depend on their skills as a practitioner and their ability to develop clients."
Holly English '83, a writer and consultant to law firms and other organizations, sees the bad times in the legal industry as a good occasion for soul-searching by recent law school graduates. "It's amazing how many [lawyers] wind up in middle age saying, "I don't like where I work and the kind of work I do,' " says English. "It's easy to drift along, following the crowd, which favors big-firm careers, rather than deciding for yourself what you like. So it's important at the outset to evaluate all opportunities—the corporate world, hanging out your own shingle, joining smaller or boutique firms, working for the government or for not-for-profits in public interest law, or indeed using your legal training for fields completely apart from the law."