Goodbye, Mr. Chips
law school mourns "the slew's" passing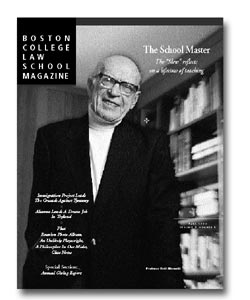 In February, the Boston College Law School mourned the loss of its oldest living faculty member, eighty-three-year-old Emil Slizewski. "Emil's death [was] inexpressibly sad for the entire Law School community," said BC Law Dean John H. Garvey.

Slizewski lived all of his life in Massachusetts. Affectionately called "The Slew" by his friends, students, and many admirers, he was an outstanding student in the Boston College class of 1941 and the BC Law class of 1943. After graduating, he became the Law School's librarian, a position he held through 1948.

The first courses Slizewski taught were property and criminal law, but he is best remembered for his legendary courses in trusts, estates, and estate planning. He taught the majority of BC Law alumni, many of whom are now near retirement age themselves. His courses were some of the toughest and most rewarding at the Law School.

"Multiple generations of Boston College Law School students have regarded The Slew's trusts and estates course as a rite of passage," said Professor James Rogers. "Yet despite-or perhaps because of-his reputation for intellectual rigor, he was one of the school's best-loved teachers. All of us on the faculty can have no greater hope than that our students will feel some measure of the respect and affection that Emil's students had for him."

Professor Emeritus since 1989, Slizewski retired from teaching in 1998, and was recognized the following year with an annual faculty excellence award established in his name.

Garvey recalled, "Emil used to say that he came to Boston College in 1937 and never left. In a way, that will continue to be true. He played unique role in forming this school into the place it is today. We will be forever grateful to him."
A memorial service was held June 20 at 4:00 p.m. at the Chapel of the Most Holy Trinity on the Law School campus. A reception followed in the Barat House.

Photo: "The Slew" was one of the school's best-loved teachers.