Stopping Domestic Abuse
new student group offers help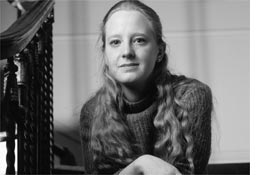 Last October, Heather Lynn Anderson '03 wanted to do something bold to spread the word about her plan to start a Domestic Violence Advocacy Project (DVAP) at BC Law. So, she peopled a hallway in the East Wing with figures from a traveling exhibition called "Silent Witnesses." The red-colored, life-sized wooden cutouts, likenesses of recent victims, were a stark wake-up call to passing students, sixty of whom signed up to work on the project.

Ten months later, DVAP has officers, a calendar of awareness activities and workshops, and a developing counseling program that aims to match students with domestic violence victims to provide long-term advocacy and advice. Anderson says interviews with court, hospital, and shelter personnel in the area confirmed that they not only want but enthusiastically support the students' initiatives.

Herself a survivor of domestic violence and the friend of someone who lost her hearing to abuse, Anderson has worked in shelters wherever she's lived over the past several years, and as a 1L participated in Northeastern Law School's Domestic Violence Outreach Project. She says the limitations of that project, which offers counseling services to victims at Boston Medical Center's emergency room, inspired her to devise a more comprehensive clinic for BC Law. The primary difference, Anderson explains, is DVAP's emphasis on continued care. The Northeastern students only counsel victims in the hospital; there is no mechanism for follow-up. The DVAP plan is for students to remain with victims over longer periods, providing one-on-one counseling and advocacy at various times and stages as their cases require. "It's so much harder on victims if they're working with many different people," Anderson says. "It's more beneficial to both parties to do it this way."

DVAP has a four-part agenda comprising community outreach, education, a speaker series, and victim counseling. Anderson says increasing awareness is key to prevention and a vital part of the project's mission. Too many people think domestic violence doesn't happen to people like them, she says, but white, middle-class families are just as susceptible as other economic or ethnic groups. "Community outreach is important because a lot of people see abuse but won't get involved," she says.

Professionally, Anderson is considering a career in tax law, but expects to continue helping domestic violence victims through pro bono and volunteer work. "This is what I do," she says. "It's second nature. I feel I have not contributed to the community if I don't help in some way."

DVAP is under the umbrella of the Public Interest Law Foundation. Among the activities planned in the fall are a self-defense workshop and, during Domestic Violence Awareness Month in October, the return of "Silent Witnesses" (the figures change each year to represent the latest victims). For more information, call DVAP's office at 617-552-1149.
-Vicki Sanders
Photo: Heather Lynn Anderson '03 has created an organization to assist victims of domestic violence, with an emphasis on extended care.