Immigration Triumph
clinic shepherds case to victory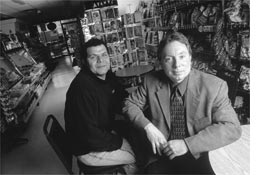 In December 1990, men claiming to work for a local school board ordered $6,000 in supplies from a stationery store owned by Mr. Y., one of Egypt's six million Coptic Christians. The shopkeeper, now a client of the Boston College Law School Immigration Clinic, delivered the supplies but was never paid. When he sought legal redress, he was beaten with a pipe and threatened with death. Later, a man who said he belonged to a radical Islamist group threatened to torch the store unless the case was dropped.

In short order, Mr. Y., who asked that his name not be used, learned that Christians throughout Egypt were being victimized by similar extortion schemes, which some radical Islamist groups have used to finance their activities. (Used broadly, Coptic refers to the country's native Christians, most of whom belong to the Coptic Orthodox Church, which dates back to the first century AD.) Following the path of other persecuted Egyptian Christians, Mr. Y. fled to the United States. But the lawyer he hired to represent him before the INS botched the asylum case, submitting an inaccurate and sketchy affidavit, says Professor Daniel Kanstroom, who directs the immigration clinic. Meanwhile, Mr. Y's case, like thousands of others, got lost in the system because of understaffing at the INS during the early 1990s.

By 1998, Mr. Y. had started a neighborhood market in Eastern Massachusetts. For now, he had the right to live and work there, but when his case came up-if it ever did-he knew he could lose and be deported.

At the clinic, Kanstroom interviewed the man at length and advised him that if the case were properly adjudicated, his request for asylum would have a good chance of success. But they would have to overcome several obstacles, including the lack of eyewitnesses to corroborate the story and the fact that Mr. Y's case, in Kanstroom's words, "is not a classic asylum case" because he wasn't claiming persecution by a government but rather by private citizens from whom the government couldn't or wouldn't protect him.

For more than three years, BC Law students working at the clinic did legal research and documented the persecution faced by Egypt's Coptic Christians, including massacres, extortion, kidnapping, and forced conversion to Islam. The students also helped prepare the client to testify. The most common reason for losing a credible asylum case, Kanstroom says, is inadequate witness preparation. Laypeople, he says, "don't understand how meticulously a story has to be told in order for it to be found credible" in the absence of corroborating testimony, which is rarely available to refugees. "And sometimes refugees are so traumatized their story comes out as a jumble." Luckily, Mr. Y. speaks well and has mastered English. Also, he had a scar to show the INS adjudicator, and the paperwork for the $6,000 order.

It took three interviews with INS adjudicators, but in early 2002, Mr. Y. won asylum. (Next year, he will ask the INS to grant him permanent residence.) Praising the BC Law students' work, Kanstroom says, "It was a real cooperative effort.… To me that's what clinical legal education is about in its best form."

The case sets no precedents, but it does show Egypt's Coptic Christians that some people in the INS understand their plight. "We have been deeply concerned in our program about the current crackdown on Muslims within the United States," Kanstroom says. "But that doesn't mean we can close our eyes to what is happening to Christians in Egypt."
-David Reich
Photo: Mr. Y (left), an Egyptian shopkeeper and Coptic Christian (who wishes to remain anonymous), won asylum with the help of Professor Dan Kanstroom and his students.