Keeping Students On Track
by vicki sanders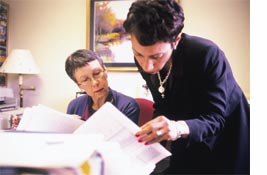 Academic Services lightens the load of paperwork with a personal touch.
Perhaps the most telling measure of the importance of the Academic Services Office to student life at BC Law is how quickly the Tootsie Rolls disappear. At certain times of the year, particularly during registration and exam periods, the office is Command Central, fielding dozens of inquiries a day from students (and sometimes faculty) needing everything from schedule changes, to transcripts, to transfer records, to bar certification verification. The Tootsie Rolls don't stand a chance-but they do add a touch of sweetness to the chaos that is a way of life in Stuart House Room M301.

"We do everything," Academic Services Director Tracey West says with a shrug of futility at trying to describe just what goes on inside her small warren of offices. Most of it comprises the day-to-day, drudging details that keep the academic side of the Law School humming: administering tests, keeping track of grades, orienting new students, scheduling classes, juggling faculty timetables, administering clinical programs, training proctors, collecting course evaluations, clearing graduates for commencement, and, with increasing frequency, computerizing exams and other traditionally paper-bound services.

Indeed, technology is the trend-setter in an office that alumni may remember more for mimeograph machines and rows of file cabinets. It seems the ubiquitous blue book, and other hold-outs of yesteryear like the paperback course catalog, are, or soon will be, history. Increasingly, says academic dean Fred Yen, "students want to register, take exams, and get scheduling advice by computer. Anything we do on paper we can imagine doing in the future on computer."

Recent trials using ExamSoft, a software that allows students to download tests on their laptops as it temporarily blocks their access to the internet or email, were so successful that West is already offering 71 in-class mid-term and final cyberexams. Similarly, the course catalog is no longer printed. Instead, it's made available online.

Technology may be a hot tool, but it is no substitute for human ingenuity, and that's what it takes to arrange the 70 to 100 classes offered each semester into a coherent framework that accommodates some 50 full-time and 11 visiting faculty, 55 adjuncts, and more than 800 students, a chore West compares to arranging the pieces in a jigsaw puzzle. "I like the ability to create a schedule that works best for the students," West says. With course offerings growing each year, the task is increasingly complicated.
"The challenge is to offer a curriculum on which more demands are being placed than in the past," Yen explains. Today's students have broad interests, a fact born out by the sheer number of areas of law they want to study. Demand is burgeoning for classes in intellectual property, immigration, juvenile justice, elder law, and corporate transactions, among others. "Even if we get these courses, within these areas students' interest is varied," Yen adds.

It falls to West and her staff, Assistant Director Dona Agar, Administrative Secretary Linda Raute, and an incoming Student Records Coordinator (Kenneth Krzewick retired in April after twenty years) to build and manage the course schedule for the expanding curriculum designed by the academic dean, and that means juggling a dizzying number of student and faculty needs and requirements-not just once, but twice a year. The constant turnover at least ensures that problems don't linger for long. When, for instance, West discovered that class times for first-year students meant they rarely had free periods to mingle with older students or participate in the wider campus community, she rearranged things so that the following year 1L's, 2L's, and 3L's had some common down-time. "It helps with students' well-roundedness," she says.

Noticing that the mid-week course load was heavy but Friday's was light, West labored to better balance the week, putting some of the most popular classes on Fridays to increase attendance. A primary motive, she says, was to encourage community spirit and greater socialization and participation in student organizations and activities by having students on campus fulltime. During exams in May, West confronted a different sort of dilemma. A group of students complained that the seats in one of the final-exam classrooms were too uncomfortable to sit in for a long period. West put the seats to a "tush test" and concluded the students were right. She arranged for another room.
Recently, Academic Services and the Dean for Students Office merged into a suite of offices, providing a kind of one-stop-shopping locale for student concerns. For personal questions and counseling, they usually turn right to Dean for Students Norah Wylie; for advice and assistance with administrative issues and records, they head straight for West and her staff. But by design, the lines between the two departments are easily blurred. This spring, a student West had gotten to know through academic counseling came to her in a personal quandary. The student had been invited to a job interview but didn't have the proper attire. At seven o'clock that evening, West was delivering to the young woman's apartment a selection of suits and shoes from her own and Wylie's closets for use at the next day's appointment. "Many times we go beyond the call of duty," West says, smiling and adding that the close contact with students is the job's greatest reward. "She sent me a thank-you email afterward and said she felt like a million bucks at the interview and that it went very well."

The decision to put the two departments in proximity was one outcome of a curriculum-improvement plan outlined in the Law School's Educational Policy Committee Report issued in 2000. Other priorities were computerizing exams; redesigning the academic services website (launched this spring as an interactive, multi-purpose resource at www.bc.edu/schools/law/services/academic/); increasing support for faculty research stipends; recommitting to Introduction to Lawyering and Professional Responsibility; hiring faculty specializing in business, tax, intellectual property, and property law and clinical work; and supporting outreach programs like the Juvenile Justice Advocacy Project. "It turns out we've made improvements in every area we identified," Yen says.

As these and other initiatives-such as expanding the Law School's dual-degree and international studies programs-are realized, so grows Academic Services's workload. For example, to administer the dual-degree relationships that BC Law is cultivating with Boston College's graduate schools of business, education, and social work and, ad hoc, with the Fletcher School of International Policy at Tufts University, Academic Services must ensure that credits are properly allocated, students' schedules don't conflict, and grading standards and methods are met. "Tracey is the front line for routine academic questions such as 'Can I graduate if I do Y,'" says Yen. "She's the expert on credit for the JD-MBA."

Over the past several years, interest in international law at BC Law has been on the rise. This has meant adding international law experts to the faculty, accommodating foreign student visitors (who take courses but are not on a degree track), and screening degree candidates from abroad to ensure their credentials are up to the Law School's standards. West is also working with the main campus's international studies center to expand the pool of foreign schools at which BC Law students can get credit for study abroad during the academic year. Academic Services, as always, is where the paper trail begins and ends for such projects.

Given the nature of their jobs, it's not surprising that when the Academic Services staff attends commencement, they see not just the familiar faces of 230 smiling graduates, but also three years' worth of grades properly recorded, credits accurately counted, accreditation's carefully verified, and diplomas correctly counted.

And once they've sent the latest class on its way, they do as they've always done-return to the office and refill the Tootsie Roll basket.
Photography by Webb Chappell