Esquire
alumni news
Articles:
The Tax Man - New Revenue Chief Takes Aim at Inefficiencies
Reaching the Top - Alumna Named US Attorney in LA
Funding Public Interest - Grants Stretched Thinner as More Apply
Website Offers Loan Assistance Information
Black Alumni Vote - Desmond Elected President
Association Proposes Bylaw Changes
Best Friends - Dean's Council Dinner Honors Donors' Generosity
The Contenders - Clean Elections Law Adds Interest
Reunion 2002 - Date Set in September
Benchmarks - Supreme Court Inducts 35
Plain Talk - Cantor Pens Courtroom Guide
Taking Their Bows - Law Day Honors Four Who've Made a Difference
Citations - Alumni in the News
THE TAX MAN
New Revenue Chief Takes Aim at Inefficiencies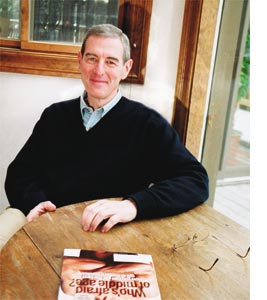 Alan LeBovidge '67, the Massachusetts Department of Revenue's new commissioner, is as frustrated as any taxpayer by the state's wacky and outdated practices. "Who would come up with seven tax rates for capital gains?" he asks, referring to the state income tax form. As far as outdated goes, any taxpayer who expects to owe $200 in state taxes at the end of the year is still required to pay estimated taxes. Raising the $200 threshold to $400 and simplifying the capital gains tax code are two changes LeBovidge would like to make during his tenure in state government.

After thirty-two years at Coopers & Lybrand, now PricewaterhouseCoopers, LeBovidge retired three years ago as partner and vice chairman of US tax operations. In retirement, LeBovidge tutored boys in Lawrence schools and devoted himself to other nonprofit work. Late last year, he was asked by Acting Governor Jane Swift to fill the post vacated when the previous commissioner became head of the Massachusetts Water Resources Authority. LeBovidge says he left retirement for the opportunity to work for a nonprofit operation and is enjoying the job so much he'd like to stay on-if the governor elected in November wants him.

The high quality of the DOR staff has been a pleasant surprise, though LeBovidge admits chafing at civil service and union rules. "In any organization, you have a few bad apples. It's just harder to get rid of the bad apples here," he says. The bureaucracy also makes it difficult to react quickly to the state's deteriorating finances. At a private firm, layoffs would quickly follow a precipitous drop in revenues such as the state has experienced, he says.

Once the budget crisis passes, he'd like to improve the department's reputation so taxpayers feel it is working for everyone in an equitable manner. "Right now," LeBovidge says, "we're the kind of agency everyone loves to hate."
-Jan Gardner
REACHING THE TOP
Alumna Named US Attorney in LA

Los Angeles Superior Court Judge Debra W. Yang '85 was unanimously confirmed by the US Senate in April as the top federal prosecutor in Southern California. She is the first Asian-American to hold the post, which is the largest federal prosecutor's office outside of Washington, DC.

"I think it's an exciting and phenomenal opportunity that I've been given, and I'm very honored to have been selected by the [President George W. Bush]," Yang says. She says she will develop her priorities for the new post after she meets with supervisors in the US Attorney's office and the directors of federal agencies. She expects preventing and eradicating terrorism will be important parts of the job.

"While I never saw myself as someone who was breaking through the glass [ceiling], I'm happy to be the first one breaking through it," she says.

Yang, who has been active in the Asian American community for twenty years, says, "It's always important for any minority to be there, to be at the table, to participate." Yang has also long been involved in Republican Party affairs. Bush chose her to succeed former US Attorney Alejandro N. Mayorkas, a Democrat, who resigned last year.

Yang is thrilled to be returning to a leadership role in the office where she worked as a prosecutor, beginning in 1990. "I really liked the intellectual challenge," she says. "That office attracts the best and the brightest in the legal profession."

A California Superior Court judge since 2000, Yang has carried a calendar of close to 600 cases, which has taught her to assess a case quickly and decide how to proceed. That skill, she says, will serve her well as US Attorney in a 245-lawyer office that prosecutes federal crimes in seven counties with a population of 15 million.

-Jan Gardner


FUNDING PUBLIC INTEREST
Grants Stretched Thinner As More Apply


The Law School's commitment to loan repayment assistance for graduates pursuing public interest careers continues to grow. Through the William F. Willier Loan Repayment Assistance Program, the scholarship committee awarded more than $100,000, an increase of $11,000 over the previous year.

However, the number of applicants also continues to increase, which means that grant amounts per person are shrinking. Twenty-seven BC Law graduates-twelve of them renewals and fifteen of them new applicants-received Willier Awards for the 2002 calendar year, up from twenty-one in 2001. Awards ranged from $1,500 to $6,000 with a median of $4,000.

"A large number of our students are drawn to the notion of working in service to others, but many are discouraged from doing so because of concern about paying off substantial law school debt with the low salaries common in the public interest sector," says Dean John Garvey. "Our loan repayment assistance program is one of the ways we try to reinforce our commitment to encouraging students to consider public interest work. We want to assist many more of our alumni than we are able to now. Only the limits of our assets stand in the way."

Income from the Willier trust, along with gifts from alumni and others, provides funding for the awards. Dean Garvey notes that loan repayment assistance is an excellent gift opportunity for alumni to consider as they plan their philanthropy. Helping Boston College Law School ease the debt burden of alumni in public interest positions is an affirmation of the school's belief in the humanity of the law. Anyone wishing to make such a contribution should contact the Law School's Development Office.

In order to be considered for loan repayment assistance, applicants must have graduated from the Law School within the last five years and be employed full-time in a public interest job earning $47,500 or less. Part-time employment, however, is considered on a prorated basis if funds allow. Participants are eligible to remain in the Willier program until their income in public sector employment exceeds $55,000. Applications are accepted beginning in October each year with a filing deadline of December 1.

To receive information and an application, please send your name and address to the Office of Admissions and Financial Aid, Boston College Law School, 885 Centre Street, Newton, MA 02459 or e-mail to bclawadm@bc.edu. Applications may be accessed on line at www.bc.edu/schools/law/service/career/public/lra.
back to top
WEBSITE OFFERS LOAN ASSISTANCE INFORMATION

The Boston College student services has updated its student loan website to include loan repayment information and federal loan consolidation updates. Federal Stafford loan interest rates have fallen in the past two years and may decline again when rates are set July 1. Names and addresses for several consolidation agencies are available along with tips to follow when considering consolidation. Alumni may also use the site to update address information and to contact the student loan office. Here's how to access the Boston College Student Loan Office on the web. Got to "bc.edu," then choose "options A-Z." Choose "s" and select "Student Loan Office." In the left margin, under "Financial Services," select "Student Loan" to see the directory of listings.
BLACK ALUMNI VOTE
Desmond Elected President

At its bi-annual meeting in April, the Black Alumni Network elected new officers for the 2002-2003 year and named delegates to serve as regional representatives. The new president is Kenneth V. Desmond Jr. '90, deputy chief legal counsel in the Middlesex County Sheriff's Office in Cambridge, Massachusetts. Dawna Mcintyre '91 of McKenzie & Associates in Boston is the first vice-president. The Hon. R. Malcolm Graham '74 of the Massachusetts Superior Court fills the second vice-president's post. EPA attorney Ronald Gonzalez '91 will serve as clerk, and Professor Ruth-Arlene W. Howe '74, as treasurer.

Regional representatives, who will act as liaisons between their regions and the board of directors are: Evelynne Swagerty '84 (Northeast); Robert Harrison '01 and Monique McNeil '01 (Greater NY/NJ); Phinorice Boldin '85 and Kenneth Whitted '89 (Mid-Atlantic); H. Lamar Willis '99 (South); Michele Camers Goodwin '95 (Midwest); Andrea Ford-Roberts '78 and Pamela L. Washington '78 (West).
Back to top
BEST FRIENDS
Dean's Council Dinner Honors Donors' Generosity

On April twenty-sixth, 120 members of the Dean's Council attended a reception and dinner hosted by Dean John H. Garvey and the Board of Overseers. The annual event, held at the Boston Harbor Hotel, recognized those who have contributed significantly to the growth of BC Law.

Richard Campbell '74, chair of the Board of Overseers, welcomed everyone to the dinner and thanked Kevin Callanan '67 and Richard Gelb '73, co-chairs of the Leadership Gifts Committee, for their dedicated efforts throughout the year.

Garvey introduced two law students who spoke of how BC Law is helping them to learn the craft of lawyering while encouraging them to develop an understanding of human values. They expressed their appreciation for numerous opportunities to interact with the public interest sector while at the Law School, adding that those chances bolstered not only their theoretical foundation, but also their emotional involvement.

In his remarks, Boston College President William Leahy touted the Law School as a beacon of excellence where bright students become talented attorneys with a moral conscience.

The evening celebrated those who have helped BC Law rise to its present level of excellence, and those with the potential to lead it in the future.
-Tiffany Winslow

ASSOCIATION PROPOSES BYLAW CHANGES
Vote To Be Held In September

In September, alumni will be asked to vote on a number of changes designed to make the Boston College Law School Alumni Association more efficient and effective. The most significant proposed change is eliminating the requirement that the nominating committee offer up six more candidates than there are seats on the governing council. According to Daniel C. Crane '75, chairman of the bylaw committee, the requirement puts nominating committee members in the awkward position of offering to nominate a colleague for a seat on the council, then telling the colleague he or she must face a contested election. Any member interested in serving on the council will still be eligible to file a petition to run without being nominated by the nominating committee.

Other proposed changes would:
· Establish a president and president-elect system to ensure a smoother transition period from one administration to the next. Instead of having three vice presidents and a president, the change calls for two vice presidents, a president, and a president-elect who would assume the presidency the following term.
· Eliminate the admissions assistance and alumni activities committees and add a pro bono and a communication and technology committee. The association will continue to play a role in the areas where standing committees have been eliminated. However, based on recent experience, the committees were not warranted, Crane says. On the other hand, support and encouragement of pro bono work is at the core of the school's spirit, and facilitating better communication among alumni is important to the community's growth.
· Allow delivery of notice and meeting materials to be made via email, posting to a website, and other electronic means.
· Add two third-year law students to the council. This will strengthen the alumni association's ties to students, Crane says.

To review a complete draft of the proposed changes, go to http://www.bc.edu/schools/law/alumni The vote on the bylaws will be held at the alumni association's meeting September 10 at 6 p.m. in Barat House, 885 Centre Street, Newton. All members of the association in attendance will be eligible to vote. To offer your input on the proposals, request a copy, or obtain further information, contact Director of Alumni Relations Linda Glennon at linda.glennon@bc.edu.
-Jan Gardner
THE CONTENDERS
Clean Elections Law Adds Interest

Five BC Law alumni are running for office in Massachusetts, Maine, and California; three are gubernatorial hopefuls and two are among the Bay State's first Clean Election candidates.

Warren Tolman '86 is the only gubernatorial candidate in Massachusetts running as a Clean Elections candidate. He has received about $580,000 in public funds for his campaign and expects to get more. However, Tolman points out, the Clean Elections Law is only a means to the end of better government. His top priorities are reducing healthcare costs and improving the educational system and economy. Tolman, who will face four challengers in the Democratic primary next fall, was a state representative and state senator for two terms each and an unsuccessful candidate for lieutenant governor in 1998.

The Clean Elections Law, approved by Massachusetts voters in 1998, allows candidates for state office to receive public money for their campaigns if they abide by strict spending and fundraising limits. The state legislature has balked at funding the law, but both the local BC Law candidates say they expect to receive public financing because the state Supreme Judicial Court has ruled that state property can be sold to fund it.

In his run for state representative in a district west of Boston, James Eldridge '00 also faces four challengers in the fall Democratic primary. He says his status as a Clean Elections candidate makes volunteers crucial to his success. Eldridge has worked as an affordable housing lawyer and said his main goal, if elected, will be preserving the local aid that funds public schools, public safety, and social services. He is also a proponent of controlled development.
William E. Simon Jr. '82, a political novice, is hoping to become California's next Republican governor. He defeated California Secretary of State Bill Jones and former Los Angeles Mayor Richard Riordan for the Republican nomination in March and will face Democratic Governor Gray Davis in November. The son of former US Treasury Secretary William E. Simon Sr., he was a federal prosecutor under then-US Attorney Rudolph Giuliani in New York. He has spent fourteen years at the helm of the family's investment firm, William E. Simon & Sons, with offices in Morristown, New Jersey, and Los Angeles. Simon is vice chairman of Catholic Charities, the largest private network of social service organizations in the nation.

Running as an Independent, David T. Flanagan '73 has set his sights on the governorship of Maine after a long career in the public sector. In his years as an assistant attorney general, he worked on environmental issues and, after a period as a private litigator, returned to government as legal counsel to Governor Joseph E. Brennan. Later, as president and CEO of Central Maine Power, he led a resurgence of the struggling power company.

James Segel '72, a former state representative in Massachusetts, will face three challengers in the Democratic primary for state treasurer in September. Segel headed the Massachusetts Municipal Association during the early years of Proposition 2 1/2, a law that limits increases in property taxes. "I've been an advocate for cities and towns and I will continue to be," says Segel. In addition to controlling $28 billion in state pension funds, the state treasurer's office oversees the lottery, which contributes almost $1 billion a year in local aid.
-Jan Gardner
REUNION 2002
Date Set In September

Save the date. BC Law School alumni from classes ending in 2 and 7 are invited to Reunion 2002 September 20-22. The weekend will kick-off with a surprise activity being planned by the Alumni Council and its president, Joanne Locke '87. Saturday evening, individual class dinners will be at 6 p.m. at the Seaport Hotel at the World Trade Center in Boston, where hotel rooms have been reserved. For reservations, call the hotel at 800-732-7678. The weekend will conclude with brunch on Sunday
.
A reunion committee has been formed to encourage attendance. Co-chaired by James F. Kavanaugh Jr. '77 and the Honorable Elizabeth M. Fahey '77, it includes members of each class involved in the reunion. The new committee hopes to increase attendance by reminding alumni of Boston's myriad tourist attractions and by adding multiple activities to the schedule. Locke has created a bulletin board and listserve to allow classmates to reconnect with one another before they arrive. To post to the bulletin board or to join the listserve, email Locke at jlocke@moquindaley.com.

If you have questions or would like to volunteer for your class's membership committee, call Linda Glennon, director of alumni relations, at 617-552-3935 or email linda.glennon@bc.edu.
back to top

BENCHMARKS
Supreme Court Inducts 35

Thirty-five BC Law alumni were inducted to the US Supreme Court Bar in Washington, DC, at the swearing-in ceremony in April. Justice Anthony Kennedy presided.
Inductees came from fourteen states to take part in a weekend of events, beginning with the play Capitol Steps on Saturday evening. Professor Daniel R. Coquillette hosted a welcoming reception the next day, which was followed by a sightseeing tour of the city. Afterwards, Senator John F. Kerry '76 sponsored a luncheon on Capitol Hill, where former deans Robert F. Drinan and Coquillette addressed alumni.

This is the fifteenth consecutive year that the Law School has sponsored the admissions ceremony, which grants attorneys the right to argue cases before the Supreme Court. All qualified BC Law alumni are eligible. Next year's date is April 7. For more information, contact Director of Alumni Relations Linda Glennon at 617-552-3935 or linda.glennon@bc.edu; or Assistant Director of Special Events Paige Renaghan at 617-552-8666 or renaghan@bc.edu.
back to top
PLAIN TALK
Cantor Pens Courtroom Guide

Benjamin Cantor '37 has written the Courtroom Guide for Non-Lawyers to demystify legal procedures for witnesses, clients, and jurors.
A forensic photographer for more than fifty years, Cantor was inspired to write the guide after his daughter told him that serving on a jury would have been more rewarding if she were better informed about trials.

The slim volume (Xlibris, 2001), which includes a glossary of 488 legal terms and eighty-one suggestions for being a good witness, has won praise. In a letter to Cantor, retired Middlesex Superior Court Judge Hiller Zobel wrote, "Needless to say, I think lawyers ought to give a copy to clients so that the clients can begin to understand what will happen if the case actually goes to trial." BC Law Professor Mark S. Brodin, who called Cantor the "dean of forensic photographers" in the book's forward, said he admires Cantor's interest in educating laypeople and getting young lawyers up to speed on the use of expert witnesses. The book is available at http://www.xlibris.com.
-Jan Gardner

TAKING THEIR BOWS
Law Day Honors Four Who've Made A Difference

Four members of the Law School community received awards May 8 at the annual Law Day celebration at the Seaport Hotel in Boston.

The Boston College Alumni Association presented the St. Thomas More Award to Rep. Robert C. Scott '73. Scott served in the Virginia House of Delegates and State Senate before becoming the second African-American from Virginia to be elected to the US House of Representatives, in 1992. Congressman Scott's commitment to public service earned him the award.

James J. Marcellino '68 was honored with the William J. Kenealy, S.J., Alumnus of the Year Award for his active participation in the alumni association, including that of president from 1995 to 1997. He was also a moving force behind the establishment of BC Law Magazine.

The Honorable David S. Nelson Public Interest Law Award was presented to Faye B. Rachlin '85 for her significant contributions to the public sector. Rachlin specializes in defending tenants facing eviction actions and in helping homeless families navigate the welfare system. Previously, Rachlin practiced in the housing and homelessness unit of Western Massachusetts Legal Services for more than fifteen years.

The association also honored John J. C. Herlihy '49 with the Daniel G. Holland Lifetime Achievement Award. Holland served on the board of directors of the Alumni Association from 1991 to 1995 and has been on the executive committee of the Boston Inn of Courts since 1988. A few of his other accomplishments include being named a fellow of the American College of Trial Lawyers and the 1999 Civil Trial Lawyer of the Year by the Middlesex Bar Association.
-Stefanie Foster

CITATIONS
Alumni In The News

Alan L. LeBovidge '67, appointed commissioner of the Massachusetts Department of Revenue by Acting Governor Jane Swift.
George P. Field '78 and law partner won a $1 million settlement in total disability suit for a Massachusetts doctor.
John J. McHale Jr.'75, named Major League Baseball's executive vice president of administration.
Robert A. Muh '83, involved in the now-closed Zantop double murder case as Grafton County (New Hampshire) Superior Court clerk.
Wilbur P. Edwards Jr. '84, confirmed as associate justice of the Southeastern Division of the Massachusetts Housing Court.
Andrew L. S. Leong '85 received the 2001 Community Service Award from the Asian American Lawyers Association of Massachusetts.
Hon. Susan Maze-Rothstein '85 and Rebecca M. Young '01, honored by the Jewish Women's Archives and Hadassah Boston, at the 2002 "Women Who Dared" celebration, for social action and advocacy.
Josephine McNeil '87, recipient of the 2002 Robert Swett Excellence in Housing Award from the Newton (Massachusetts) Planning Department, and honoree in the Newton Women's Commission's "A Celebration of Newton Women," for her work in affordable housing development.
Laurie Hauber '97 heads Economic Justice Project providing pro bono business services to low-income entrepreneurs in disadvantaged Massachusetts communities.
back to top