Class Notes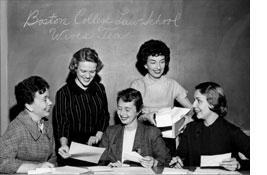 1950s
1960s
1970s
1980s
1990s
2000s
In Memoriam
Photo: Tea for You? Look what we found in the archives. Can you help us identify any of these dutiful wives?
Class Notes Compiled and Edited by Deborah Coakley.
We gladly publish alumni news and photos. Send submissions to BC Law Magazine, 885 Centre St., Newton, MA 02459, or email to sandervi@bc.edu.

Get a lifetime email address. Go to www.bc.edu/schools/law/alumni/bcalumni/.
1950s
Joseph S. Oteri '57 received the Joseph J. Balliro Award from the Massachusetts Association of Criminal Defense Lawyers in recognition of a lifetime commitment and dedication to the defense of those accused of crimes. James T. Grady '59 was elected chairman of the board of selectmen in the town of Bourne, Massachusetts.
1960s
Richard G. Kotarba '66 was selected for inclusion in the 2003-2004 edition of The Best Lawyers in America. He is a partner at Meyer, Unkovic & Scott LLP, where he practices real estate law and is chair of the firm's construction law section. Alan S. Goldberg '67 joined the adjunct faculty of the University of Maryland School of Law in Baltimore, Maryland. He completed a term of office as chair of the eHealth and Privacy Interest Group of the American Bar Association Health Law Section, and co-chaired the HIPAA Colloquium at Harvard University in August and the Fifth National HIPAA Summit in Baltimore, Maryland, in October. He is also the webmaster of http://www.healthlawyer.com . John E. Peltonen '67 was recognized by peer nomination as a leader in the field of environmental law in the April issue of Business NH magazine. He is a partner in the law firm of Sheehan, Phinney, Bass & Green in Manchester, New Hampshire.
Frederic J. Hopengarten '70 co-presented a Continuing Legal Education seminar on antenna zoning at the New England convention of the American Radio Relay League in Boxborough, Massachusetts, in August. Raymond J. Brassard '71 was a member of an evidence workshop panel entitled "Judges Make the Call on Gray Areas of Criminal Law," featured in the Massachusetts Lawyers Weekly in September. James G. Bruen '73 coached the Potomac Valley Vogues girls' basketball team (ages eleven and under) to the Final Four of the Amateur Athletic Union National Championship Tournament in Kingsport, Tennessee, in June. Richard M. Gelb '73 was selected for inclusion in the 2003-2004 edition of The Best Lawyers in America. Joseph P. J. Vrabel '73 was elected president of the Massachusetts Bar Association. He is vice president and general counsel at Capital Risk Management in Framingham, Massachusetts. Thomas P. Colantuono '76 was appointed by President George W. Bush to be the US Attorney for the District of New Hampshire. Edward C. Bassett Jr. '77 was elected to the board of governors of the Massachusetts Academy of Trial Lawyers. He is a partner at the law firm of Mirick O'Connell in Worcester, Massachusetts, and practices in the area of civil litigation. John T. Lucking '78 was appointed vice president and general counsel of UOP LLC, an oil and gas technology and engineering firm in Des Plaines, Illinois. He previously served as assistant general counsel at Union Carbide Corporation in Danbury, Connecticut. Thomas M. Saunders '78 joined the firm of Brown, Rudnick, Berlack & Israels LLP in Boston. He specializes in representing emerging biotechnology, genetic engineering, and pharmaceutical concerns in the areas of patent prosecution, patent strategy, and IP licensing matters. Trudy Burns Stone '78 is a real estate professional at RE/MAX Honolulu. She was formerly a partner in the firm of Chun, Kerr, Dodd, Beaman & Wong in Honolulu, Hawaii. Cornelius J. Chapman '79 was named a partner at Burns & Levinson in Boston, where he will continue his practice in financial institutions, commercial and business law, and creditors' rights. Ann V. Crowley '79 was appointed to a three-year term as a member of the Committee for Public Services by the Massachusetts Supreme Judicial Court. She is a sole practitioner in Salem, Massachusetts.

back to top

1980s
Cheryl M. Cronin '80 joined the Boston office of Brown, Rudnick, Berlack & Israels LLP as a partner and as head of the firm's government law group. She previously served as counsel to the Massachusetts Office of Campaign and Political Finance. Bette A. Winik '80 practices family law with a focus on collaborative law in Newton, Massachusetts. She is a member of the board of directors of the Divorce Center and of the Massachusetts Collaborative Law Council. David W. Ellis '81 was elected co-chair of the global labor, employment, and employee benefits practice group, and interim chair of the North American compensation and employment law practice group at Baker & McKenzie in Chicago, Illinois. Mark C. Perlberg '81 was elected president and chief operating officer of PRG-Schultz International in Atlanta, Georgia. John A. Tarantino '81 was elected president of the New England Bar Association and will serve through October 2003. He is a member of Adler Pollock & Sheehan, P.C., in Providence, Rhode Island. Paul J. Ayoub '82 joined the Boston firm of Nutter, McClennen & Fish as a partner in the real estate and finance practice. Kenneth F. Ehrlich '82 is a partner at the Boston firm of Nutter, McClennen & Fish, where he provides corporate and regulatory counsel to banks and financial institutions. Barbara S. Hamelburg '82 joined the Boston office of Foley & Hoag LLP as a partner in the firm's litigation department. She was formerly with Holland & Knight LLP of Boston. Pamela Donna Lord '83 and her husband, Stephen, welcomed the arrival of twins, Brian and Nicole, in February 2001. Prior to becoming a full-time mother, Pam was an advocate for domestic violence victims on the Jicarillo Apache Reservation in New Mexico. The family resides in Dulce, New Mexico. Sharon L. Sorokin '83 was elected chair of the board of directors of Independence Public Media of Philadelphia, Inc., a Pennsylvania nonprofit corporation operating WYBE Public Television. She is a partner at Dilworth Paxson LLP and concentrates her practice in real estate, general business, and the representation of nonprofit institutions. Cynthia Feathers '87 was appointed director of the Department of Pro Bono Affairs at the New York State Bar Association in July. She formerly served as criminal appellate counsel with the Center for Appellate Litigation in New York City. William J. Hanlon '87 was appointed co-chair of the Bankruptcy Section of the Boston Bar Association. He is a member of the business services department at Schnader, Harrison, Goldstein & Manello in Boston. Angel M. Cartagena Jr. '88 was elected president of the Mid-Atlantic Conference of the Regulatory Commissioners. He is chairman of the Public Service Commission of the District of Columbia. Royal C. Gardner '88 is the associate dean of Stetson University College of Law in St. Petersburg, Florida. He was a visiting professor at the Universidad de Málaga in Málaga, Spain, during the spring 2002 semester. Keith A. Gregory '88 was promoted to senior counsel in the Office of Investment Company Regulation at the Division of Investment Management of the US Securities and Exchange Commission. Maria E. Recalde '88 has joined Sheehan Phinney Bass & Green, concentrating on internet and e-commerce law. She also provides general corporate representation for emerging companies. Anne Rickard Jackowitz '89 was elected to the board of New England Women in Real Estate, a nonprofit organization that promotes the advancement of women within the commercial real estate industry. She is a partner at Choate, Hall & Stewart in Boston.
1990s
Robert P. Fox '90 joined the Boston firm of Nutter, McClennen & Fish LLP as of counsel in the real estate and finance practice. Maureen Mulligan '90 is counsel in the litigation department of Ruberto, Israel & Weiner, P.C., in Boston, where she practices in the areas of complex business litigation, professional liability, and intellectual property litigation. She also serves as a mediator for commercial and professional liability disputes. Maribeth Petrizzi '90 was named assistant chief of the Litigation II Section of the Antitrust Division of the Department of Justice in February. She was formerly with the Washington, DC, firm of Clifford, Chance, Rogers & Wells. She resides in Arlington, Virginia. Denise Ann Ackerman '91 is the director of financial aid at Bard College in Annandale, New York. Lori M. Bodwell '91 was elected president of the Alaska State Bar Association. Brigid Kane Hurley '92 joined the Buffalo, New York, office of Hodgson Russ LLP as a senior associate in the employee benefits practice group. Prior to joining the firm, she was a senior associate at Ropes & Gray LLP in Boston. Rhona Silverbush '92 is co-author of Speak the Speech! Shakespeare's Monologues Illuminated published by Faber and Faber in September. (See story in this edition.) In addition to writing and lecturing, she coaches professional actors and is an adjunct faculty member at Columbia University Teachers College. She and her husband reside in New York City. Robert J. Weber Jr. '92 was named a partner at Ernst & Young LLP in Boston. As a member of the firm's tax practice, he focuses on providing tax services to telecommunications, software, technology, and consulting services industries. He resides in Reading, Massachusetts, with his wife, Patricia, and their two children. B. Dane Dudley '92 and Susan Ashe Dudley '93 announce the May birth of their daughter, Katherine Rose, whose arrival was welcomed by older brothers, Kevin and Jack. The Dudleys can be reached at sdudley4@aol.com. Richard D. Lara '93 was elected a shareholder of Mase & Gassenheimer, P.A., in Miami, Florida. His practice focuses in the areas of commercial litigation and admiralty, and he represents major cruise lines. He and his wife have two daughters, Gabrielle Marie and Victoria Anne, and reside in Coral Gables, Florida. Peter J. Mancusi '93 joined the Cambridge, Massachusetts, firm Weber Shandwick as a senior vice president. He was previously the business editor of the Boston Globe. Andres L. Navarrete '93 was named associate general counsel of Capital One Financial Corporation in McLean, Virginia. He is acting manager of the policy affairs group, with responsibility for corporate structure, regulatory and legislative affairs, government relations, and privacy. He resides in Chevy Chase, Maryland. Katherin A. Nukk-Freeman '93 and her husband, Tim, are the proud parents of Cole Wagner Freeman, born in May. Debra S. Wekstein '93 and her husband, David Kravitz, are pleased to announce the birth of their son, Samuel Doron Wekstein Kravitz, in March. She is the chief compliance officer at Eaton Vance Mutual Funds in Boston. Eugenia M. Carris '94 married John B. Livingston '94 in September 2001. She was appointed an assistant United States attorney for the District of Massachusetts. Annabella L. Gualdoni '94 is director of development for the Missionary Franciscan Sisters in Newton, Massachusetts. She is on the parish council and the young adult leadership team at St. Ignatius Church in Newton. She married Vito Cavallo in 2001, and they are renovating an old house in Newton. Susan Soltesz Ellison '95 married Scott Ellison in December 2001. She practices immigration law as a senior associate at Fragomen, Del Ray, Bernsen & Loewy in Boston. The couple resides in Windham, New Hampshire. Denise A. Pelletier '95 and her husband, Larry Gennari, are the proud parents of Henry Lawrence Gennari, born in October. Ingrid C. Schroffner '95 co-authored materials for a Massachusetts Bar Association seminar entitled "How to Handle a Will Contest" in September. She also organized a Boston Bar Association (BBA) panel presentation entitled "Evaluating Removal in Massachusetts" for the BBA Family Law Section at BC Law in September. An associate attorney in the Boston firm of Burns & Levinson LLP, she was elected to the executive board of the Asian American Lawyers Association of Massachusetts for 2002-2003. Brian S. Fetterolf '96 received an M.B.A. degree from the University of Pittsburgh in Pittsburgh, Pennsylvania, and was awarded the Stipanovich Outstanding Finance Student Award and the Marshall Alan Robinson Prize for Excellence. Following graduation this summer, he and his wife, Jennifer, traveled through South Africa and Europe. He is an attorney in the finance and real estate departments at Klett, Rooney, Lieber & Schorling in Pittsburgh, Pennsylvania. Kimberley Pope Cronin '97 is an associate in the litigation department of Faegre & Benson LLP in Denver, Colorado. Her husband, Rick, is vice president of sales for Hartford Capital Manager, a member of the Hartford Financial Services Group. They were expecting their second child in December. Brian E. Falvey '97 joined the Beverley, Massachusetts, firm of Metaxas, Norman & Pidgeon LLP as an associate in the business law group. He was formerly general counsel at Commerce.TV Corporation in Dedham, Massachusetts. He and his wife, Sandi, have two daughters, Allison Elizabeth, born in June 2000, and Jillian Grace, born in May of this year. James M. Murphy '98 and his wife are the proud parents of a daughter, Sarah Jacqueline, born in September.
Yolanda Courtney Lyle '01 and Peter A. Lyle '01 were married at St. Ignatius Church in Newton, Massachusetts, in July. Both attorneys practicing in Boston, she is at Nutter, McClennen & Fish LLP, and he is at Ropes & Gray LLP. They live in Brookline, Massachusetts. Megan R. Dove '02 has been named an associate with a focus on employee benefits at the St. Louis, Missouri, firm Thompson Coburn LLP. Schuyler Bull Minckler '02 married William D. Minckler in October. She is an associate at Paul, Hastings, Janofsky & Walker LLP in Stamford, Connecticut. Jackie K. Weisberg '02 was named an associate at Riker, Danzig, Scherer, Hyland & Perretti LLP in Morristown, New Jersey, where she practices in the firm's school law group.
In Memoriam
Francis Lester Chisholm '39
Hon. Thomas E. Dwyer Sr. '42
Leo J. Hession '49
George J. Remmert '50
John C. Kelleher Jr. '52
Barry C. Reed '54
Cornelius J. Scanlon '56
Hon. Nancy Ann Holman '59
Hon. Sheila E. McGovern '60
Hon. Joseph P. Warner '61
Steven D. Ostrowsky '67
Richard I. Kaner '81