Synchronized Interests
law, business students work together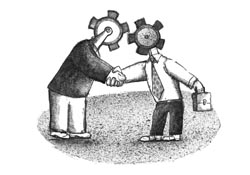 Illustration by Stephane Denis
In the real world, law and business have always formed a necessary if sometimes uneasy partnership. But this year at Boston College, J.D. and M.B.A. students are forming beneficial partnerships of their own in a new pilot course called "Advising the Business Planner"--and the results so far have been eye-opening for everyone involved.
"Business school students don't tend to think about the legal aspects of starting or refining a company's business plan as much as they should," said Carroll School Professor Gregory Stoller, who, along with BC Law Professor Alfred Yen helped put the pilot course together. "Liability issues, copyright, legal jurisdiction, for example, are rarely discussed, or left on the back burner for the lawyers to 'figure out.' But to law students, these are basic questions that need to be addressed right from the beginning."
"Advising the Business Planner" is part of a larger initiative that is just getting off the ground at BC, in which the Law School and Carroll School of Management work together to find innovative ways for law students and business students to learn from each other. Partly a response to the dramatic increase in the numbers of students interested in the Boston College J.D./M.B.A. dual degree program, the Emerging Enterprises Program at BC Law also offers J.D. students the option of learning more about the business world, without actually enrolling as dual degree candidates.
Another course being considered at the Carroll School is what Stoller thinks may be the first "transactional-based course" in the country involving law and business school students. Modeled after a clinical workshop, the goal of the new course would be to teach students practical skills in the management of new businesses or existing companies, and how lawyers can best offer value to their clients. Faculty from both the Carroll School and Law School would jointly moderate discussion and analysis classes.
While Stoller emphasizes that the course is only in the early planning stages, he is excited about the possibilities. "We're breaking new ground here," he says. "Based on our preliminary research, there are no universities nationwide currently offering anything remotely close to this concept. Early feedback from law and business students indicate it could be very popular, and practitioners in both industries said it would make graduates that much better prepared for their first jobs."
See BC Law's website at bc.edu/schools/law/newsevents/2002-archive/102802/ for an expanded version of this article.
--Nathaniel Kenyon
Other articles from In Brief
Reflections on "Doing Good"
Why Tribunals?
High Achievers
International Curriculum