Why Tribunals?
panel justifies use of military commissions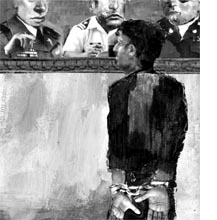 Illustration by David Hollenbach
The Bush administration's November 2001 call for the use of military tribunals in the war against terrorism sparked widespread national debate about the manifestations, possible uses, and legal ramifications of such courts. The BC Law Veterans Association brought the debate to Newton in September by hosting a panel discussion entitled "Military Tribunals and the US Military Justice System."
The panelists, military justice experts generally supportive of tribunals, discussed the historical development of military commissions, the formulation of administration policy regarding their uses, and some of the legal issues at stake.
Gary Solis, a retired lieutenant colonel and chief of oral history for the US Marine Corps, defined a tribunal as a military commission, or court, with three judges, and he provided a chronology of their use, saying President George W. Bush's decision to implement tribunals in the war on terrorism has legal and historical precedent. Tribunals were first used by the US during the American occupation of Mexico in 1847, Solis said, but they were conspicuously absent during hostilities in Korea, Vietnam, and the Gulf War.
Major Timothy MacDonnell argued that military commissions are necessary to protect national security. A judge advocate in the US Army and deputy chief of the Trial Counsel Assistance Program in Washington, DC, MacDonnell said that because the tribunals are not bound by the normal rules of discovery, they are a way to prevent valuable intelligence secrets from becoming known to terrorists.
National security was one of many issues considered by the Department of Defense Military Commission when drafting guidelines last March for the implementation of military tribunals, according to Captain Ryan M. Zipf. A trial counsel for the Special Projects Branch in the Office of the Judge Advocate General at the Pentagon, Zipf was a member of the commission that developed the new rules and procedures. He said the desire for secrecy and expediency, historical precedent, international law, the specifics of the president's order, and due process concerns were all considered when drafting the guidelines.
Solis was the only panelist to say there were some troublesome aspects to the administration's stand. He questioned extended detentions of US citizens and the widespread use of the term "enemy combatants," which, he said, does not appear in any body of law. "We should not fight terrorism by ignoring the Constitution," he said.
--Matt Frankel '05
Other articles from In Brief
Reflections on "Doing Good"
High Achievers
Synchronized Interests
International Curriculum