Reflections on
dealing with service's dark side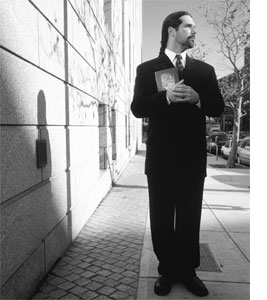 Andrew Don
Since graduating in 2000, Andrew Don has been a staff attorney for the Committee for Public Counsel Services' Children and Family Law Program in Salem, Massachusetts, providing free legal representation to indigent children and parents. He was the recipient of the Drinan Family Fund Scholarship, which mitigated some of the effects of his low income on his family, but changes at home recently made it necessary to leave the program and continue child welfare representation as a private attorney. At the time of transition, Don reflected on his "tremendously intense, grueling, complex, and challenging work."
Last fall, I found myself pulling into the parking lot of the Dunkin' Donuts where my client wanted to meet. She is in her early twenties, very bright, and really struggling with her heroin addiction. She is losing. There are bruises all over her hands and arms from her intravenous heroin use. She is the mother of a young child who is in the custody of the Department of Social Services (DSS) because the child tested positive for heroin at birth. Just this summer, she had custody of her young son returned to her at our trial date. Within hours of leaving the courthouse, she had used heroin again; custody was removed from her when she returned to her Department of Corrections treatment program. In this case, as in many I deal with, there is a mix of addiction, mental health issues, and horrendous past personal history.
We are meeting because she is about to have her parental rights terminated in order to free her child for adoption. We need to discuss her decision to waive her right to a trial and to relinquish her parental rights--in trade for pictures and a letter once a year.
I am always struck by the particularity of these situations, meeting with this woman, in this Dunkin' Donuts. There is something jarring in discussing the reality that she will not see her son for the next eighteen years or so, if ever again, with the smell of sugar and coffee wafting about.
This woman's situation, like so many I deal with, is a case management and litigation challenge. Unlike an assault and battery case, my cases have no required elements; they are murky, with few clear options. The "best interests of the child" standard can be a very slippery concept. The relevant facts continue to develop and change under your feet, even up to and during trial.
The work requires collaboration. Often, I am able to call a DSS worker or the attorney for one of the other parties and work out a solution. Other occasions are less happy. In a case where I was representing a mother, DSS placed her sixteen-year-old son with the family of his fourteen-year-old girlfriend, when the children were known to be sexually active. This put the children at risk for teen pregnancy and put the boy at risk for prosecution under the statutory rape statute and therefore of violating his terms of probation and commitment to Department of Youth Services. DSS refused to move the child, so I filed an Abuse of Discretion motion. DSS finally moved the child less than a week before the hearing date.
Though these kinds of scenarios are frustrating, I am glad to be doing exactly what I wanted to do when I applied to law school. Helping to get a severely retarded boy's eyeglass lenses polished to remove the scratches; having children placed with their grandmother instead of in foster care--these are victories to be savored.
Yet, when I tell people what I do and they say, "That must be really gratifying," and assure me that I'm doing "good," I find it difficult to respond. My cases are wrenching-that is their nature. And my failures are many: not staying in touch enough to know that a client was moved from her foster placement two weeks earlier and has not yet been registered in school; not being able to shake the nagging feeling that if my cross examination had been better, I might have been able to achieve a client's goal.
However, I do feel privileged to be doing this job, to be involved in some of the most intimate situations in people's lives and to have the opportunity to use my creativity and the law on their behalf. Finally, I'm feel privileged to be involved in a collaboration with the clients, attorneys, DSS and other service providers to improve the lives of children and their families.
--Andrew Don '00
Other articles from In Brief
Why Tribunals?
High Achievers
Synchronized Interests
International Curriculum