Gallery
ileana espinosa '03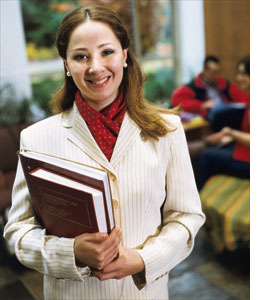 University of Miami '00, majored in business administration, concentration in political science. First Hispanic president, Law Students Association (LSA).
Why did you leave your native Nicaragua?
The country was in a civil war, in part a result of the tremendous gap between the rich and the poor. My family owned a farm, which placed us towards the top of the socio-economic ladder. The Sandanista regime threatened to appropriate our land and forcibly enlist my brothers in the army. In 1984, we left and settled in Miami.
What was your experience at the University of Miami?
They were the best four years of my life. I was vice president of the Zeta Tau Alpha sorority and involved in the student and the greater Miami communities. I was very proud to become the first Hispanic president of the university student body, especially considering the small Hispanic presence at the school.
So you were a natural to head the LSA at BC Law?
My first years in the LSA showed me that the sense of community here is special. As president, I'm able to give back. I've been meeting with other student organizations, planning joint events, and working towards common goals. I've even developed a new motto for the LSA, "Together taking action for you."
How do you plan to use your law degree?
My studies have sparked an interest in corporate defense litigation. I've landed a job with a private firm in Miami. Perhaps the most important thing I'll take with me from BC Law is the idea that succeeding outside the classroom is as important as succeeding inside the classroom. That will stick with me.
--Interviewed by Matt Frankel '05