From The Ground Up
by vicki sanders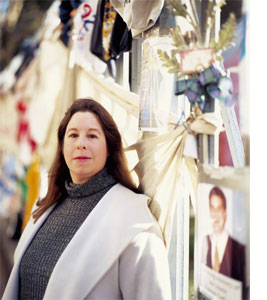 Debra Steinberg
Debra Brown Steinberg '79 grew up in the 1950s and 1960s knowing the personal disgrace of discrimination. A child of a Jewish families in deeply segregated Nashville, Tennessee, she encountered classmates who taunted her. Such experiences, rather than hardening her, awakened her belief in human dignity, a conviction that some thirty years later would manifest in unforeseen ways after the World Trade Center towers fell in New York City.
By September 11, 2001, Steinberg had become a prosperous securities litigator and partner at Cadwalader, Wickersham & Taft, a 211-year-old firm four blocks from the site of the terrorist attacks. She had married an investment banker, and had two stepchildren headed into law careers. Though she'd remained committed to public service through various pro bono projects, she spent most of her professional life in the legal upper echelons, working on corporate, business, and financial-related litigation and on fraud cases against the likes of Ivan Boesky, Dennis Levine, and Michael Milken. Indeed, at the time of the attacks, she was preparing for a vacation after settling a major securities suit in Texas.
Sixteen months have passed since the towers collapsed, taking some 2,800 lives with them. Steinberg's world--and that of victims she's helped in the aftermath--has changed irrevocably.
Within days of the attack, she was asked to supervise Cadwalader's 9/11 pro bono efforts on behalf of individual families. The commitment has grown to thirty clients, primarily the relatives of firefighters and low-wage restaurant and maintenance workers killed on the job. Many were members of the Hotel and Restaurant Employees Union Local 100. Steinberg is personally handling ten of the cases, many of which involve complex immigration, estate, and social services issues. Language and cultural differences further complicate her clients' situations. "They are not an easy population. You have to fight for them for everything," she explains.
Their plight struck a familiar Tennessee chord in Steinberg. "I've always felt an affinity for people who needed help being heard or needed a chance to do whatever their merit would allow them to do," she explains. "The people I'm working with now--I've never respected a group more than these families. They face every obstacle you can imagine, and they do so with incredible dignity and courage."
Professionally, Steinberg was not accustomed to dealing with the kinds of problems her new batch of clients faced. "It is not what I was trained to do, so this is a new dynamic for me," she admits. But precisely because she didn't have ready answers she was motivated to strike out in new directions to help them.
Steinberg explains that in the past if her firm were retained to do pro bono divorce work for, say, a woman who also had battering, immigration, and substance abuse issues, the firm would handle only the divorce piece of the problem. For the woman's other concerns, she'd have to go elsewhere in the not-for-profit sector and get assigned another lawyer. Today, Cadwalader's 9/11 clients, and those of many firms in New York, are receiving more holistic representation, thanks in part to Steinberg.
Her actions have resulted in innovative strategies that are being applauded in legal circles for their potential to change the nature of pro bono work for years to come. The New York Law Journal, for instance, recently recognized the efforts of Steinberg and Saralyn Cohen of Shearman & Sterling for helping to create a new "one-stop shopping model" for pro bono undertakings.
Steinberg, who says, "I never do anything small," has become a matchmaker of sorts, establishing networks of attorneys and other experts, devising policy to streamline everyone's efforts, and organizing collaborative initiatives to avoid duplication and give the clients more clout. She has even changed New York law.
Some of the families, when trying to qualify for relief funds, ran afoul of a state statute requiring that next-of-kin seeking to be named administrators be US citizens or legal residents. Steinberg and her colleagues discovered that banks or other financial institutions wouldn't stand in as administrators because of the liability they'd assume under the "fiduciary trust" provision of the law. The New York State Attorney General's office asked Steinberg to draft legislation to replace the fiduciary trust standard with the "good faith" standard. "I'd never read probate law," Steinberg says, "and I had twenty-four hours to do this." So she called on experts in her expanding network for help. The bill made it to Albany on time, and the September 11 Victims and Families Relief Act passed in May 2002.
Also realizing that there was no clearinghouse for the myriad services needed by the victims, families, and businesses affected by the attacks, Steinberg produced a handbook of public and private assistance resources. Published in three installments, it contains information on more than 500 agencies, organizations, funding sources, and the like. Cadwalader devoted hundreds of hours to the book and donated it to New York City by putting it online at www.cadwalader.com and www.probono.net, and by making hard copies available to charitable organizations. (For copies contact Steinberg at debra.steinberg@cwt.com.)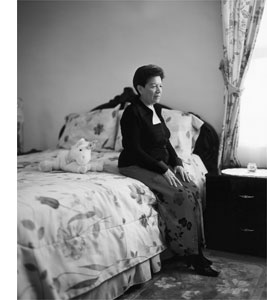 Colombian Blanca Gutierrez de Paz copes with the death of her son, Victor.
Even though Steinberg has been busy with such big-picture efforts, she hasn't lost sight of the real reason behind them-the people she's assisting. People like Blanca Gutierrez de Paz, whose son Victor, a pastry chef at Windows on the World in the North Tower, perished on September 11. Gutierrez came to America from Colombia after Victor's death and has faced numerous hurdles while preparing her petition to the federal Victims Compensation Fund.
Peruvian Gloria Bautista is another grieving mother. Her son, Ivhan Carpio Bautista, was working his way through law school as a cook at Windows on the World, when he was killed. When Bautista got to New York, Steinberg helped her complete the mountain of paperwork she encountered. Bautista encountered more personal tragedy after returning to Peru, and again Steinberg went into action, this time arranging with the Red Cross for the family to receive grief counseling. She hopes that Bautista's situation will generate awareness about the mental health needs of victims' families living abroad.
According to Steinberg, immigrants and foreign nationals have had a particularly tough time coping with the American--and sometimes their own nations'--bureaucracy in the wake of 9/11. "I'm working to make sure they're not treated as second-class victims. We believe everyone who died...it's one big family, and they should be given the same respect."
Some victims' families were here on visas as dependents and have faced deportation after the death of the primary visa holder. Other victims were undocumented, which has made it difficult to certify their employment history or even to prove their existence. Without such proof, death certificates cannot be obtained, and without death certificates, families can be denied services and compensation. Steinberg set up a project with New York Lawyers for the Public Interest and the Robin Hood Foundation to assist families with credible claims in their death certificate research. Still other victims' family members, like Gutiérrez and Bautista, came from abroad after the attacks needing assistance to settle their loved ones' affairs.
Scarlyn Mejia Peguero's situation was somewhat different. A Dominican Republican, she lived with her father and was attending Mercy College at the time of the terrorist attacks. He died, leaving his dependent daughter in a quandary. With Steinberg's help, Peguero has been able to stay in college and will graduate this spring. In December, she obtained her US citizenship.
Steinberg says everyone at Cadwalader expected that with thirty or forty lawyers at their disposal the 9/11 clients would have their cases wrapped up in three to four months. "I'm still working full-time," she points out. "Their needs come in waves. It's still surprising me. And there are new needs as we go forward."
One of the first cases referred to Cadwalader was a family with seven children. The father had a concierge business serving customers in and around the World Trade Center. The business was destroyed. The mother earlier had been laid off from her job at a social services agency and was in a dispute with her employer, who'd denied her unemployment benefits.
To make matters worse, their landlord had sold the house they lived in and the new owners were trying to evict them. Steinberg and her colleagues, coordinating with legal services and other agencies, managed to get the mother her unemployment benefits and to stay the eviction long enough for the family to save up a down payment on a house. They closed on Halloween Day and, after trick-or-treating in their new neighborhood, spent the first night in their new home camped out in sleeping bags. Their case had taken thirteen months.
Partly out of legal necessity but also out of a desire to provide a legacy for the fallen, Steinberg has conducted lengthy interviews with her clients whose relatives died on 9/11. The resulting affidavits are as much emotional oral histories for the families to keep as they are powerful advocacy tools. Steinberg plans to use them to ensure that people like Kenneth Feinberg, special master of the Victims Compensation Fund, see her clients as human beings with extenuating compensatory needs, not as people whose destinies can be easily calculated using a ready-made allowance formula.
In one such interview in her offices last fall, Steinberg gently asks a brother to talk about his slain younger sibling. "I don't want him to be a bunch of numbers or documents. I want the judge to know him as you knew him," she coaxes.
In the ensuing two hours, as another surviving brother wept silently nearby, the speaker reminisced through a translator, telling how he'd taught their brother the restaurant business, getting him a job as a dishwasher, then helping him wash the dishes so he'd have more time to practice his cooking skills. "I told him, all you have to do it work hard to make it here." He recalls how proud he was when the brother worked his way up to Windows on the World, how it meant he could send more money to their parents in South America. "He didn't drink. He played football. He didn't wait for the knock on the door; he would make it happen," the speaker continued. "He was lucky."
"I really hope that when this is all over my clients will have built their lives," Steinberg says. "I can help them stand on their feet, give them a decent life and the promise of a future for their kids or of something to take away for the old age of their parents."
For Steinberg, whose father, noting how stubborn and strong-willed she was, once told her, "There's only one road for you and that's as a lawyer," the rewards are of a different nature, and she's passing on the legacy. "I'm trying to teach my stepchildren that they don't have to go one way completely in their careers," she says, "that they can use the power and prestige of their profession to help people who can't speak for themselves."