Trial And Error
by jeri zeder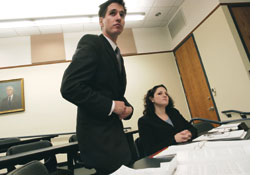 Ladies and gentlemen of the jury, the story you are about to hear is, at its core, the story of a competition-the twenty-eighth annual Boston College Law School Mock Trial Competition. Twenty 3Ls, divided into ten teams, tested their skills in makeshift courtrooms, competing for the honor to represent BC Law at the National Mock Trial Competition, first in the regionals to be held in February, and then-knock on wood-in the nationals in March.
Every Wednesday evening, from October 16 through November 6, the ten teams parried in courtroom drama, role-playing prosecution or defense. The students prosecuted vicious knife-stabber Jackie Danford…or defended her as a hapless victim of domestic abuse. They gently guided an eye-witnesses on direct…or aggressively discredited him on cross. They engaged in the elaborate choreography of introducing into the record physical evidence--to wit, a knife--or downplayed its significance by asserting it was part of a scheming witness' ploy to turn the tables on an innocent woman.
It was, like most competitions, ladies and gentlemen, a battle of attrition. For four grueling weeks, the students performed their trials, ignorant of their scores. That ended on November 6, when it became known which four teams would proceed to the semi-finals on November 13. After the semi-finals, the two teams destined for the nationals emerged. But it wasn't over yet. First, a winner had to be declared for the BC Law competition.
That's the crux of it. And yet there is more here than meets the eye. It takes a village to raise a litigator, ladies and gentlemen of the jury, and the villagers rallied in force. There were Deshala Dixon '04 and Rita-Anne O'Neill '04, of the Board of Student Advisors, which, from the recruiting of judges to the scheduling of "courtrooms" to the publicizing of the event, makes the competition happen every year. There were the local attorneys and judges who clocked long evenings away from home to preside over the mock courtrooms. There were the student "witnesses" and "bailiffs" who participated for the sake of authenticity. There were the professors who provided training and support. They were all there, ladies and gentlemen, for the sake of our young, fledgling trial advocates.
What happened, in short, was education and all that that implies: commitment, risk-taking, that unsettling feeling of confusion that gives way to understanding. The teams who competed did so because they wanted to. The rewards lie in the challenge, in the teamwork, and in the one word, ladies and gentlemen, that every student you'll hear from used, at one time or another, to describe the mock trial experience: Fun.
DIRECT EXAMINATION
What was the case about?
This year's mock trial problem, drafted by Cara Corbett '02 and Christy Bell '02, pitted the accused, Jackie Danford, charged with assault and battery with a dangerous weapon, against Martina Rossetti, whose boyfriend, Jim Brown, used to live with Danford. The assault took place when Danford showed up at her old apartment, now occupied by Rossetti and Brown, after a Fourth of July party where alcohol flowed freely. Danford was there at Brown's invitation to pick up the belongings she'd left when she moved out. Rossetti refused to let her in, and Danford pushed her way into the apartment. When Rossetti refused to return a necklace that Danford insisted was hers, Danford tried to grab it from Rossetti's neck. One thing led to another, and Danford wound up on the kitchen floor holding a knife while Rossetti and Brown stood over her. Several days later, after Danford testified against Brown in court in an unrelated matter, Rossetti sought medical help for wounds she claimed Danford inflicted on her with the knife. No forensic evidence linked the knife to Rossetti's wounds.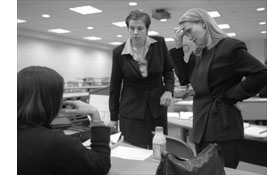 "This case is right on the money," declared judge Roger Witkin, as he waited for his courtroom to convene during the second week of competition. A veteran Boston defense attorney, Witkin said it was the most life-like mock trial case he'd seen in twenty-five years of judging competitions.
Thirty-five pages long, the mock trial problem contained stipulations, sworn statements of four witnesses, a police report, the relevant statutes of the imaginary State of Grimes where the alleged crime occurred, extensive jury instructions, the floor plan of an apartment, a restraining order, an ambulance report, a physician's records-and a kitchen knife. Okay, a photo of a kitchen knife, marked 7/4/02 #449916, which everyone was supposed to pretend was an actual knife.
Making sense of the case was the students' first challenge. "It seemed impossibly difficult for either side to develop a theory of the case," said contestant Matthew Foye '03, recalling his first impression of the problem. As the students delved in more deeply, however, they all began to see the layers and nuances.
Which is exactly what you want of a mock trial problem. Director of Advocacy and Visiting Associate Clinical Professor Alexis Anderson, the faculty advisor for the event, said that "you want to have a factually rich problem where credibility is a big issue so students can practice with witnesses. You also want a problem with evidentiary issues, so students can practice hearsay questions."
What happened during the first night of trials?
Team 9, Sherry Ortiz '03 and Karen Fikes '03, entered the classroom worrying themselves over the location of the jury box and which side the prosecutors were supposed to sit on. "This is a horrible set-up," complained Fikes, as Ortiz spent the countdown to the judge's arrival taking one last look at her notes. They were up against Team 10, Kristy Avino '03 and Doug Nagengast '03. Paper multiplied across counsels' worktables as all four "attorneys," clad in black suits, got organized. The witnesses sat in the gallery reviewing their lines.
"ALL RISE," boomed the bailiff as judge Andy Silverman entered, bedecked in black robe. The sense of "classroom" yielded to "courtroom" so convincingly that even spectators felt compelled to rise. Fikes and Ortiz took on the air of prosecutors, Avino and Nagengast, of defense lawyers. Preliminary motions flew, judge Silverman issued rulings. Time for the prosecution's opening statement.
A twang interrupted the silence as Fikes released from a rubber band a rolled-up floorplan, which she would tack to the wall with decorative refrigerator magnets as the trial progressed. She rose to address Silverman, who sat as judge but also was a stand-in for the non-existent jury. "This case is about the violent jealousy of a woman scorned," Fikes said. Speaking deliberately, slowly, clearly, she laid out what took place in an apartment in Grimesville on the evening of July 4, 2002. "The evidence will show…" she recited, filling up her allotted time, mindful of the competition's eight-minute limit for opening statements. Finally, the bailiff held up a timecard warning her that she needed to start wrapping up. Fikes paced as she spoke, punctuating her words with gestures, simulating a punch, improvising a stabbing.
Thus began the Mock Trial Competition.
How did the students handle the witnesses?
Competently--and with a touch of humor. A few vignettes:
Martina Rossetti, the complaining witness, swore to tell the truth, the whole truth, and nothing but the truth. "Since I thought Jim was pretty cute, I made him give me a kiss," testified Rossetti, whom the mock trial problem described as 5-foot 6-inches, 135 pounds with dark blonde hair and blue eyes. These words were spoken, however, by a tall, slightly balding, dark-haired male student playing the part of Rossetti, who did nothing to camp up his performance. Nor did the slightest smirk cross the prosecutor's face, despite the incongruity of words and witness.
In another courtroom, counsel struggled with her opponents' conduct on cross-examination. "Your honor," she objected, "he's trying to put words into the witness' mouth." Overruled. "That's what cross-examination is," growled judge Witkins, who cut a commanding courtroom presence gazing down from his "bench."
Liz Chacko '03, who played the complainant Martina Rossetti in one of the trials, got a taste of how it feels to be a trial witness. "I felt really defensive, like they were attacking my character," she reported about her ordeal on cross-examination. The attorney "wouldn't let me explain things that could have been explained." She felt more comfortable on direct, but she said that the defender's constant objecting "threw me off."
CROSS-EXAMINATION
What exactly did the competitors do to prepare both to defend and prosecute the same case?
The teams were required to alternate between being prosecutors and defense attorneys. If a team prosecuted one week, it defended the next week, switching off between prosecution and defense twice during the preliminary rounds of competition. The thick factual ambiguities planted in the mock trial problem gave each side plenty to work with--once the students started to understand their respective roles and began to dissect the case from each perspective. They had to develop a theory from each perspective and from there figure out how to play up the facts that supported their side and manage the aspects of the story that slanted against them. Crafting a trial strategy put the students' teamworking abilities to the test.
Team 1, Christine Daly '03 and Matthew Foye '03, were poster students in the art of teamwork. Tight friends since their first year of law school and intense students from the get-go--their first year study group met every morning before breakfast--Daly and Foye attended the Mock Trial Competition when they were 1Ls. They vowed that they would sign up as a team in their third year. "We're team number one because we were the first people to sign up," said Daly.
They met five or six times before the first trial, first to decide how to approach getting prepared, then to go through the information, charting out the cast of characters and determining which facts helped the defense and which the prosecution. In their next meetings, they delineated theories of the case for each side. Among the challenges was deciding the best theory to pursue. Was it better for the prosecution to portray Danford, the defendant, as jealous and angry, or as unstable? They concluded that evidence of Danford's mental instability would not be admissible. Preferring instead a story based in common sense that resonated with themes people could relate to, Foye and Daly, as prosecutors, argued that Danford grew violently angry when she entered her old boyfriend's apartment to find him living happily with a new woman. When the time came for them to act as defenders, Foye and Daly used a theory of self defense: Danford had left Brown because he was abusive, she had a restraining order against him, and when she finally had the courage to remove her remaining belongings from his apartment, he and his new girlfriend turned on her, perpetuating the abusive relationship. With these theories in hand, Foye and Daly merged theory and facts to create an opening statement, direct examination questions, cross examination questions, and closing arguments for the prosecution. The last two weeks of the preliminaries they spent fine-tuning both perspectives.
The competition gave all the students hands-on practice in the lawyerly art of arguing both sides and zealously representing a client's perspective. "It's hard to switch your mindset," said Daly, "but once you believe the story, you can do it." She said that, whichever side you're arguing, the trick is keeping your arguments consistent with the theory you've decided on. "Everything falls into place once you get the story straight," she said.
What did the students discover through this exercise about the realities of trial practice?
One of the more obvious lessons was the distinct role prosecutor and defender each play in a criminal courtroom. Foye noticed that the prosecutor focuses on establishing the elements of a crime, while the defense focuses on the story and pokes holes in the prosecution's case. The pressures are different for each side: a person's life depends on the skill and dedication of the defense lawyer, while prosecutors represent the community as they seek justice.
"Each judge can be as different as night and day," reported Foye, a sentiment also expressed by Team 3's Stacy Race. She noticed that different judges would rule differently on the same evidence.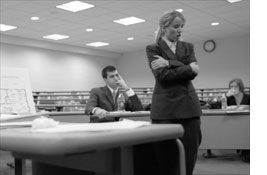 It was those moments, when contestants failed to get the ruling they were hoping for on a question of hearsay, that drove home the educational value of participating in mock trials. You could practically feel the students mentally regrouping as they were forced to rethink their well-prepared strategies in the glare of the spotlight. There was no way out. They had to push through the disappointment, make adjustments, and plow on.
Dana Zakarian '98, a Boston attorney who judged Teams 8 (Kirsten Voyles and Sara Bryant) and 9 (Fikes and Ortiz) during the second round of trials, had to make some of those rulings and hold students to them. As someone whose scoring would help determine which teams proceeded to finals, what was Zakarian looking for? Demeanor, cleverness, and clarity. His advice to aspiring litigators? "Watch people [litigate]. Talk to friends who have no training in law. Try not to get bogged down in minutiae."
A case that goes to trial is about the facts, Zakarian said, more than it is about the law. Students have to learn to tell the story to the jury, to appear confident, and to command the jury's attention.
So there it is, ladies and gentlemen of the jury, and yet we are left with two questions: Who won the 2002 Mock Trial Competition? And who will be representing BC Law in the Nationals?
At the end of the semi-finals, two teams were left standing. They will take Boston College to the nationals. They are Daly and Foye, and Eugenia LaFontaine and Nicholas O'Donnell.
Late afternoon at the end of November, prosecutors Daly and Foye and defenders LaFontaine and O'Donnell appeared for their final round of competition, this time in the Law School's mock trial courtroom before the Honorable Paul J. Barbadoro '80, chief judge of the United States District Court, New Hampshire. For the first time during the competition, there were student mock jurors in the jury box. The courtroom, which seats thirty-two, was packed with a standing-room-only crowd of friends, family, and faculty. After hearing preliminary motions, the judge invited Daly to make her opening statement.
This was the competitors' sixth week of trials, and it showed. Daly rose, a picture of poise and power. "The defendant had blood on her hands," she told the jury, skillfully framing the literal fact to evoke the familiar expression of guilt. Professor Anderson beamed from her spectator's seat.
When LaFontaine opened for the defense, her naturally low-key, soft-spoken manner made her appear reasonable and trustworthy. She referred to the accused again and again as "my client," with just enough emotion in her voice to make the monstrous image Daly painted of Jackie Danford yield to a quiet sense of sympathy for the defendant.
You can see, ladies and gentlemen, that things were off to a good start, and it remained clear throughout the trial that both teams were closely matched. O'Donnell closed for the defense, reminding the jury that all the confusing and conflicting evidence amounted to the prosecution's failure to prove his client's guilt beyond a reasonable doubt. Foye closed slashing a knife through the air-this time a real one-raising a gasp from spectators.
It was now, ladies and gentlemen, that the judge took his leave of the courtroom to deliberate. The four contestants shook hands, exchanged compliments, and fidgeted incessantly as they awaited the verdict.
Barbadoro returned shortly, sans robe, waving for all to remain seated. He called for a round of applause. Then he got down to business. The score was 47 to 46, out of a possible 60. The winners, ladies and gentlemen, were Christine Daly and Matthew Foye, with Eugenia LaFontaine and Nicholas O'Donnell one point behind.
Now Daly and Foye, LaFontaine and O'Donnell are no longer adversaries. They are partners, teammates, going forward to represent their law school in national competition-and to take their mock trial experience to a whole new level.

Photographs by Michael Manning


.