Faculty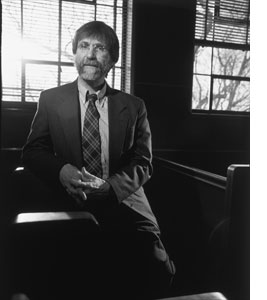 Paul Tremblay
Faculty articles found on this page...

Faculty Profile: Paul Tremblay
Dual Degrees
Careers Celebrated
Rare Reading
Changing the World, One Lesson At A Time
When Paul Tremblay took off hitchhiking to California from his friend's farm in South Dakota in 1973, he was thumbing his way into the unknown.
He had just earned a degree in psychology from Boston College and had no inkling that the trip heralded the start of a career in public interest law. In fact, law school hadn't even crossed Tremblay's mind until he landed on the West Coast. "A friend told me she was going to be taking the LSATs," he recalls. "I was pretty political at the time, as were most people my age. I wanted to do something to change the world around me, and law school seemed to offer that opportunity." It was on to UCLA Law.
Southern California was a world far away from his blue collar roots in Salem, Massachusetts. The son of a General Electric machinist and a homemaker, Tremblay attended Catholic schools before becoming the first in his family to attend college.
While at UCLA, Tremblay worked for a public interest group involved in environmental policy reform, drug law reform, and civil rights, and for the powerful Legal Aid Foundation of Los Angeles, which hired him fulltime after he received his J.D. in 1978.
Soon he found himself in the center of the controversy surrounding foreclosure scams in South Central Los Angeles that threatened the homes of poor African American families. Typically, he says, "companies would sell stucco siding or burglar alarm systems-shoddy merchandise-for outrageous prices and unfair billing schemes that tied the houses to the sales contracts. If [the buyers] missed payments, the company would foreclose on their house. We would have to run in and get a restraining order to prevent them from selling the houses." Legal Aid's efforts received a lot of media attention. "It was sad to see what was happening," Tremblay says, "but as a lawyer, you could really make a difference."
When he returned to Boston in 1982, hoping to land a legal aid job, he found himself drawn instead to a clinical supervising position at BC Law's Legal Assistance Bureau (LAB). "I came here telling people that I would do this kind of work for a couple of years and get some visibility from local legal aid offices. Twenty years later, I'm still at BC. I just loved it here."
An avid Red Sox fan and bicyclist, Tremblay settled comfortably on the North Shore, where he and his wife, Linda Beattie, raised their two children.
In all this time, his enthusiasm for clinical teaching hasn't diminished. Through the LAB in Waltham, Massachusetts, he has introduced hundreds of students to hands-on public interest lawyering. One recent course focused on homelessness litigation that led to Tremblay and three of his students taking on a New York bank that had foreclosed on property abandoned by its landlord. The bank was threatening the tenants with eviction. "We were representing the salt of the earth, families with kids who had been through real degradation," Tremblay says. Hours of solid preparation and skillful negotiating resulted in a favorable settlement. "The lawyer from the bank really was impressed with the work of the second years," he notes. "By the end, we had become friends, and were able to wrap up the case in a very collegial way."
Tremblay has also taught legal ethics for many years, has written numerous articles on the subject, and is co-chair of the Boston Bar Association's Ethics Committee.
"BC seems like the best place to be doing my line of work," Tremblay says. "What I do fits perfectly within the Jesuit tradition-the commitment to service, intellectual pursuits, a focus on ethics. This is a place that is reaffirming for this kind of work."
--Matt Frankel '05
Dual Degrees - Keller Runs Program Linking Law and Education
Professor Elisabeth Keller has been appointed Law School Coordinator of the Law School and Lynch School dual degree law and education programs. Her appointment makes official an arrangement between the two schools that was previously informal.
Keller has for some time worked with the BC Law dual degree students, and now assumes the more formal role, working with her counterpart in the Lynch School of Education, Professor Diana Pullin, to develop and coordinate the curricular aspects of the program.
As coordinator, Keller will review new course offerings, investigate field-based possibilities, and work directly with dual degree students to foster communication and program support.
"Professor Keller is ideally suited for this role," said BC Law Dean John Garvey. "Her efforts ensure that we continue to prepare our students well for careers in this challenging and important field."
--Tiffany Winslow
Careers Celebrated - Berry, Donovan Retire
Dozens of friends and colleagues celebrated the careers of retiring Professors Robert Berry and Peter Donovan at a reception in November. Gifts, speeches, and lively anecdotes were offered in acknowledgment of the professors' combined sixty-seven years of service.
A True Sport
Often, when a professional athlete retires from competition, he leaves a legacy of innovative plays and memorable moments. With the retirement of Berry, a similar legacy endures. As leader of the emergence of sports law as its own field, Berry piloted enormous changes through three decades. "Back in the 1970s, there was no recognition of sports and entertainment as a specialty. There was a dramatic change in the 1980s, because of people like Bob Berry," Robert Corporale '65, a lawyer specializing in sports law, told BC Law Magazine several years ago. In 1972, Berry taught the first sports law class in the United States, at BC Law. Last year, he co-authored the first book of case law in the concentration, Law and Business of the Sports Industries. At the retirement party, colleague John Flackett praised Berry's "enormous integrity and personal courage," adding that "whatever you do in your retirement, you will do with your awesome confidence and rare style."
Mr. Argumentative
Professor Peter Donovan '60, co-author of Massachusetts Corporation Law, taught at BC Law for thirty-four years. A specialist in products liability and anti-trust law, he was the faculty adviser of the Law School's two-time national champion moot court team. Colleagues once told Donovan that he'd trained more oral advocacy professors than anyone else they knew. Donovan has said that "working in the advocacy programs has been my most satisfying work at the Law School."
Remembering Donovan's formidable talent as an oral advocate and his gift for teaching students to "think a problem through from both sides," adjunct professor Thomas Carey said that if students could get through a grilling from Donovan, no judge in their entire career could scare them.
--Tiffany Winslow
Rare Reading - Collection Grows
For the second year in a row, Daniel R. Coquillette, J. Donald Monan, J.J., University Professor, has donated a significant collection of rare books and prints to the BC Law Library's Rare Book Room, which bears his name. His gift of sixteenth- and seventeenth-century law books complements last year's gift of fifteenth- and sixteenth-century books.
"Dan Coquillette has enriched our collection immeasurably by giving us materials that literally cannot be bought anymore at any price; they just don't come on the market," says Karen Beck, legal information librarian and curator of rare books.
A new exhibit of books from the library's collection, "Important Figures on Anglo-American Law," will be on view through June.
--Tiffany Winslow