Class Notes
bc law school magazine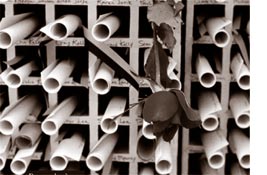 Esquire
1930s
1950s
1960s
1970s
1980s
1990s
2000s
In Memoriam
We gladly publish alumni news and photos. Send submissions to BC Law Magazine, 885 Centre St., Newton, MA 02459, or email to sandervi@bc.edu.
Class Notes Compiled and Edited by Deborah Coakley (photo: Bob Kramer Studio)
1930s
Dermot P. Shea '39 received the Esther Peterson Consumer Service Award at the Consumer Federation of America's thirtyfirst annual awards dinner in Washington, DC, in June. US Representative Edward Markey '72 made the presentation. Described as the "conscience of consumer protection," Shea was lauded for his decades of consumer advocacy, leadership in consumer protection legislation, and counsel to agencies and individuals in this field. Retired since 1985, Shea is on the federation's board of directors and is a member of the Massachusetts Consumers Coalition.
1950s
Francis X. Bellotti '52, a former Massachusetts attorney general, had an award created in his name by the National Association of Attorneys General (NAAG) in Washington, DC. The award will honor those who have served NAAG and promoted its mission to encourage interaction among attorneys general. He is with the Boston firm Mintz, Levin, Cohn, Ferris, Glovsky & Popeo, P.C., where he practices in the litigation department. He is a fellow of the American College of Trial Lawyers.
1960s
Paul R. Lawless '65 received the Essex County (New Jersey) Bar Association (ECBA) 2001Ð2002 Family Law Achievement Award for his excellence in the practice of matrimonial law. He was commended for his service to the Family Law Section of the ECBA, for his contributions as a speaker and instructor on topics relating to family law, and for his service to the Institute for Continuing Legal Education and the Essex County Family Law Inn of Court. A fellow in the American Academy of Matrimonial Lawyers and a certified arbitrator in family and matrimonial matters, he is one of the originators and a current member of the Matrimonial Early Settlement Panel in Essex County. He is a partner in Miller & Lawless in Cedar Grove, New Jersey. He and his wife, Joyce, live in North Caldwell, New Jersey. William A. Garrigle '66 is board certified as a trial advocate by the National Board of Trial Advocacy and was recently elected senior counsel to the American College of Barristers. He is a partner in Garrigle & Palm in Cherry Hill, New Jersey. Paul M. Coran '67 has been appointed to the Office of Compliance of the US Congress as deputy executive director for the Senate. He shares responsibility for administering eleven labor and employment laws to covered employees and offices of the legislative branch. He recently retired from his employment law position with the US State Department. He lives with his wife, Brenda, in Rockville, Maryland. David A. Mills '67 was appointed associate justice of the Massachusetts Appeals Court by unanimous vote of the Governor's Council. As a partner in Mills, McTeague & Patten in Danvers, Massachusetts, he specialized in zoning and land use matters, environmental and administrative law, and criminal defense. He is a member of the American, Massachusetts, and Essex County (Massachusetts) bar associations. He was the recipient of the Massachusetts Bar Association Award for Community Service for his work on behalf of the lesbian and gay community, the legal profession, and his hometown of Danvers, Massachusetts, in May. A co-founder of the LAMBDA Association of Boston College Graduates, he hosts a cable television show, SpeakOut, which deals with law-related issues of interest to the lesbian and gay community. He received the 2001 Dr. Martin Luther King Jr. Drum Major for Justice Award from the Danvers Diversity Committee. Neal E. Minahan '69 was promoted to general counsel of Raytheon Company, in Lexington, Massachusetts.
1970s
Edward R. Leahy '71 was elected the first Sir Maurice Shock Visiting Fellow at University College in Oxford, England, where he will lecture during the 2001-2002 academic year on the impact of the technological revolution on national and international law. From 1996-1998, he was distinguished scholar from practice at BC Law, where the students presented him with the Most Outstanding Faculty Member Award. In May, he received an honorary doctor of humane letters degree from the University of Scranton in Scranton, Pennsylvania. He is managing partner of AEG Capital in Washington, DC. Robert J. McDonough '72 was appointed vice president of tax at Axcelis Technologies, a semiconductor industry company in Beverly, Massachusetts. James M. Micali '73, chairman and president of Michelin North America, was named to the Executive Council of the Michelin Group, which has its headquarters in Clermont-Ferrand, France, in July. Known as Conseil Executif du Groupe, the council comprises senior executives within Michelin who assist the CEO and managing partners. Micali is the first native-born North American to sit on the council. Steven Weisman '73, veteran Boston radio personality, is cohost of a business show on 1060AM that received an Achievement in Radio Award in 2001. Live Money with Steve and Ginger addresses the real-life personal, legal, and financial issues consumers face. William T. Baldwin '75 was named to the 2001 list of America's elite financial advisers in the September issue of Worth Magazine. He and his partner, Beth Gamel, founded Pillar Financial Advisors, the oldest independent financial planning firm in the Boston area. John J. McHale Jr. '75 was named CEO of the Tampa Bay Devil Rays in St. Petersburg, Florida. He was formerly president and CEO of the Detroit Tigers. He is on the board of directors of Caring Athletes Team for Children's and Henry Ford Hospitals, is in his sixth year as chairman of the Southeast Michigan March of Dimes WalkAmerica, and is a member of the President's Advisory Council of Henry Ford Museum and Greenfield Village and the Youth Sports and Recreation Commission. In addition, he serves as a member of the Commissioner's Blue Ribbon Panel on Baseball Economics and Major League Baseball Enterprises. He and his wife, Sally, have three children. Kenneth Boger '76 has joined Vertex Pharmaceuticals, a global biotechnology company in Cambridge, Massachusetts, as senior vice president and general counsel. His legal practice focuses on venture capital, start-up and development-stage company representation, technology licensing and joint ventures, and mergers and acquisitions. He formerly was with the Boston's Warner & Stackpole, and was the chief negotiator in effecting the 1999 merger of that firm and Kirkpatrick & Lockhart. Robert L. Collings '77 was appointed chair of the litigation services department at Schnader, Harrison, Segal & Lewis LLP, where he is a partner resident in the Philadelphia office. He specializes in environmental law. He and his wife, Susan, have three children and live in Wyncote, Pennsylvania. Charles E. Gilbert III '77 was recertified as a trial advocate by the National Board of Trial Advocacy in civil trial law. Admitted to the bars of Maine and Massachusetts, he maintains a general and trial practice as managing partner of Gilbert & Greif, P.A., in Bangor, Maine. He recently completed a two-year term as secretary-treasurer of the John Waldo Ballou Inn of Court, and was succeeded by Nathaniel Rosenblatt '80. Dennis J. Krumholz '77, a partner in the Morristown, New Jersey, firm Riker, Danzig, Scherer, Hyland & Perretti LLP, was elected chair of INFORM, a national non-profit organization dedicated to conserving resources and reducing pollution. Chair of the environmental group of Riker, Danzig, he is an author and frequent lecturer on environmental topics. He has been named in the past four editions of The Best Lawyers in America. He serves on the advisory board of the Practicing Law Institute, and is pro bono counsel to, and board member of, the Community Theatre of Morristown, New Jersey. Mitchell E. Rudin '78 was appointed to the board of directors of TurboChef Technologies, a leader in kitchen technology. As president of US Transaction Services for Insignia/ESG in New York City, he oversees the company's tenant representation, investment sales, industrial sales and leasing, and strategic agency operations nationwide. He was recently honored by the American Friends of the Jerusalem College of Technology, which annually recognizes a New York region professional who promotes Israeli culture and tradition. Last summer, Rudin represented the US on the Masters Basketball Team in the Maccabiah Games in Israel. He and his wife, Bonnie, and their two sons live in Scarsdale, New York. Scott J. Tucker '78 is one of three founding partners in the newly formed law firm of Tucker, Heifetz & Saltzman LLP. The attorneys in the Boston-based firm practice in all areas of civil litigation.
1980s
Robert C. Mendelson '80 has returned to Morgan Lewis as a partner-resident in the New York office. He will co-chair the firm's global Securities Interdisciplinary Initiative. Mendelson rejoined the firm after two years with Wit SoundView Group, an investment bank and online broker. He was featured in the Spring 2001 issue of BC Law Magazine in a story about financial careers. David P. Rosenblatt '82 was reelected managing partner at Burns & Levinson LLP in Boston. He is also chairman of the firm's environmental group, which he created in 1989, and is a member of the real estate group. His expertise lies in environmental law, with particular involvement in environmental litigation and regulatory matters. He has been selected for the past five editions of The Best Lawyers in America. William E. Simon Jr. '82 is a potential governor candidate for the state of California. The primary election will take place in March 2002. He is co-founder, with his father and brother, of the private investment firm William E. Simon & Sons in Los Angeles, California. He formerly served as assistant US attorney for the Southern District of New York, and is known for his roles as philanthropist, businessman, social commentator, and national television talk show host. He and his wife, Cindy, have four children. George H. Foster Jr. '83 was appointed to the Maricopa County (Arizona) Superior Court as commissioner/judge pro tempore by the presiding judge of that court. Prior to that, he was managing attorney of Wilenchik & Bartness, P.C., in Phoenix, Arizona. He recently attended a forum on equal justice in Albuquerque, New Mexico, where he ran into Professor Alicia Alvarez '84, who has been revising the civil code in Costa Rica under a Fulbright scholarship. Anne Van Graafeiland '84 was installed on the board of the Greater Rochester (New York) Association for Women Attorneys for the 2000Ð2002 term and is a delegate from that group to the Women's Bar Association of the State of New York. Charla Bizios Labbe '84 joined the litigation department of McLane, Graf, Raulerson & Middleton, P.A., in Bedford, New Hampshire, where she focuses on domestic relations and general litigation. She is a member of the New Hampshire Bar Association and the Women's Business Forum. For the past year, she has been involved in New Hampshire Partners in Education. Tracy A. Miner '85 was elected president of the Massachusetts Association of Criminal Defense Lawyers. She is a partner in the Boston firm Mintz, Levin, Cohn, Ferris, Glovsky & Popeo, P.C., where she practices in the litigation section. She is a member of the Criminal Law Steering Committee of the Boston Bar Association and serves on the Federal Court Justice Act Panel. Angel M. Cartagena Jr. '88 was appointed chair of the Public Service Commission (PSC) of the District of Columbia by unanimous vote of the District Council following a nomination by Mayor Anthony Williams. He is the first Hispanic to be appointed head of an independent agency in the District of Columbia, and the first Republican to be named to the PSC. Since becoming chair, he was named to the telecommunications committee of the National Association of Regulatory Utility Commissioners. He is also the first vice president of the Mid-Atlantic Conference of Regulatory Utility Commissioners. Cartagena is assistant director of Family Life Ministries at Bridgeway Community Church in Columbia, Maryland. He and his wife, Alicia, have two children and live in Washington, DC. Jeffrey J. Chomko '88 joined the Philadelphia, Pennsylvania, office of White & Williams LLP as an associate in the property department. He brings more than ten years of litigation experience to his current position, including six years with Marshall, Dennehey, Warner, Coleman & Goggin in Doylestown, Pennsylvania. Maria E. Recalde '88 was appointed chair of the board of editors of the Boston Bar Journal, on which she has served for the past year. She is an attorney with the Boston firm Burns & Levinson LLP, where she chairs the firm's internet and technology group and is a member of the business and intellectual property group. She is a member of the Massachusetts and Women's bar associations and the Massachusetts Association of Hispanic Attorneys. She is serving a three-year term as a member of the Council of the Boston Bar Association and chairs the Internet/E-commerce Committee of the Hispanic National Bar Association. Leon Rodriguez '88 joined the white-collar criminal defense group at Ober/Kaler in Baltimore, Maryland, where he will counsel and defend physicians, hospitals, HMOs, PPOs, nursing homes, home health agencies, and labs against claims of health care fraud. As former first assistant US attorney in Pittsburgh, Pennsylvania, he directed complex white-collar criminal investigations and prosecutions. He is frequently invited to speak at national non-profit programs on white-collar crime and civil rights issues. John G. Rusk '88 has been board certified as a trial advocate by the National Board of Trial Advocacy. Gretchen Van Ness '88 presented "And Justice for Whom? Paradoxes in the Pursuit of Equality" as Sherman F. Levey Distinguished Law Lecturer at Syracuse University College of Law in Syracuse, New York, in October. In May, she was a presenter at the Suffolk University Advanced Legal Studies program, discussing her case AZ v. BZ, the first in Massachusetts on the disposition of frozen embryos in a divorce. In November, she was on a panel titled "Patterns in the Culture: If Backlash Is a Response to Women Coming to Their Power, What Is Our Response to Backlash?" as part of the Theological Opportunities Program at Harvard Divinity School. A general practitioner specializing in civil rights employment discrimination, gay and lesbian issues, and small business and non-profit advising, Van Ness recently argued her second case at the Massachusetts Supreme Judicial Court concerning the application of the state's public accommodations law to an event organized in part by a religious organization. She is currently president-elect of the Women's Bar Association of Massachusetts.
1990s
Claudia Leis Bolgen '90 received the Mary C. Fitzpatrick Children and Family Law Award from the Massachusetts Committee for Public Counsel Services in recognition of her outstanding legal service. Bolgen practices law with her husband, Stig Bolgen, in the firm Bolgen & Bolgen in Woburn, Massachusetts, where she specializes in appeals of family law and criminal defense cases. Walter E. Judge Jr. '90 was appointed Vermont state representative of the Defense Research Institution, the nation's largest association of civil litigation defense lawyers. He is director of the Burlington, Vermont, law firm Downs, Rachlin & Martin PLLC, where he practices commercial, intellectual property, and products liability law. He lives in Charlotte, Vermont, with his wife, Jean, and their two children. Midori Sonoda '90 was married to Myoung-Jae Im in Central Park, New York, in June. Prior to the wedding, she was an account supervisor at Suissa Miller Advertising, an agency in Los Angeles, California. Her husband is a senior tax accountant at Gleason, Sklar, Sawyers & Cumpata, an accounting firm in Chicago, Illinois. Michael W. Klein '91 published "Not in My Parents' Backyard" in the July 2000 issue of the ABA Journal. Other articles include "Send in the Kleins" in the July 22 New York Times and "Sweet Dreams," a hockey piece about his appearance at the New York Rangers' first fantasy camp, in Blueshirt Bulletin. He is working on a potential law review article on the ownership of copyright of distance education courses. Klein is director of government relations at the New Jersey Association of State Colleges and Universities in Trenton, New Jersey. Steven P. Eakman '92 is a new member of the Seattle, Washington, law firm Foster, Pepper & Shefelman PLLC, where he is co-chair of the mergers and acquisitions practice group. In addition to handling asset and stock acquisitions, he has experience with regulatory compliance matters. He is a member of the board of directors for the Northwest Chapter of the MIT Enterprise Forum. John F. Malitzis '92 was promoted to vice president of the Transaction/Marketing Service of Nasdaq Stock Market, where he will focus on market structure, corporate strategy, and legal issues. He has been with Nasdaq since 1995. Megan Carroll Shea '92 began teaching business law last fall at the Boston College Carroll School of Management and continues to teach a course in law and the visual arts at New England School of Law. She is the owner of Boston-based Carroll Associates, a law firm that provides services to patrons of the arts. She is on the board of the Boston College Club, the French Library, and Boston Ballet. She and her husband, Timothy J. Shea III '92, a patent attorney, have two children. Julia T. Thompson '92 and Ward R. Welles '93 are the proud parents of Cy William Welles, born in June 2001. John N. Affuso '93 has joined Boston's Economic Development and Industrial Corporation as counsel. His practice consists of economic development, real estate, leasing, and finance. Previously, he worked in the real estate management and sales division of the City of Boston's Department of Neighborhood Development. Emily J. Lawrence '93 became a partner in Morgan Lewis's Philadelphia, Pennsylvania, office. She focuses on products liability and toxic tort litigation. Katherin A. Nukk-Freeman '93 is partner and hiring manager of Gibbons, Del Deo, Dolan, Griffinger & Vecchione in Newark, New Jersey, where she practices employment law. She is a board member of the New Jersey Symphony Orchestra. She and her husband, Tim Freeman, live in Short Hills, New Jersey. Stephanie Roberts Hartung '94 was featured in an article, "The Burden of Defense," in the East Bay Express, describing aspects of her rookie years as assistant deputy public defender for Alameda County, California. She and her husband, Karl, are the proud parents of a daughter, Payton Jeannette, born in May. The family lives in Oakland, California. Ingrid C. Schroffner '95 published "The Law of Escheat: A Practical Application" in Massachusetts Lawyers Weekly. She is with the Boston law firm Burns & Levinson LLP. David Charapp '97 is an associate in the San Diego, California, office of Heller, Ehrman, White & McAuliffe LLP, practicing in the areas of life sciences and corporate securities. Formerly, he worked at Ecker, Seamans, Cherin & Mellott LLC in Pittsburgh, Pennsylvania. H. Lamar Willis '99 won a runoff election for a City Council post in his hometown of Atlanta, Georgia, in November. An attorney with the Federal Aviation Administration, he lives with his wife, Kamili, and their daughter, Kayla. Elizabeth Bruton Charapp '97 is an associate in the estate planning department of Seltzer, Caplan, McMahon & Vitek in San Diego, California. She used to work at Buchanan Ingersoll, P.C., in Pittsburgh, Pennsylvania. Sandra M. Rodriguez '99 completed an LL.M. in taxation with a concentration in estate and gift tax at the New York University School of Law, in May. She worked previously for PricewaterhouseCoopers as a tax consultant in the international tax group.
2000s
Cleora Anderson '00 has been accepted to the Boston Fellows Class of 2001-2002. The fellows program provides forums on professional and personal development for mid- and senior-level professionals of color, with an emphasis on corporate leadership. She is a litigation associate at the Boston firm Nutter, McClennon & Fish LLP. Christopher B. Kaczmarek '00 published "Public Law Deserves Public Justice: Why Public Law Arbitrators Should Be Required to Issue Written, Publishable Opinions" in the Employee Rights and Employment Policy Journal. David K. McCay '00 was named an associate of Mirick, O'Connell, DeMallie & Lougee LLP in Worcester, Massachusetts. Brian W. Sheppard '01 joined the Boston office of Kirkpatrick & Lockhart LLP as an associate in the litigation department. Lina Choi '01 is a new associate in the Boston office of Kirkpatrick & Lockhart LLP in the business law practice.
In Memoriam
John D. Lyons '42
James M. Quinn '62
Joseph A. Dornig '64
Otis H. Troupe '70
Charles E. Blumsack '71
Colleen M. Rooney '82
Stuart J. Williams '94
Katherine Holly Riley '02
also:
Geoffrey W. Cloud, husband of Mio Cloud '91