Winning The Silver
tankard fetches $160,000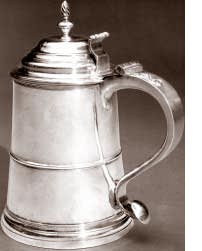 Even if it cost him $50,000, George Burke '59 wanted to do a good deed for Quincy, Massachusetts, where he lives and practices. As things turned out, it would take almost four times that much money, but he swallowed hard, went ahead, and rescued from the auction block a silver tankard connected with the city's early history.
Burke had learned from a local newspaper that First Parish, Quincy, whose basement crypt serves as resting place for Presidents John and John Quincy Adams, was selling its collection of colonial silver to pay for much needed structural work to its building. Of the eleven pieces up for auction at Sotheby's in New York, Burke was drawn most to a tankard once belonging to Col. John Quincy, grandfather of first lady Abigail Adams. "He and I led very similar lives," says Burke. "He was an attorney in Quincy for over forty years. I have been an attorney in Quincy for over forty years. He served as town moderator, and I served as president of the city council, which is a similar office. I served in the [Massachusetts] house of representatives, and he was speaker of the house of representatives."
On the day of the auction, in January 2001, Burke bid on seven pieces -- mostly chalices and tankards -- over the phone from his law office. "The first piece went for about $
Col. Quincy's tankard, valued in Sotheby's catalogue at between $30,000 and $50,000, was the last piece on auction. Burke had been outbid on the other pieces. "I knew the prices were going out of sight," he says, "but I made a commitment that no matter how high the bidding went, I would bring this tankard back to Quincy."
He ended up paying $160,000, plus about $10,000 in taxes, a $21,000 sales commission, and additional moneys for insurance and incidental costs. Since then the tankard has been displayed in the window of the Quincy Sun's office and at the city historical society. Plans are afoot to take it around to city schools.
At a statehouse ceremony last May, Burke was presented the Outstanding Individual Achievement Award by the Massachusetts Historical Society for his willingness to preserve a piece of the past. --David Reich
OTHER STORIES FROM IN BRIEF
Foreign Affairs International Scholars Retire. More...
A Wetlands Crusader Defending a "fen" in Alaska. More...
Managing Crisis Trade Secrets. More.. .
Policy Imperatives BC Law & terrorism reforms. More...