Why Rare Books?
by vicki sanders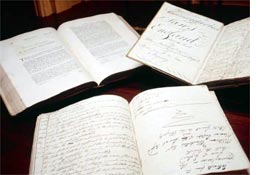 What difference do rare books make to a law school? A bid difference, as a journey into BC Law's unusual -- and accessible -- collection shows (photo: Jim Harrison).
Finding the Relevance
The secrets in student notebooks
Sidebar: Exhibit Shows What Collectors Collect
The vibrancy of the living and thinking that went on within the covers of the 1,000 volumes in Boston College Law School's rare book collection is still palpable today. Venture into the Daniel R. Coquillette Rare Book Room and you can feel it with all your senses: in the woodsy smell of a 473-year-old Magna Carta, in the amusing sight of the notebook doodles of a bored eighteenth-century law student, and in the soft touch of the first-edition leather binding of Sir William Blackston's Commentaries on the Laws of England from the 1700s.
One of the qualities that distinguishes the Law School's historic holdings is that despite their rarity they are not rarefied. When the new library was being designed, planners made a conscious decision to locate the rare book room so it would be accessible to everyone. "I thought it was important that students be exposed to the art of the book, in the center of the library, where they would be encouraged to sit and look at the books," says Coquillette, who was on the building committee and is the person for whom the room was named at its dedication in 1996. His gifts comprise the centerpiece of the collection.

Student in Rare Book Room (photo: Jared Leeds)
The nature of the collection also gives it distinction. Each year for the next five or six years Coquillette will add to his bequest sequentially and, when complete, the collection will be a chronological likeness of a working lawyer's library in each of the sixteenth, seventeenth, and eighteenth centuries. (The library itself hopes to acquire books from the nineteenth century to complete the series.) "The glory of this is if we want to research a point of law in any century, we will be able to do so right here," says Monan Professor of Law Coquillette, who uses the books in his courses. "These books demonstrate how a lawyer would go about solving a legal problem at any point in time. Students can step into a lawyer's shoes."
Many law schools have rare book collections, but none has one like this. "What's important to a great library are things that are not found elsewhere," says Coquillette. "Control over unique information is very valuable." He believes technological advances make that even more true today. "In this day and age, when everyone has more online access to information, the thing that's important in a library is the uniqueness of its collection rather than the completeness of the collection."
BC Law's collection fills a niche in the rare book world. "We're trying very hard to focus on lawyering, the history of how people learned and practiced law," says Professor Mary Bilder, who teaches legal history. "It ties into our strength as a school that merges theory and practice and into a proud tradition of being lawyers. A lot of the collection isn't high theoretical works but works actual attorneys used to argue cases. A researcher could have access here to books of the last 500 years of work."

Curator of Rare Books Karen Beck (photo: Jim Harrison)
It is natural for legal historians to value a rare book collection, but what is its worth to the Law School community as a whole? "It's one tool in the arsenal that adds to a school's reputation," says Curator of Rare Books Karen Beck.
Coquillette contends that far from dusty relics, the books are relevant companions in the quest to understand current world affairs. Particularly in times like these, when the nation is in a period of rapid transition and stress, rare books take on renewed importance because they teach how law develops, he says. "Legal history is a dynamic subject about how change occurs, and the more we are living in a time of change, the more interested we become" in that history.
"We are trying to teach students that law isn't just a business, a trade, that they are part of a great heritage in which people literally risked their lives for freedom and to protect human rights," he says, recalling Revolutionary War patriot James Otis's efforts to ensure that British soldiers were represented by counsel at their trials. Coquillette points to the current debate over establishing military tribunals in the aftermath of the terrorist attacks and the Afghanistan conflict. "The big dispute now is whether those being detained are being represented," he says. "These things are really relevant. To feel part of a great line of tradition, there is nothing like holding in your hands the books of some of the great lawyers of the past." (Volumes of court reports once owned by Otis and fellow patriot Thomas Dawes are among BC Law's collection).
Professor James Rogers frequently uses the rare book collection in his research and classes on English and American commercial law. He himself collects Bills and Notes treatises, some of which will be on view in the Collectors on Collecting exhibition in the rare book room through May (see sidebar page 23). "One of the things that's most interesting about doing legal history and that's most revealing from the standpoint of modern laws, is the way in which assumptions of subject matter change," he says. By way of example, he mentions evidence treatises, which today focus on what evidence is admissible. By contrast, the treatises from the eighteenth and early nineteenth centuries contain almost nothing about admissibility and hearsay; they focus on who is permitted to testify. "You can see in the contents the basic change in concepts," Rogers says.
He remembers a colleague once saying, after another in a series of major changes to tax law, that he was giving up teaching the details of tax law and was going to teach only fundamental principles and transition rules. "He captured something about what we do as law professors," Rogers explains, "that what we need to teach is real fundamentals and how things change. To do that well, it's helpful to have the firsthand experience of what was, how different things are. We see both constancy and change when we're looking at books."

Dan Coquillette (photo: Gary Gilbert)
The secrets in student notebooks
The rare book room is a window into how legal education itself has evolved. Beck, the curator, gingerly takes down from a shelf a set of manuscript notebooks of students who attended Litchfield Law School, America's first, in the 1800s. Acquired through the generosity of Edward R. Leahy '71, the notebooks are not only fastidious replications of class lectures but also repositories of students' commentary on everything from the weather to their personal finances. With law books scarce and dear, early students had to create their own permanent copies of lectures. "When a student completed fourteen months of note taking, the notes comprised an encyclopedic legal treatise that accompanied that student into law practice," Beck says. Today, with extensive books and online databases at their disposal, students no longer need to create their own libraries, a fact that has changed what they choose to record in their notepads and computers.
Other treasures in this genre are notes taken by a student in Blackstone's law classes at Oxford University from 1764 to 1766, and a four-volume set of notebooks by a student who attempted to digest the Commentaries and reduce them to a set of rules and principles. "These sets are extremely scarce," Beck says, "and they add to the value of the law library's strong and valuable collection of Blackstone materials."
Coquillette began collecting in the 1960s while on a Fulbright Scholarship to Oxford. "I got a princely book allowance, and if I didn't spend it, I'd have had to return the money," he says laughing. So he began to scour old bookstores, eventually amassing an impressive library. Among his favorite finds, now in the BC Law collection, are a 1492 edition of St. Thomas Aquinas's The Summa, a cornerstone of legal philosophy, and the 1627 The Five Knights Case in which John Selden argued eloquently for fundamental freedoms. The case resulted in the seminal "Petition of Right."
"My hope was that by giving the collection to the Law School over time, I would inspire others," Coquillette says. "One hundred years from now I can confidently predict that this will be one of the outstanding rare book rooms in any law school."
Sidebar: EXHIBIT SHOWS WHAT COLLECTORS COLLECT
Collectors on Collecting, an eclectic exhibition of books and ephemera featuring a first-edition Frankenstein, a recording of Justice William O. Douglas explaining the Supreme Court to high schoolers, and children's law books, is on display in the Daniel R. Coquillette Rare book Room at the BC Law library through May.
Eight collectors who are friends, faculty, or alumni of the school have loaned work for the show, which is one of a continuing series of exhibits designed to publicize the rare book program and acquaint the BC Law community with the growing collection. Exhibition hours are Monday through Friday 9 a.m. to 4 p.m.
The following is a sampling of each person's contributions to the exhibition, together with some personal observations and anecdotes about their finds.
Yale University Law Librarian Emeritus Morris Cohen: children's law books, Juvenile Trials for Robbing Orchards, Telling Fibs, and Other Heinous Offences (1776); Jonas, A Judge (1840); and Parliament in the Play-Room; or, Law and Order Made Amusing (1883).
Professor Daniel R. Coquillette: the manuscript "Exodus," which was looted from the Palace Library in Ethiopia by the British; a page from a manuscript New Testament illustrated with dogs, birds, and dragons (circa 1280 A.D.); and the lavishly illustrated "Field Bible" (1661), the tour de force of Restoration printing.
University of Kansas Professor of Law Michael Hoeflich: early 1900s American postcards with comic legal subjects; an English "vinegar Valentine" portraying a lawyer; and a nineteenth century stereoview showing a lawyer's scrivener.
Edward R. Leahy '71: first editions of Mary Shelley's Frankenstein (1818), Bram Stoker's Dracula, and Sabine Bering-Gould's The Book of Werewolves (1865); a 1983 edition of Frankenstein printed by Barry Moser of Hatfield, Massachusetts, who bound it with black Moroccan leather molded to create a three-dimensional monster's hand on the cover; the first English edition of the Prophecies of Nostradamus.
Friend of BC Law Jerry Mitchell: small-format books from the revered Elzevier Press, including Aristotle's Politicorum Libri VIII (1621) from the library of the Loménie family, whose last member, Loménie de Brienne, died by guillotine; and Il Goffredo (1678), an edition of Torquato Tasso's epic illustrated with engravings by Sébastien Léclerc.
Wellesley College Professor Emerita Kitty Preyer: selections of books likely to have been found in a working lawyer's library prior to the twentieth century, including Conductor Generalis by James Parker (1788), sewn with a whipstitched "frontier" binding.
BC Law Professor James Rogers: A Treatise on the Law of Bills of Exchange, Cash Bills, and Promissory Notes by Steward Kyd. One of the book's owners listed his student law books on the flyleaf, commenting that "these and others were read in a desultory fashion and with little profit." Rogers notes that the gentleman evidently felt guilty as soon as he'd written the words, for he added a carat and interlined the word "consequently" before "with little profit" so his lack of intellectual reward could be attributed to his "desultory" habits rather than to the books themselves.
Boston University Professor of Law David Seipp: La Graunde Abridgment by Anthony Fitzherbert (1577), which Seipp describes as the first legal database because of its alphabetical arrangement of excerpts of cases from the Year Books. Also, Law and Lawyers by Edward Steven Robinson (1937). Pasted onto the inside covers and endpapers are the testimonial of one of the founders of Alcoholics Anonymous. Says Seipp: "I imagined how the original owner of the book could keep it by him at home or at work to keep him from drinking, while the book's rather boring title deterred nosy visitors from picking it up and learning its secret."
UPCOMING EXHIBITIONS
Summer 2002: Important Figures in Anglo-American Law
Fall 2002: Recent Additions to the Collection
Spring 2003: Francis Bacon Symposium
Summer 2003: Learning the Law
Fall 2003: Recent Acquisitions
Spring 2004: A Lawyer's Library
For more information about the rare book room and its activities, contact Karen Beck at 617-552-8607 or beckka@bc.edu