True Confessions?
by david reich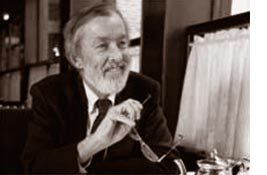 The characters in the late George Higgins's literary crime novels offer a rare glimpse inside the writer's life and legal mind (photo: Gary Gilbert).
DIVERGING PERSONALITIES
TRICKS OF THE TRADE
TALKING THE TALK
STRANGE BEDFELLOWS
SIDEBAR--The Law According to Jerry Kennedy (George Higgins)

In the early 1970s a previously unpublished novelist took the book world by storm with three superb literary novels that were also page-turners and became national bestsellers. The Friends of Eddie Coyle (1972), The Digger's Game (1973), and Cogan's Trade (1974) achieved critical acclaim for their furious pace, their detailed depiction of life in the lower echelons of the Boston underworld, and above all their characters' terse, authentic, funny, and sometimes casually brutal speech. "What dialogue!" blurbed literary bad boy Norman Mailer, not known for his being quick with a compliment. "What I can't get over is that so good a first novel was written by the fuzz."
The novel's author, George V. Higgins '67, was at the time an assistant US attorney for the District of Massachusetts, a job that--Mailer notwithstanding--may have sharpened Higgins's ear for speech. "I listened to so many wiretaps and I read so many transcripts of wiretaps that quite unintentionally I became aware of the patterns of elision and compression that people use," Higgins recalled in an interview conducted in the middle 1980s. "And also of the acceleration and breakdown of syntax and diction of people who are under stress--that comes from trials. If you're trying a case particularly on cross-examination, and you really get the son-of-a-gun cornered...his diction begins to break down."
Higgins, who died at age fifty-nine in 1999, published a total of thirty books, mostly novels but also some nonfiction, including a book on Watergate, a book of advice for would-be writers, and a study of Boston mayor Kevin White. He would have written more books except that his publisher would only take one a year from him. He filled in by writing journalism, authoring, at various times, columns for the Boston Globe and the Boston Herald, short pieces and book reviews for the New York Times, and articles for national magazines. As a novelist, Higgins showed more interest in the public sphere than the inner life; his novels dealt with politics, media, law enforcement, and the law. Like the writer John O'Hara (an early influence) he was particularly intrigued by social class and manners.
In addition to his J.D. from Boston College Law School, Higgins had a B.A. in English from Boston College, where he edited the literary magazine, and an M.A. from Stanford's creative writing program. After leaving the US attorney's office in the mid-1970s, Higgins entered private practice, concentrating on criminal defense work. Speaking of the move, he said, "I've certainly had a different perspective since I've been defending cases instead of prosecuting them. None of the people I prosecuted ever appeared to have a family. They...richly deserved my trying to put them in jail. Now all of my clients seem to have wives and children and fathers and mothers, and often I don't think they deserve to be put in jail at all." This new perspective informed his subsequent work, especially the Jerry Kennedy novels, which are the subject of the article that follows.
I don't judge my characters, ever," George Higgins once said. "And it amuses me when I'm held responsible for their behavior or their language or their criminal misdeeds. I've found myself in the simultaneously ludicrous and infuriating position of having to explain that I don't recommend Jackie Cogan's way of making a living." Jackie Cogan, the protagonist of Cogan's Trade (1974), made his living as a contract killer.
Higgins, to use one of his pet phrases, wasn't blowing smoke when he said that about himself and the characters in his books. He had indeed launched his literary career with the three organized crime bestsellers whose protagonists did wicked things and were known to use profanity. But other books delved into different worlds. Dreamland (1977), for instance, is about a prosperous Boston lawyer who sails for enjoyment and hails from upscale Duxbury. A Choice of Enemies (1984) deals with Massachusetts statehouse politics.
Then, there's the Jerry Kennedy series. While the novels do have a lot of crooks in them, the books' narrator and main character is not a crook but a Boston criminal defense attorney who talks, thinks, and acts quite a bit like Higgins.
At the time of his death, Higgins had published four Jerry Kennedy novels: Kennedy for the Defense (1980); Penance for Jerry Kennedy (1985); Defending Billy Ryan (1992); and Sandra Nichols Found Dead (1996). According to Boston Globe, Higgins was working on a fifth Kennedy book. Kennedy, in fact, was the only main character who appears in more than one Higgins book, and, with one minor exception, the only first-person narrator in the extensive Higgins oeuvre.
There is at least a surface resemblance between the author and his narrator. Like Higgins, Jerry Kennedy was Irish-American, raised Catholic in Massachusetts and educated at Boston College and BC Law. Both were roughly the same age; each practiced criminal law in Boston, serving as "mouthpiece" (Kennedy's term) for a cavalcade of hoods and lowlifes; both came from modest though middle-class backgrounds (Higgins was the only child of two schoolteachers, while Kennedy in Sandra Nichols says his father was a small town pharmacist). Both suffered through contentious divorces and had troubles with the tax collector (Higgins because of some bad advice from an investment counselor, Kennedy in retaliation for his successful defense of a high-profile figure whom the feds had hoped to put away), and both had occasion to arm themselves for protection from unhappy clients.
None of this, of course, implies that Jerry Kennedy is actually George Higgins operating under an alias. Fiction is never that simple, and the Kennedy novels are definitely fiction; the characters, other than Kennedy himself, are either composites or made out of whole cloth, according to several friends of Higgins. Also, most incidents in the books are either invented or based on events Higgins heard about from others, rather than on his personal experience.
DIVERGING PERSONALITIES
In addition, while the Kennedy and Higgins resumes are similar, they also diverge in a couple of important ways. Kennedy starts legal life as a lowly associate in a small civil law firm and quickly moves into criminal defense work. Higgins spent his first seven years out of law school prosecuting alleged criminals as an assistant Massachusetts attorney general and then an assistant US attorney; he was at the US attorney's office when The Digger's Game came out in 1974. Kennedy tends to view prosecutors as preening, overzealous, and drunk on power, while Higgins was proud of his work in the prosecutor's office, according to William McCormack '67, who met Higgins as an undergraduate, was his partner on the Law School's moot court team, and is now a partner at the Boston firm Bingham Dana. McCormack recalls a conversation the two had over dinner after Higgins's first novel, Eddie Coyle (later made into a movie starring Robert Mitchum and Peter Boyle), had been accepted for publication. "He was so satisfied with a prosecutor's work," McCormack says, "that he said he'd be happy to do it for the rest of his life, on a prosecutor's salary."
Higgins finally entered private practice in 1974, to free up more time to write, adds McCormack. In a way, the move worked, but in another way, it backfired, and this brings up another difference between Kennedy and Higgins. Kennedy's practice affords him at least a modest profit, and by the last Kennedy book, Sandra Nichols, he has switched from defending pimps, drug addicts, and dealers, to advising corporations on how to stave off theft and embezzlement, with a corresponding rise in his standard of living. Higgins, by contrast, said in a newspaper interview that his practice had been losing money for years and he was in the process of closing it down. "I considered myself for ten years of private practice...to be both a writer and an attorney," he said. "I was disabused of the notion that I was an attorney by the fact that it was sufficiently bruited about Boston that I had quit practicing law to write full-time so that after a while I was forced to quit practicing law because I wasn't making enough money at it."
Yes, Higgins really talked like that--at least in his more formal moments--in long sentences filled with interlocking subordinate clauses. But, from time to time, he would reach for a high-flown word or phrase, usually something Latinate, perhaps a reflection, of his Jesuit education and his legal background. Sometimes the high diction came mixed with street talk; he once said, "The statutes against homosexuality have not been effectively invalidated because the legislature doesn't have the rocks to abrogate them." This tells us, of course, that Higgins had a rare gift for language and a penchant for colorful utterance, but it may also tell us something more. As Frank Crowley '73, a one-time associate in the Higgins law firm, puts it, "There was a patrician and a plebian in [Higgins], and they were inextricable from one another."
TRICKS OF THE TRADE
Higgin's decision to quit practicing law had nothing to do with the quality of his legal work. "He was invested" in his cases, says McCormack. "He had some passion for his clients, for his cause. He was forceful, persuasive, and lively, as opposed to stiff and legalistic."
"Juries loved him," adds Suzanne Del Vecchio '67, a law school classmate and longtime friend of Higgins who is now chief justice of the Massachusetts Superior Court. "I never saw George try a case, but I used to hear from others."
Frank Crowley studied trial practice under Higgins, when Higgins was a part-time instructor at the BC Law. "He knew every trick," remembers Crowley. "Where to stand, how to play the jury foreman, how to approach the bench." At Higgins's law firm, Crowley had the chance to see Higgins in action. Crowley--now a partner in Doney, Crowley, Bloomquist & Uda, in Helena, Montana--says, "George was as comfortable in a courtroom as anyone I've seen. There was a tablespoon of swagger...It was theater, it was clearly theater to him...If he saw someone go in a track he didn't like, he would have his nose in the air like a bloodhound."
This brings us back to the parallels between Higgins and his narrator, for Jerry Kennedy's courtroom style closely resembles Higgins's. The great majority of memorable scenes in the Kennedy books take place in courtrooms. Despite the stress of trial work, Kennedy loves to be in court where he can show off his quick wits and considerable skills as a litigator. He knows a good deal about courtroom theatrics, as seen in this passage from Defending Billy Ryan, where he cross-examines a state senator prosecution witness:
"I call your attention to your fourth campaign sir," I said, donning reading glasses and retreating to counsel table where I leafed through papers having no bearing whatsoever on [the witness's] fourth campaign, and then, frowning, said: "When you asked William Ryan to loan you some money. Did you ask him? Did he loan it?"
At the climax of this cross-examination, Kennedy abruptly draws near the witness stand, demonstrating to the reader that "when you plan to get into the witness's face rhetorically, you might as well get into it physically as well. It adds drama and jurors like that." In Penance for Jerry Kennedy, he sums up by saying, "In the courtroom, I'm on display. I am a performer. I am playing to a judge. To a client also. To the jury, if there is one."
TALKING THE TALK
If Kennedy mimics Higgins's courtroom style, he also sometimes speaks in Higgins's distinctive idiom. In Penance, for example, he mixes the plebian and the patrician when he points out that "'Up yours' is not deemed a decorous address to a sitting judge." When the plumbing of his daughter's doll gets clogged up by the "minerals in the waters of Braintree," site of the Kennedy garrison colonial, he describes the result as "unsatisfactory micturition." And like Higgins's own speech, Kennedy's can turn mock-heroic, as in this mouthful from Defending Billy Ryan:
Colin's grandfather, Buck Ryan, had been a central Massachusetts colleague of Old Joe Kennedy, the Gustin gang, and sundry other Massachusetts importers of beverage alcohol, who not only continued their diligent service to the public after the Eighteenth Amendment took effect in 1920, but charitably expanded their staffs and facilities in order to create employment for the jobless and serve consumers otherwise left high and dry.
Higgins and Jerry Kennedy tended to think alike, particularly when it came to the law and legal practice. "George never hesitated to air an opinion, and he had strong opinions," says William McCormack McCormack reads a collection of quotations from the Kennedy books and says, "These all sound like George personally."
In interviews Higgins complained about archaic, inefficient court procedures; so does Kennedy, repeatedly. Higgins stressed that most criminal defendants "did it"-- that is, they were guilty of the acts they stood accused of, or "something equally bad that they didn't happen to get caught at," the only question being whether the state could prove they "did it." Kennedy makes the same point on more than one occasion. Nonetheless, Kennedy, like his creator, worries about the power society places in the hands of police and prosecutors, and about its potential to corrupt--a big theme in Kennedy for the Defense, where overreaching cops set much of the action into motion.
Finally, Jerry Kennedy echoes Higgins's ideas about crime, ideas that have roots deep in the novelist's Catholicism. A longtime friend of Higgins, Father Peter Conley, editor of the Pilot, the archdiocesan newspaper in Boston, says, "George once told me that the only empirically verified Christian truth was original sin"--the idea that humans are sinful by nature. Kennedy, for his part, draws a close connection between sinfulness and crime when he says, in Sandra Nichols, that generally, the motive for committing a crime is "one of five of the seven deadly sins: pride, greed, lust, anger, or envy. Or a combination of two or more of the above."
This premise leads to two conclusions about crime and our responses to it. First, if crime is caused by sin, and human beings are sinful by nature, then utopian schemes to get rid of crime aren't going to work; at best we can keep it under control. When asked about this, Higgins said the following:
The Roman soldiers who cast dice for the garments of Christ at the foot of the cross were in violation of the code of Roman law. What do you think our chances are of improving the human condition now, nineteen hundred and eighty-six years after Christ's birth? Not too good. Virtually everything has been tried. The Code of Hammurabi didn't work. Since then, the Code Napoleon didn't work....

Some of us get out of hand. More of us would if we didn't think we'd get caught...If it weren't for Eve's unfortunate desire for fruit, maybe we'd have a chance, but no governmental or social plan is going to change it back.
This is pretty dark stuff, but Higgins's theory of crime also has a more optimistic side, for, if crime arises out of sin and all of us are sinful, then criminals and the rest of us don't exist on separate moral planes, and those who have broken laws, even repeatedly, qualify for redemption. In fact, if the Kennedy novels have any overarching theme, it is the radical notion (radical in our day of overheated rhetoric concerning crime) that criminals don't belong to some inferior, subhuman species. As Higgins told Boston magazine, "Let's say I come to see you and say, 'Look, I've been indicted for bank robbery'...I don't think you should treat me as inherently less human than you are."
This view found its way into the depiction of criminals in the Kennedy novels and many of Higgins's other books. Says Chief Justice Del Vecchio, "George saw criminals for what they actually are. They could be charming, could be concerned about their children's braces..They had problems with money, with mothers-in-law....So his criminals are human. And in our court system our criminals are human also. We like to portray criminals as something other than us. But they are us."
Not that Higgins allowed Jerry Kennedy illusions about the kind of person he defends in court. "Not many bishops need criminal lawyers," Kennedy points out in Kennedy for the Defense, a book that begins with a loving seven-page description of how Teddy Franklin, Kennedy's most loyal client, contrives to make a living stealing Cadillacs while avoiding detection by the police.
Neither does Kennedy have illusions about himself and the source of his modest prosperity. In the same book, his wife urges him to drop a certain client, a violent, scary pimp. Kennedy admits that to represent this client is to live "off the earnings of a prostitute...I know where [the money] came from...and I don't like it either. But you could say that about almost every fee I get--it's somebody's ill-gotten gains." Then he asks his wife, a real estate broker, "When you sell a house to somebody, do you make sure he's paying for it with clean money? Trace it back to the family fortune and make sure none of it was earned in the slave trade?" Later, Higgins strikes that chord again when a neighbor of Kennedy's talks about a parish priest whose sermons are always "kicking the divvil out of the saloon keepers," but doesn't object when a bar owner in his congregation deposits a lot of his ill-gotten gains into the collection plate. The point is that no one can claim to be free from all taint, so we would all do well to get off our high horses.
STRANGE BEDFELLOWS
The "criminals are us" theme in Higgins's work reaches its apotheosis in the relationship between Jerry Kennedy and the car thief, Teddy Franklin. In the first book and part of the second, Kennedy sees Teddy as a colorful fellow and a source of business--lots of business, for Teddy is always in trouble. Outside of business, Kennedy keeps his distance from Teddy because, as he puts it, "Relationships between lawyers and clients can turn rancid very fast."
Kennedy admires--from a distance-- Teddy's highly developed professional skills. Teddy returns the compliment and sends all his crooked pals to Kennedy for legal help. By the third book, Kennedy offers no argument when Teddy calls him an old friend. Telling Teddy about a big white collar case that he has just won against long odds, Kennedy explains, "I made the jury see [the defendant] as a human being. I made them care about what happened to him...That's my job. I care about my clients, and I care what happens to them." Teddy laughs and answers, "Has it ever occurred to you, Counselor, that your clients care about you?" It's as close as you get to a wet hankie moment in the Kennedy novels. Friendship is redemption of a sort, and not just for Teddy Franklin.
There doesn't seem to have been a Teddy Franklin figure in George Higgins's life, but Higgins knew many criminals dating back to his days as a prosecutor, and it's clear in his interviews that he felt some affection for a few of them.
Higgins wrote a narrative essay for the New York Times in 1972. It starts with a prosecutor, a defense attorney, a police investigator, and a criminal defendant, all drinking together in a bar in Salem, Massachusetts, while awaiting a verdict. After two hours of waiting, Higgins reports, "All parties to the case are on fairly good terms. Boredom has dulled the anger of the defendant, engendered by the outrageous things that the prosecutor has said in final argument. Lubrication has eliminated the resentment between lawyers, occasioned by what each said about the other in summation..."
After four hours, the defendant tells the others he is innocent. The prosecutor tells him, "Look, I got a job to do, all right?...You want another beer?" After two more hours without a verdict, the defendant says, "I'm going away, you know...That's hard." The prosecutor nods. When finally the verdict comes and the judge passes sentence, the investigator tells the guilty party, "Cheer up, two years isn't bad." The prosecutor answers that it is if you're the one who's doing the time.
People who knew George Higgins well mention his refusal to suffer fools, but say more about his thoughtfulness and his kindness to others. These admirable qualities, it appears, came from a sense that we're all in this together--in this imperfect world.
SIDEBAR--The Law According to Jerry Kennedy (George Higgins)
Criminal defense lawyer Jerry Kennedy--protagonist and narrator of four of George V. Higgins' s novels--doesn' t mince words when he airs his views on the legal profession and the criminal justice system. Here are a few of his more memorable comments:
From Penance for Jerry Kennedy
"Chaos, clutter, and disorder abound wherever I venture...in the tangled legal problems that disrupt the already disrupted lives of my troubled clients, in the shambling inefficiency of a court system which is still doing business by Morse code, and wasting everybody's time as though it were still 1872 and we had nothing to worry about between the spring planting and the fall harvest."
"No matter how low-down and dirty I may feel, how dog-eared and stupid my soul is when I get to work, what I have to do in my job almost always brings me into contact with someone who is more discouraged than I've managed to become, or something that's so tedious and disagreeable that a good mood would be wasted on it."

"This is a tough business, the one I am in. We are always seeing people that are in deep trouble. People at their worst....Happy people, working people, people with good lives: they don't get in trouble and we very seldom see them. So we get used to the hard stuff, and we sometimes mimic it"
From Defending Billy Ryan
"To defend the person who hired him, the lawyer must start by defending himself. Judges are now and then stern with defendants and spectators who disrupt proceedings, but those uproars are unusual. But it's not unusual for judges to holler at unprepared lawyers, and those judges are right....Ours is the last blood sport, and to play it well we have to begin early, and stay late..."
"You never get a detailed template you can follow....Oh, there are some types, of course: the indigent client whose respect for you is precisely proportionate to the money he s paying--none; the paying client who by then's realized you may make him indigent, too;...the connoisseur whose many adventures in court have convinced him he s a great critic of lawyers; and last but not least among frustrating clients, the inveterate, long-playing liar."
"Clients dislike paying money to their lawyers, apparently believing that we're fed by ravens in the wilderness...."
"I must have been absent the day the professor admonished the class about asking a question to which you don't know the answer. Well, hogwash. Professors go to court about as often as the Easter Bunny does. When they give advice about trying cases, all they re doing's coloring eggs."
"No exaggeration: I have seen defendants go away--none of mine, praise God--on the basis of evidence that the government could not have introduced with the aid of a front-end loader, but for the unwitting assistance of a naive defense counsel who'd 'opened it up on cross.'"
From Sandra Nichols Found Dead
"A lawyer's not a person who knows the law; a lawyer is a person who's learned how to find the law that's needed in a given situation. And also how to read it, a correlative that some lawyers overlook, to the sorrow of their clients."
"You have never had the treatment we routinely dish out in the courtroom, when what the witness says is crucial and the money's on the line...We don't make you feel bad because we just don't like you; because we re having a bad day, or you've misbehaved on us: we do it on purpose; it's one way we do our job....People under sudden pressure that they weren't prepared to face sometimes get trapped into...admitting all kinds of things they really don't want to, that aren't even really so, just to take the pressure off.".