New Vision for Alumni Council
bc law school magazine--alumni news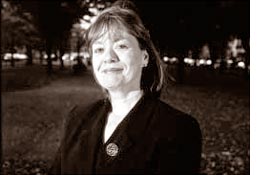 Left: Alumni Council President Joanne Locke is moving ahead with a number of initiatives to bring alumni closer (photo: Dana Smith).
Hardship on the road to her own legal career inspired Joanne Locke '87 to rethink the mission of Boston College Law School's Alumni Council when she became its new president in May. She knows from personal experience that one of the biggest challenges facing graduates is the transition into professional life, a challenge that can be mitigated by the help of those who've been through it. Thus, Locke has made it her mission to build new bridges to connect graduates and alumni in those stressful, early career years--and to fashion a stronger alumni community in the process.
"I lost five years because I didn't know where to go for help," Locke says. Law was a second career for the former psychiatric nurse, but ten weeks into her first job as an attorney, her firm took on a major classaction asbestos case in which she, ironically, was a plaintiff. Suddenly, she was out of a job. She regrouped quickly, though, worked as a federal law clerk for Judge Edward Harrington (during which time she became pregnant), and then became an associate at Conn, Kavanaugh, Rosenthal & Peisch. Locke left law for several years after that because she couldn't reconcile the demands of litigation with her need for flexibility in raising a baby. "It was at that time I felt mentoring would have helped me to sort out my priorities and find a law firm like Moquin & Daley, where I am able to balance these demands comfortably," she says.
One way Locke found to stay connected during those uncertain years was to become part of the Alumni Council, the governing body of the Boston College Law School Alumni Association. "My alumni association was my link while I worked out my issues and worked on reconciling the different parts of my life," Locke explains.
That was nearly fifteen years ago, and Locke has served on the council under four Law School deans and six council presidents. As the group's new leader, what she wants to accomplish, she says, "is related to the fact that even though I got a great amount of help from the Law School, I could have used more help when I was a new alum."
At an all-day retreat in October, the thirty-six councilors reflected on what the Law School meant to them and what would have been useful in their own transitions. The consensus was that mentoring would have made a difference. With the council's blessing, Locke is moving ahead with a number of initiatives related to mentoring.
The executive committee is looking at strengthening ties to current students by changing the bylaws to put them on the council.
There is a long-range plan to provide one-to-one mentoring for those who would like it, and a mechanism to establish a peer support group for people with personal or professional problems.
A steering committee headed by Richard Gelb '73 is enhancing the Faculty Alumni Student Association (FASA). The organization was conceived by Gelb two years ago as a way of getting alumni more personally involved in campus life. It brings members of the bar, practicing attorneys, recent graduates, students, and faculty together in informal ways in order to exchange ideas, solidify connections, and build networks. It also functions rather like an inn of court, where people from the same practice areas can discuss common interests.
"When you first graduate, you can be overwhelmed by the ethical and professional demands of lawyering," Locke observes. "You can't exactly go to a partner in your firm and say you don't know what you're doing. If there is a forum for new grads to meet with professionals in the same practice area, they have an opportunity to sort out these issues."
Locke is also moving the council forward on other fronts. She wants to improve the Alumni Association's web presence, making it easier for alumni to learn about the association's activities and to communicate directly with each other. "I'd like to make available listservs, bulletin boards, and a database for emails," Locke says.
She is investigating ways to strengthen the relationship between practitioners and faculty through luncheons and intermittent forums at the BC Club. She's also interested in more actively engaging senior and retiring alumni. "Law is one of those areas where experience and judgment are everything," Locke observes, stressing the contributions older alumni could make to young graduates and their value to the community as a whole.
To move the council in these new directions, Locke has reshaped the committees as follows:
Faculty Alumni Student Association (FASA): Based on FASA's success thus far in improving communication among alumni, students, and faculty, the council has decided to make it a standing committee, expanding its scope and membership.
Recent Graduates Committee: The council identified an unmet need for a more substantial alumni presence and stronger outreach to third-year students and recent graduates. The committee, which includes representatives from the third-year class, will help establish a Recent Graduates Club for 3Ls and alumni of up to five years. The club will develop programs and informal opportunities to help alumni deal with the legal, ethical, and interpersonal challenges they face as new attorneys.
Communication and Technology Committee: Its job is to create a webbased presence for all alumni.
Reunion Committee: To improve communication among reunion classes, the council wants to develop online reunion committees and to reach each member of the reunion classes electronically. The goal is participation by larger numbers of alumni from around the nation in planning reunion activities.
Diversity Committee: The committee will explore how to adapt the structure of the alumni association to ensure consistent and meaningful participation for all segments of the alumni community.
Career Development Committee: The committee with collaborate with the Career Services Office to develop a national effort among alumni to assist each other with career transitions, particularly those moving to new cities.
Public Interest Committee: The committee will explore ways in which alumni can provide financial support and other assistance to those who wish to pursue public interest law careers.
Bylaws Committee: An ad hoc committee, the group will make recommendations about changes to the bylaws to reflect the evolving character of the alumni association.
As these committees indicate, Locke's vision centers on bringing alumni together. "The council is in the business of friendraising," Locke says, "and most people will be willing to get involved if they are effectively connected. My job is to create the opportunities for those connections." "Joanne's goals are particularly welcome as we move forward to strengthen communication and connections among alumni through technology," says Alumni Director Linda Glennon. "Her plan to have an online town meeting with the dean and alumni by the end of her tenure is especially exciting." Locke also hopes to recruit alumni to work on projects of interest to them and asks that they contact Glennon at 617-552-3935 or linda.glennon@bc.edu. or any of the officers (see sidebar at left for their contact information). -- Vicki Sanders