Emerging Enterprises
bringing business into the classroom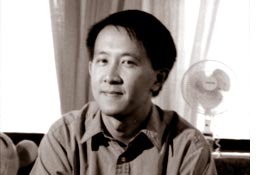 Left: Joe Liu
Professor Joseph Liu doesn't just teach internet law; he lives it, in his role as general counsel for Buyer-Zone.com, a website where businesses can shop for office equipment like copiers and fax machines.
Liu, who joined the BC Law faculty in 2001, has advised BuyerZone's owners (one of whom became his wife) since the company's beginnings as a print catalog in 1992. He also helped the business through its transition to web-based marketing in the mid-1990s.
The move from catalog to website has brought Liu into almost daily contact with unsettled legal issues involving liability: "Can a website be held liable for statements made by users in its comment area?", privacy: "How may companies use information they collect about their customers via the web?", copyright: "May one website link to a second, even if the second site tells it not to?", and contracts: "Can a website enforce the terms and conditions it sets up for its users?"
Liu's internet law and intellectual property classes explore many of the same legal questions he faces as a businessman, but in importing the issues to the classroom he also imports the uncertainty surrounding them. One case he often cites in class is a recent copyright infringement lawsuit brought by the eBay auction website against Bidder's Edge, which offers onestop shopping by consolidating pricing information from many other auction websites--including eBay. "Not surprisingly," says Liu, "there's nothing in existing law that addresses this." Copyright law, after all, is based on printing press technology, he points out, not that of the World Wide Web.
So how do you teach internet law, knowing it will almost certainly have changed by the time your students enter practice? You make sure students have good grounding in the basic principles underlying the law, Liu says. "The basic principles of copyright are pretty well set: copyright exists to make sure authors have the incentive to do creative work, but if you make copyright laws too strong, you make the authors' work too hard to obtain, and you thus stifle the intellectual climate. Technology puts stress on these balances," Liu says, but "there's a fair chance that existing law can be adapted to the changed situation."
Meanwhile, there is plenty of room for creative lawyering. Attorneys may be able to circumvent uncertainties in the law, Liu explains, by the way they draft a contract or the way they word the conditions of use. Suggestions such as these add a practical dimension to Liu's classes. "It's really great having concrete experience informing a lot of the issues I look at in the classroom," he says. "It helps make teaching a little more relevant. I can give students a little more sense of what's out there in the world." --David Reich
Global Justice Internship Recalls Nuremberg. More...
Constitutional Imperatives Liberal Society Established. More...