Global Justice
internship recalls nuremberg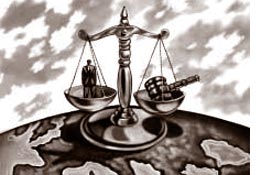 (Illustration: Gil Adams)
Interning at the International Criminal Tribunal for the Former Yugoslavia (ICTY) at The Hague last summer gave Matthew Cormier '02 a new perspective not only on twenty-first century international law but also on twentieth-century world history. He was jogging along a North Sea beach one day when he came across relics of Nazi bunkers. They got him thinking about the atrocities of World War II and the tribunal's work bringing today's war criminals to justice. "What I was doing," he says he realized, "had roots in Nuremberg."
Nuremberg, the first war crimes tribunal, was created in 1945 following a world war that left nearly sixty million people dead, including six million Jews in the worst genocide in history. It marked the first time that redress for war crimes, crimes against humanity, and even war itself, was sought legally not merely politically.
The ten-week ICTY intern program, in which Cormier was joined by classmates Dwayne Nash '02 and Kathleen Devlin '02, was created last spring by Philip Weiner '80, an ICTY lawyer.
The United Nations established the ICTY--the first international war crimes tribunal since Nuremberg--in May 1993 to address the war crimes and breaches of international humanitarian law in the former Yugoslavia. During the Cold War, Yugoslav dictator Marshall Tito kept a lid on centuries-old ethnic conflict, but the republic began unraveling after his death in 1980. By 1991, Yugoslavia was crumbling along ethnic lines. The genocidal term "ethnic cleansing" entered the world lexicon. Croatia saw fighting from 1991 to 1995, Bosnia from 1992 to 1995, and Kosovo from 1998 to 1999.
As of November 2001, the ICTY had completed eight cases, had six appeals pending, and nineteen cases awaiting judgment. In July, while the BC Law interns were there, the tribunal took Serbian president Slobodan Milosevic into custody. He is the first head of state ever to be tried for war crimes.
The students performed various tasks related to Milosevic's and other's cases. Nash assisted the trial team prosecuting Milosevic for crimes committed in Kosovo against ethnic Albanians in 1999. He also helped to prepare indictments against Milosevic for war crimes in 1991 and 1992 in Bosnia-Herzegovnia against Croats, Muslims, and ethnic Albanians. Cormier worked on cases of alleged Serbian war crimes in Bosnia. Devlin analyzed evidence and drafted parts of indictments against high-level war criminals. The interns also examined whether cases being developed by Bosnian prosecutors were supported by sufficient evidence to proceed to trial in Bosnian courts.
Professor David Wirth considers internships such as these invaluable because they demonstrate how quickly international law is changing and give students a chance to contribute to the actual development of law.
For their part, the interns say the experience sharpened their career focus. Cormier plans to become a prosecutor; Devlin and Nash are looking at careers in international law. "I realize this is what I want to spend the rest of my life doing," says Nash. "I see myself as an attorney without borders." --Jeri Zeder
OTHER STORIES FROM LEGAL CURRENTS
Constitutional Imperatives Liberal Society Established. More...
Emerging Enterprises Classroom Business. More..