Instructions for Transferring Securities
office of institutional advancement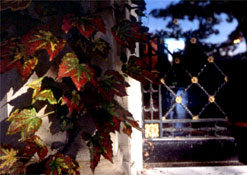 To have a gift of stock electronically transferred:
1. Please notify the office of gift processing with the security(ies) name and number of shares that you will give. This allows us to identify and properly acknowledge you for your gift. (The office of gift processing contact information is available at the bottom of this page.)
2. Instruct your broker to transfer shares to Boston College at:
Fidelity Investments, National Financial Services Corporation
DTC (Depository Trust Company) #226
Boston College Account Number: 201973114
Reference: Donor Name (Your Name)
Please provide the details of your gift to ensure proper credit; remember to state designation to Law School, and specify any additional restrictions. For a sample letter, click here.
3. In addition to US Mail, you may call, e-mail or fax this office at the number shown below.
To make a gift of stock certificates:
1. Sign one stock power for each certificate contributed. Sign the stock power exactly as your name appears on the certificate. If you need one, a stock power may be obtained by calling the number below.
2. Sign only your name, leaving everything else on the certificate blank. This provides Boston College greater flexibility in making decisions about your gift.
3. Send the stock powers in one envelope and the certificates in a separate envelope to:

Boston College
Office of University Advancement
Alumni Center
140 Commonwealth Ave.
Chestnut Hill, MA 02467

If you would like Boston College to break a large certificate and return the balance of shares not contributed, follow the above procedure, providing written instruction as to the number of shares to be contributed and the number of shares to be returned. Please include your home address and social security number so that we may correctly instruct the transfer agent.
Always provide a letter of instruction stating that your gift is to be allocated to Boston College Law School. Otherwise, Boston College will assume your gift is unrestricted.

Questions may be directed to:
Office of Gift Processing
Phone: (617) 552-4844
Fax: (617) 552-9080