A Conversation With Gail Hupper
llm program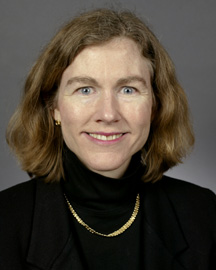 Why is the Law School establishing this new program?

The LL.M. program is an important part of the school's growing commitment to internationalization. In today's globalized world, it is no longer enough that a top law school provide specialized training to a handful of students who plan an international legal career. Today's world requires much more. It requires lawyers to ask "what are the international aspects?" using the same reflex with which he or she asks "what are the securities law constraints?" or "what are the constitutional limitations?" about a given legal question. That can't happen if "international law" and "comparative law" are taught as elective courses that a few students pursue. Rather, international perspectives must be an integral part of each student's educational experience as a whole.

In the past several years, Boston College Law School has taken important steps to make this happen. Several members of our faculty now specialize in international and comparative law, and others regularly incorporate international perspectives into their teaching and research. We also have developed innovative curricular offerings that provide real-world training in the field. These include our program in the Hague, which gives students experience prosecuting war criminals in the special Yugoslavia tribunal and the International Criminal Court; and our London Program, which combines courses at King's College in London with an internship at a British organization. More generally, faculty and student exchanges help make the international a very tangible, immediate experience. And our J.D. student body includes people from a number of other countries, as well as American students who have spent time living abroad.

Our new LL.M. program is a centerpiece of these efforts. The program is informed by two central ideas. First, the presence of foreign-trained lawyers in the Law School community – both inside and outside of the classroom – enriches our understanding of not only international legal norms but of our own legal system as well. Second, by bringing foreign-trained lawyers to Boston College for a year, we are not simply giving those lawyers an exposure to the U.S. legal system. We are also helping bring ideas about social justice and public service – ideas that are central to our educational philosophy -- to a world stage.

How many students do you expect?

Next year (2007-08) the program will be very small – only 5 to 8 students. We don't know how many applicants we will get this year, and we want to be sure that those who do come are very strong. We also want to be sure that they get lots of attention. In future years the program will grow, but I don't expect we will ever have more than 30 students.

How is the LL.M. program structured? What kinds of courses will students take?

The LL.M. is a one-year degree designed primarily for people who already hold a law degree from another country. It's an immersion experience in U.S. legal education, in that students will take most of their courses side by side with J.D. students in the regular Law School curriculum. Here I'm referring primarily to the upper class curriculum, but students can also take a first-year course as well. The program is a "general" one, which means that we are not offering specialized tracks in particular subject areas (tax, intellectual property, etc.). But students can structure their study plans in a way that permits specialization if that's what makes sense for them.

We also will be requiring foreign-trained LL.M. students to take a special introductory course in American law in the fall. A few different ideas underlie this. One is the sense that there are certain things about the American legal system that everyone who has studied here should know. Another is a desire to equip students with "survival skills" for the LL.M. year – things like the case method, the structure of a lawsuit, legal terminology, etc. A third is to help students develop a framework for how to think about the U.S. legal system in relation to their own. The hard part, of course, is to translate those ideas into an actual syllabus. That task is currently in my lap, since I will be teaching the course next fall. My current thinking is to divide the course into three modules: a primer on basic legal institutions and sources of law (most importantly, the Constitution); then a problem in contract or tort law; then a look at different modes of lawyering in the U.S. This is very much a work in progress, though, and I welcome ideas about what we should cover.

Finally, reference librarian Mark Sullivan and I will be co-teaching an optional LL.M. course on legal research and writing. This will be modeled in part on the legal research and writing exercises that our J.D. students do, but it will be tailored to the particular needs of foreign-trained LL.M. students. In the past few years, quite a cottage industry has sprung up in legal educational circles on teaching foreign LL.M.s legal research and writing. It's going to be a fun course to put together and teach.

What kinds of non-curricular support will students get?

In a word, lots. Foreign students face all kinds of challenges in coming to a U.S. LL.M. program: language hurdles, adjustment to a new culture, finding housing, and integrating into a new social environment. Of course we will be careful to admit only those applicants who we think can make that adjustment successfully (and English language skills are critically important here), but the challenge remains.

Fortunately, BC already has a number of support mechanisms that can help, and we will set up others specifically for our LL.M.s. The university's Office of International Students and Scholars, for example, gives incoming students a wealth of information about the visa process, health insurance, the Boston area, and so forth, and sponsors a variety of programs for international students once they are here. Their Director, Adrienne Nussbaum, is one of the best in the business. There is also a university-wide student group called the Graduate International Student Association (GISA), which is very active. Indeed this year's chairman is a J.D. student from India, and he has already volunteered the group's assistance. For housing, there is the university's Office of Residential Life, which both manages the university's graduate student apartments and has a wealth of off-campus apartment listings. LL.M. students will have full access to those resources.

For LL.M. students in particular, we're counting on a lot of help from our J.D. students. I'm in the process of getting together a group of J.D.s who will make themselves available to incoming LL.M. students once they're admitted. Indeed, a few have already volunteered to answer applicants' questions about the School even before we make admissions decisions. Once an LL.M. student arrives, he or she will be paired with a J.D. student "buddy" who can introduce the LL.M. around, answer questions about housing, settling in, restaurants, etc. And our internationally-oriented student organizations – including the International Law Society, the Latino American Law Students Association, the Asian Pacific American Law Students Association, the International and Comparative Law Review, and the South Asian Law Students Association -- have all expressed a desire to help.

Finally, there's the faculty and staff – a truly amazing group of people. As Director, I'll be the first person most LL.M.s will come to for support, and the person organizing events like an orientation program in August, law firm visits, social gatherings, etc. But I'll hardly be alone in this! One of my top priorities will be to introduce each LL.M. student to faculty working in the student's areas of interest, to help promote informal mentoring relationships. I'll also be working closely with the Dean of Students Office and others to make sure that there's support in areas that I can't handle. Finally, my assistant, Leslie Hilliard, has been a wonderful resource for our visiting scholars from overseas, and is enthusiastic about helping our newest students.

How have you gone about publicizing the program?

The first thing that we did was to set up a web page (www.bc.edu/llm) and an associated email address (bcllm@bc.edu). Everyone is on the internet these days, and particularly when you are trying to reach people all over the world you need a presence online. We've also set up links to popular web sites that have LL.M. program listings, so that people who are interested in doing a U.S. LL.M. can find us easily. Once they find our LL.M. web page they can go from there to the rest of the Law School web site and vice versa, so it's a great way to get to know not only the specific program but the school in general. And applicants can download the application materials directly from the web site, so they don't need to write to us for an application.

Another important medium has been direct mail. We have developed a mailing list of over 2000 names, and the number grows every day. The list consists primarily of contacts overseas who might be able to refer applicants to us – alumni, former visiting scholars, colleagues of individual faculty members, my own contacts from my Harvard days, Deans of major law schools, educational advising centers, and other friends of the school. The mailing includes a cover letter that talks about the program in general terms, and encloses our informational brochure and other materials about the school. Each letter, incidentally, is individually addressed, and many contain personal notes. We're not just trying to push information out the door; we're trying to build and sustain relationship with colleagues.

Another mechanism has been overseas travel. For example, when Larry Cunningham taught at the University of Navarra in Spain in October, he talked up the program a great deal. I'll be in Europe for a few weeks in February, meeting with practitioners, law professors, students, and others in six cities to let them know. I expect to make other recruiting trips in the next few years. Latin America and East Asia come immediately to mind, but no doubt there will be other destinations as well.

Ultimately, the most useful medium will be reputation and word of mouth. Some of our faculty are important players in the international legal community, and they have been writing their colleagues to let them know about the program. As a school, however, we are not as well known as we should be. For example, we have relatively few alumni living overseas in comparison to some of our peer schools. As people get to know both Boston College and our LL.M. program better, I am confident that they will refer applicants to us. Whatever alumni can do to promote this would be greatly appreciated!

How does your experience at BC differ from what you saw at Harvard?

BC is a very special community. From literally the day I set foot in my new office in August, people were stopping by to introduce themselves, check on how I was doing, and offer their help . . . all this at a time that school was not in session! I have literally never felt as welcome in any new environment, anywhere, in my life.

Part of this, I think, is that everyone is excited that we are getting the LL.M. program up and running, and they want to do all they can to help make that happen. It's an important new chapter in the school's development, and people have high hopes for it. But I also think it says a tremendous amount about the ethos here. People really do care about each other, and they really go out of their way to help and support each other.

My guess is that this ethos has a great deal to do with the school's Jesuit tradition. I personally am not Catholic, and I didn't have a strong sense of what the Jesuit tradition stood for before I came here. But I'm learning. In particular, I'm finding that the Jesuit values of human dignity, mutual respect, intellectual inquiry, and a commitment to justice lend themselves to educational enterprise extremely well. One doesn't have to be a Catholic to believe that – indeed everyone in the educational world should take these ideas seriously!

Harvard is a wonderful place – a big, vibrant educational metropolis. That translates as tremendous diversity in the school's academic offerings, an enormous range of educational and philosophical perspectives, tons of non-curricular activities going on all the time, and multiple sub-communities of people doing different things. Dean Kagan likes to call it the New York City of legal education. As a transplanted New Yorker myself, I can tell you that the comparison is an apt one! I wouldn't trade my fourteen years there for anything.

The metropolis analogy, incidentally, is appropriate to Harvard's LL.M. program as well. They have a huge number of foreign graduate students – around 150 in the LL.M. program, and another 50 or so in the doctoral (S.J.D.) program. They're from all over the world, and they have an enormous range of backgrounds, legal interests and career plans. It makes for tremendous energy and diversity in the program.

Our LL.M. program obviously will be much smaller than Harvard's, but like Harvard we are hoping to attract a very diverse group of students. In some respects our program will be like Yale's, which emphasizes a small number of students and individualized attention. Unlike Yale, however, we are not focusing exclusively on students interested in academic careers.

What are some of the challenges you face? And what can alumni do to help?

Our biggest challenge is financial. Right now we have very little financial aid for LL.M. students, and the cost of a year in an American law school is astronomical in relation to what most of our applicants are used to in their home countries. For many people – particularly those from developing countries or those planning to work in the academic or public interest worlds – cost is an insuperable obstacle to coming here. Thus our lack of aid seriously limits the pool of applicants from which we can draw. We are working hard to raise scholarship funds, but things like this take time.

Another challenge is developing meaningful placement opportunities for LL.M. students. One of the great strengths of our J.D. program is our emphasis on training the whole lawyer – not just law on the books, but the experience of law in action. In the first year, for example, the school offers a wonderful course called Introduction to Lawyering and Professional Responsibility. After the first year, students can select from a range of clinical and externship opportunities, and they also have summer associate opportunities after the second year. The challenge is to develop analogous programs that will work well for LL.M. students. Here I have in mind externship placements that could be done during the spring of the LL.M. year, or placements for periods of up to a year following graduation.

How can alumni help? On the financial aid front, please listen hard when Marianne Lord and her colleagues come knocking on your door! I cannot emphasize enough how important financial aid will be to developing the kind of program we envision. On the placement front, we are reaching out to law firms and other organizations that either have or are interested in building a greater international presence. Alumni are among the first people I am consulting about this.

More generally, I am trying to get to know as many alumni as I can. Those I have met thus far have been terrific – smart, engaging people who care tremendously about the school. They are a wonderful source of ideas for the LL.M. program, and talking to them has been a great way to learn more about the school and its history. Anyone who is interested in getting in touch should send me a note or pick up the telephone – I'll welcome the contact!


Father Robert F. Drinan, former Dean of BC Law, died on January 28. Read articles on his life and impact on the Law School. as well as archival video footage. more...