Richard G. Huber, Dean, 1970-1985
oral history
The streaming video presentation contained on the following page was created using portions of an oral history taken in 1991. In it Professor Huber discusses his experiences as Dean of Boston College Law School, his opinion on Father Drinan's leadership, and his thoughts on legal education. Though over a decade has passed since it was recorded, it remains a riveting account of Huber's history and association with BC Law. The video runs approximately 50 minutes. You will need the Real Player Plugin to view the video.
---

Richard G. Huber earned a B.S. degree from the U.S. Naval Academy and served in the U.S. Navy from 1941 to 1947, and again in 1951 and 1952, holding the rank of Captain. He holds the J.D. degree from the University of Iowa and an L.L. M. from Harvard University. Before arriving at Boston College Law School in 1957, he taught at University of Iowa Law School, the University of South Carolina Law School, and Tulane Law School. Huber was appointed acting dean of BC Law in 1970 and was permanently appointed in June, 1971.

Dean Huber's many changes to the law school during his tenure helped continue its rise to the upper echelon of law schools. With Dean Huber's leadership, the law school faculty grew by about 1/3. In 1974, the university began negotiations to acquire Newton College of the Sacred Heart, eventually purchasing the forty-acre women's college. In August 1975, the law school made its fourth location change, this time to the peaceful, suburban location in Newton the law school now calls home.
In 1978, the Law School's first joint degree was approved by the faculty. During Dean Huber's tenure four more law reviews and journals were added. For many faculty and graduates, though, Dean Huber will be remembered not for the great things he did for the law school and its reputation, but for his wonderful and caring nature.

Dean Huber returned to teaching after stepping down in 1985. He is currently professor emeritus of the law school. He has served on many committees both within the University and in many legal organizations. He is a Past-President of the Association of American Law Schools and is a current member of Massachusetts Supreme Judicial Court Committee on Pro Bono Service.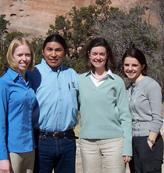 Our second feature in this issue of eBrief is a slideshow on the Spring Break Trip to Navajo Nation. More...