A History of Asian American Students
at boston college law school
Janelle Kuroda's paper is a fascinating account of the past 75 years of BC Law's history through the eyes of Asian American students. Kuroda makes good use of quotes taken from oral histories of the former students, giving us an often first-hand account of their experiences.
"I am extremely grateful to Professor Daniel Coquillette and Dean John Garvey for their support in my endeavor to record the histories of our Asian American alumni," Kuroda says. "This paper began at the request of Professor Coquillette, who informed me that there was no formal documentation on our Asian American alumni and that now was the perfect time to do so, as Boston College Law School celebrates its 75th Anniversary. As an Asian American from Hawaii, I was honored to document such an important part of Boston College Law School's history and to share it with others."
Kuroda has served as Ensign for the U.S. Navy Judge Advocate General's Corps, and will attend Officer Indoctrination School in March 2005. She has also worked for the Harvard University Office of the General Counsel, and for Catholic Charities Legal Services of Miami.
Read the paper online now. Part One: Introduction
(The full text of the paper can be found at the link above, without footnotes: if you wish, you may download a footnoted version of Janelle's paper by clicking here)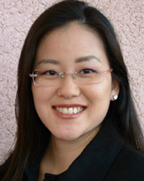 Janelle Kuroda, Class of 2004
EDUCATION
Boston College, Juris Doctor 2004

University of Hawaii at Hilo, Bachelor of Arts, summa cum laude, 2001