Lynda M. Connolly
board member, advocacy programs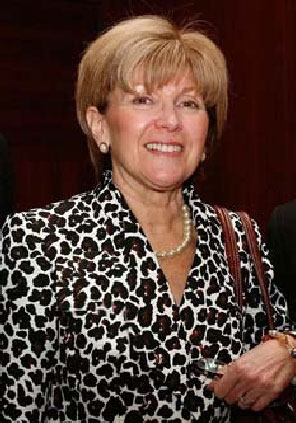 "Particularly with respect to my committee on Advocacy Programs, I am delighted to have the opportunity to help forge a closer relationship between our many talented and accomplished alumni and our talented and accomplished students. As a practicing lawyer for 22 years, as a "line" judge in the largest and busiest department of the Massachusetts Trial Court for 7 years and as the Chief Justice of that department for 4 years, I have enjoyed the opportunity to be in touch with many of our alumni in the New England area and beyond. I hope our committee will be successful both in tapping into the desire of many alumni who may not have felt they had the time to be involved previously in the advocacy competitions and in serving as an outreach vehicle to our alumni for our students in order to ensure the continued success and expansion of advocacy opportunities as part of the law school experience. Formalizing this into a standing committee gives it an identity that will attract alumni to this discrete service opportunity.

"There is something very liberating about reaching a certain age (both chronologically and professionally) and finding myself with time to devote to causes or groups of interest and importance in my life. As a wife, mother, and lawyer, there was just too little time left over to support the Law School in a way I might have liked. As a judge, there are so many restrictions on how I can contribute, that this opportunity came at a perfect time (all children are "launched" and grandchildren -- the miracle of all miracles -- are arriving!) and is compatible with the Code of Judicial Conduct. The Board is a remarkable and diverse group and I am looking forward to working closely with them and benefiting from the marvels of modern technology to achieve our individual committee goals and to fulfill the mission of the Law School Alumni Association."


Chief Justice Lynda M. Connolly began her career as a Special Prosecutor in the Major Violator's Division of the Suffolk County District Attorney's Office. She spent several years in private practice at Connolly & Johnson and at Gallagher & Gallagher, P.C., and was also a sole practitioner. In 1997 she was appointed to the Marlborough
District Court as an Associate Justice by Governor William F. Weld. She served as the Acting First Justice in the Charlestown District Court and was appointed First Justice in the Dedham District Court in 2003. In June 2004 she was appointed Chief Justice of the District Court upon the retirement of former Chief Justice Samuel E. Zoll. In conjunction with her judicial appointments she has chaired the Supreme Judicial Court/Trial Court
Budget Advisory Committee and has served on the District Court Committee on Continuing Judicial Education and the District Court Committee on Mental Health and Substance Abuse.
Working with the Chief Justice for Administration and Management Robert A. Mulligan, Chief Justice Connolly has championed the implementation of management initiatives throughout the Commonwealth's 62 District Courts. These initiatives have included the introduction of the MassCourts statewide computer system, the introduction of time standards, performance measures of timeliness and expedition in resolving cases, the creation of a staffing model and ongoing training programs. Chief Justice Connolly is focused on the aim of delivering justice for those who seek it in the court she calls the "Gateway to Justice." In FY 2007, over 784,000 separate matters were filed in the Commonwealth's District Courts.
Chief Justice Connolly has taught as an Adjunct Associate Professor at Bentley College and as an Adjunct Professor at Suffolk University Law School and New England School of Law, and has served as a guest lecturer at the Kennedy School of Government at Harvard University and at the Harvard School of Public Health. She is the author of "Wills, Estates and Trusts" in the 1981 ANNUAL SURVEY OF MASSACHUSETTS LAW published by Boston College Law School. In 2008 she was awarded the Daniel J. Toomey Judicial Excellence Award by the Massachusetts Bar Association and Massachusetts Lawyers Weekly.
A graduate of the College of William & Mary and Boston College Law School, Chief Justice Connolly resides in Roslindale with her husband Michael, whom she met at B.C. Law. She is the mother of 4 children including City Councilor-at-Large John R. Connolly (B.C. Law '01) and is the grandmother of 2.