John McHale Jr.
board member, communications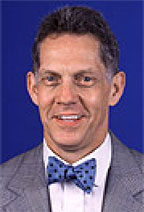 "I believe that this structure will allow for a closer relationship between the alumni and the Law School for two broad reasons. First, the Constitution states that a principal purpose of the association is to "further the ideals and tradition of...The Law School through the education and involvement of alumni in the life of the Law School." I think this means that every action proposed to be taken by the association must first be judged by this standard. Second, the Constitution and By-Laws of the association create many opportunities for interested alumni to serve. Whether through service on the Board of Directors or the Assembly, or through membership on the Committees of the Board, open to Board members, Assembly members or alumni volunteers, there are multiple opportunities for any alumna or alumnus to remain close to the Law School and to provide it with important service."
John McHale Jr. was named Major League Baseball Executive Vice President of Administration on March 7, 2002.

McHale joined the Tampa Bay Devil Rays in 2001 as the team's Chief Operating Officer.

Prior to that, he was the President and Chief Executive Officer of the Detroit Tigers for six years and the Executive Vice President of Baseball Operations of the Colorado Rockies for more than three years.

A 1971 graduate of the University of Notre Dame, McHale received law degrees from Boston College Law School in 1975 and the Georgetown University Law Center in 1982. While at Notre Dame, he played defensive end and linebacker on the football team. McHale and his wife, Sally, have three children, Duncan, William and Frances.