H. Lamar Willis
board member, vice president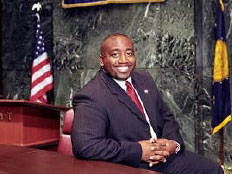 "BC Law has long had a reputation of being one of the finest law schools in the nation. It is my hope that the new structure will further advance that reputation on both the national and international levels. I am not certain of the tools that we will have to accomplish this goal, but I am committed to seeing this through and making that goal a reality."
H. Lamar Willis was elected in 2001 to serve as the Post 3 At-Large Councilmember for the City of Atlanta. He is currently the youngest member of the legislative body of the City of Atlanta government. Willis is currently serving his second term on council, having been re-elected without opposition in 2005. He currently serves on the City Utilities, Transportation and Committee on Council Committees.
During his brief time on Council, he has served as Chair of the Council's Transportation Committee for two consecutive years and as Chair of the Public Safety & Legal Administration Committee. His leadership on the Transportation Committee provided oversight over issues dealing with Hartsfield-Jackson Atlanta International Airport, City Transportation Initiatives, as well as issues pertaining to MARTA. As Chair of the Public Safety, he championed efforts to assist the Police, Fire and Corrections Departments in securing legislation that would both strengthen their departments and ensure they had the tools needed to further improve public safety efforts in the City of Atlanta.
Councilman Willis has actively pursued excellence in his council position. He has developed forward thinking legislative initiatives that will increase the quality of life for all Atlantans as well as visitors to Atlanta. In September 2003, Willis' graffiti legislation was passed, allowing all of Atlanta the opportunity to live and work in areas unblemished by illegal graphics. The Councilman also proposed anti-panhandling legislation, which served as a framework for he current law and provides visitors to downtown as well as convention areas protection from aggressive panhandlers.
In his effort to reach out to the citizens across the City of Atlanta, Willis complements his law and provides various legislative initiatives with a host of community outreach activities. As the founder of the H. Lamar Willis Foundation, Willis has taken great strides in uniting the Atlanta business community with causes that are very near to his heart. Since 2002, the Foundation has given away over $95,000 in scholarships to Atlanta high school seniors. Each year Willis' foundation sponsors its "Swing in to Spring," golf and tennis camp for over one hundred (100) Atlanta youth. The camp is going into its 4th year. In 2004, to encourage parents to read with their children, Willis partnered with Target Stores for "Storytime Atlanta," where he was able to provide 10,000 books for children throughout the city. In an effort to create an awareness and appreciation of trees as a fundamental, renewable natural resource Willis partnered with Lowe's to host the third annual "Plant a Tree -- Build a Community" initiative that has been responsible for the distribution of 300 mature trees to nearly 40 communities throughout the City of Atlanta. Currently, Willis lends his support to older Atlantans with "Tuesdays with Councilman Willis," where he exchanges insight with senior citizens living in area high rises.
Councilman Willis is a life long resident of Atlanta. He graduated from Northside (North Atlanta) High School and went on to attend Morehouse College. He also received a Master of Science degree in Management and Policy from Carnegie Mellon University and a Juris Doctorate from BostonCollege Law School. It is his strong training and deep roots in the city that inspires Willis to seek all means of creating a better Atlanta. Among these priorities has been the revitalization of Downtown Atlanta. To this end, Willis has successfully passed several pieces of legislations that has helped steer Underground Atlanta towards reaching its goal of being a viable entertainment district.
Lamar Willis is further involved in the Atlanta community through his participation with the following organizations:
Board of Visitors, Emory University

Board of Directors, Wesley Community Center

Board of Directors, Breakthrough Atlanta

Board of Directors, Techbridge

Board of Directors, Southwest YMCA

Committee Member, Staff Parish Relations Committee – Cascade

United Methodist Church
Some of his recent honors include:
Induction into the 2004 Class of Leadership Atlanta

Selection as a 2004 Marshall Memorial Fellow (traveled to Belgium,

Germany

,Czech Republic and France)

Participation as a delegate to South America (Argentina and Uruguay) with

the American Council of Young Political Leaders.
Councilman Willis and his wife of 10 years Dr. Kamili Willis are the proud parents of a seven-year-old daughter, Kayla and a two-year old son, Henry. He and his family have been active members of Cascade United Methodist Church for nearly thirty years.