Supreme Court Swearing-in Ceremony
ebrief enewsletter
Each year Boston College Law School sponsors an opportunity for alumni to be admitted to the bar of the United States Supreme Court in a special group ceremony. This year 19 BC Law alumni participated in the event.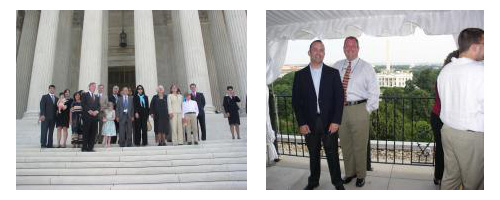 The activities began on Saturday, June 9th with tickets to "The Capitol Steps." On Sunday, June 10, the group took a sightseeing excursion of Washington, D.C. followed by an evening reception at the Hay Adams Hotel sponsored by the D.C. Chapter of the Law School Alumni Association. Dean John Garvey spoke at the reception.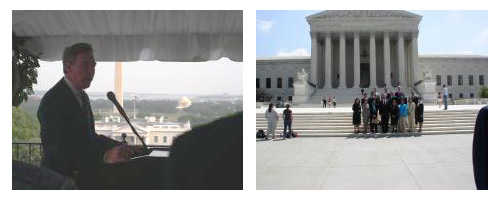 The Swearing-in Ceremony took place on Monday, June 11th, at the Supreme Court Session which started at 10:00 am. Following the ceremony, Justice Samuel Alito, Jr., spoke informally with the BC Law participants and guests. A luncheon at the Senate Office Building, sponsored by Senator John Kerry's office followed.
Alumni Present:

California:
Michelle Abellera, '01
Miki Valente Kokka, '99
Scott Kokka, '00
Connecticut:
Stephen Curley, '91

Washington, DC:
Elizabeth Brannan Jaen, '78

Massachusetts:
John Affuso, Jr., '93
James Harvey, Jr., '77
Mary Holland Harvey, '77
Matthew Kelly, '97
Dennis McKenna, '90
Maureen Mulligan, '90
Elena Rutrick, '93
Jonathan Sablone. '96
Nicholas Xanthakos, 02

New York:
Kenneth Aldous, Jr., '99
Anita Pamintuan Fusco, '93
Danielle Porcelli, '03
Laurie Strauch Weiss. '92

Rhode Island:
Karen DelPonte, '83